China's Ministry of Commerce recently claimed that from January to April, the country's actual use of foreign capital surged by 20.5 percent compared to the same period last year, amid a rapid depreciation of its yuan. But experts believe that the data is false as they say foreign capital has been accelerating its withdrawal from China.
Chinese Vice-Premier Hu Chunhua stressed the need to "stabilize existing foreign-funded enterprises" in a teleconference on May 9.
However, in a press conference on May 12, the Ministry of Commerce claimed the country's use of foreign capital increased 20.5 percent for the first four months of the year compared to the previous year.
A U.S.-based investment consultant and expert on China, Mike Sun, told The Epoch Times that the ministry's claim was "almost certainly false."
"[China's] foreign capital can't grow when foreign investment is withdrawing," Sun told The Epoch Times on May 14.
"As to where they get their numbers, I don't know. But a [foreign capital] growth of 20.5 percent is terribly high. If this is true, it means [the country's] foreign trade exports are still growing… then the yuan couldn't have depreciated more than 500 basis points in just a few days. Because a currency's appreciation depends on the net foreign inflows and foreign trade surplus."
According to data released by China's General Administration of Customs, the trade surplus from January to April was 1.36 trillion yuan ($204 billion), a year-on-year increase of 39.2 percent.
However, the Chinese Yuan has seen a rapid depreciation since April 19.
On April 21, the yuan dropped nearly 350 basis points. On April 22, the yuan hit a nine-month low against the dollar, with the onshore yuan finishing above 6.50 per dollar. On April 29, the yuan further weakened to 6.6177 against the dollar, according to the Chinese state-run Xinhua.
On May 13, the onshore yuan exchange rate went past 6.8 against the dollar, dropping more than 1,000 basis points from the 6.6985 on May 9.
COVID-19 Policy Affecting Business Operations
The depreciation of the yuan comes amid a range of economic issues in China, with one being the flight of a number of foreign enterprises from its shores.
U.S. chipmaker Onsemi is reportedly shutting down operations at its Shanghai distribution center and moving its operations to Singapore and the Philippines, according to an April 18 letter signed by Onsemi vice-president of sales Mike Balow circulating on Chinese social media.
The letter warns of impacts on operations from lockdowns in many Chinese cities, the South China Morning Post (SCMP) reported.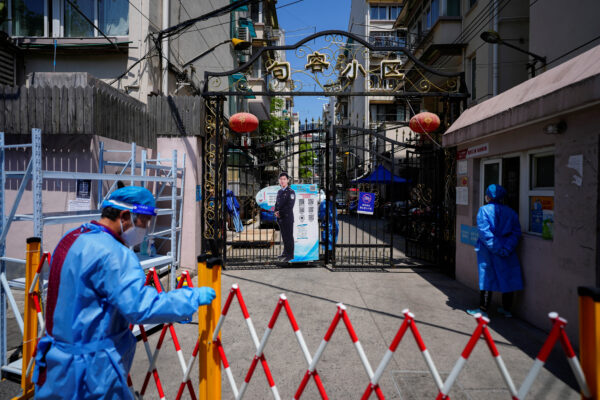 Denmark-based fashion brand, Selected, is set to withdraw from China, closing all retail stores by July 31, citing "repeated disruption from the COVID-19 pandemic and difficulties with adjusting retail rent and other costs," Insider Retail Asia reported.
The brand's decision to exit China would close down around 1,300 stores across the county.
On May 5, China's European Chamber of Commerce released a report on the impact of its COVID-19 policy and the Russia-Ukraine war on European businesses in China.
According to the report, 78 percent of companies surveyed said China had become a less attractive investment destination due to its stringent COVID-19 restrictions. Twenty-three percent of respondents are now considering shifting current or planned investments out of China to other markets, the highest proportion in ten years.
The report indicated that 75 percent of respondents expressed difficulty carrying out basic production and business activities in China due to stringent COVID-19 measures.
Ninety-four percent of respondents said logistics and warehousing were under pressure; 97 percent and 94 percent of respondents said they had to suspend business dealings and cancel offline meetings.
The European Chamber of Commerce currently has more than 1,700 member companies, according to its official website.