China's Five Privately Operated Airlines Unite
September 12, 2006 12:00 am Last Updated: September 12, 2006 12:00 am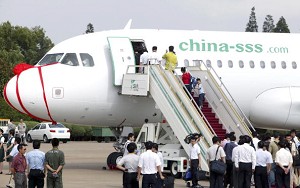 TAIPEI—China's Air Spring airline and another four privately owned airlines recently met behind closed doors to discuss ways to rid themselves of operating losses in Chengdu City, Sichuan Province. They agreed to collaborate in order to maintain benefits for privately operated airlines.
According to the Hong Kong Commercial Daily , the chairpersons of five privately owned airlines met on September 2 in Chengdu City. Attendees of the meeting included Wang Zhenghua of Air Spring, Wang Junjin of Air Fortune, Lan Shili of East Star Airlines, Li Jining of United Eagle Airlines and Okay Airways chairman Liu Jiein.
East Star Airline chairman Lan Shili revealed that the five privately owned airlines have already reached a tentative agreement. They have decided to share resources, aircraft materials, air routes, (airline) codes, technicians, training for operation management and other aspects, and eventually establish a loosely managed alliance organization.
United Eagle Airlines chairman Li Jining said that privately owned airlines are still in a very weak state at present. Therefore these airlines needed to group together, help each other, and jointly strive to make privately owned airlines stronger.
Li Jining further indicated, "Privately owned airline is a new industry and it is inevitable that there will be a series of problems in the process of its development. When issues arise, problems must be solved. Southwest Airlines in the United States experienced five years of hard work before its success. We, United Eagle Airlines are fully prepared to meet the difficulties."
Air Spring chairman, Wang Zhenghua pointed out that many problems have risen in the period between 2005 and 2006 in privately owned airlines. Every company has their own distinct knowledge and experience as well as lessons they have learned. Experience sharing and mutual help among each other promote a healthy development for privately owned airlines.
Since last year, international petroleum prices have skyrocketed. It caused sharp increases in operating costs and losses for airlines in China, and the new privately airlines have suffered a more severe and rigorous challenge.