Conflict Continues in Xinjiang, Martial Law Declared
July 9, 2009 2:05 am Last Updated: October 1, 2015 9:38 pm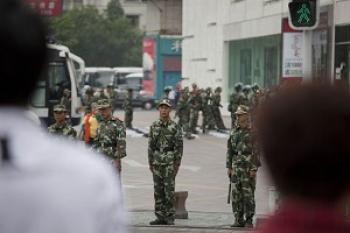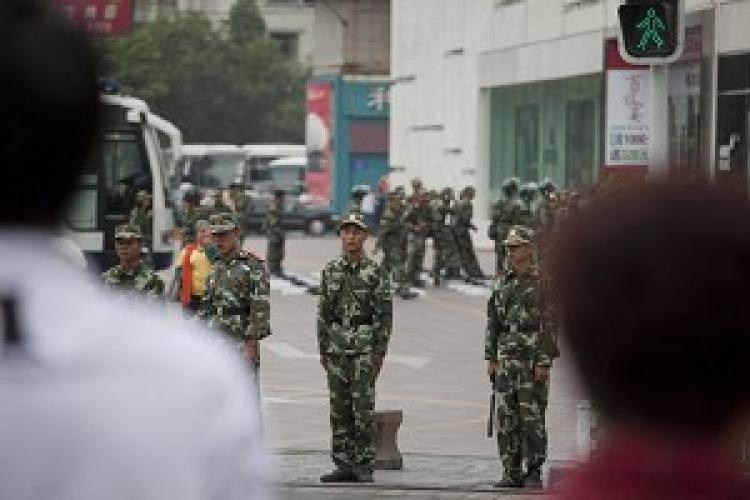 Security forces were on high alert in the city of Urumqi on Thursday in the wake of what state media reported as a clash between Han Chinese and Uighurs, a Muslim ethnic community making up almost half of the population of Xinjiang Province, China.
Chinese official reports put the death toll of the events on July 5 at 156 deaths, while unofficial reports put the number between 400-800 deaths.
Anti-riot police launched tear gas but were unable to completely disperse the mob. Local officials announced that martial law will be implemented on July 7 and 8.
On July 7, over 200 Uighurs gathered on the streets of Urumqi, with the majority being female. One Uighur woman interviewed by Central News Agency said that her husband called on July 5 to say that the roads were blocked and he couldn't come home, but she has not heard from him since then.
Another woman cried as she said, "Around 8 p.m. last night, the police charged into our house as we were just sitting around. My dad, brother, husband—all males were arrested and completely stripped of their clothing."
She said, "Many Uighurs were arrested—hundreds, thousands. We are so pitiful."
Information Blockade Continues

On July 6, the Central Propaganda Department listed key words related to the Urumqi incident as sensitive information to be filtered and requested people to only regard news from the state media Xinhua and People's Daily as official news.
Currently the city of Urumqi has no Internet access. All telephones, mobile phones and Internet in Xinjiang are still under full blockade and monitoring. The Urumqi municipal party committee deputy secretary announced during a July 7 press conference that the authorities will remove the blockade when the time is appropriate.
At present, the only available news regarding Xinjiang is from state media Xinhua. Some people claim that authorities have assigned people to further spread state propaganda by posting them on personal blogs.
Hu Returns from G8

Chinese leader Hu Jintao returned to China earlier than planned from the G8 summit in Italy due to the current unrest in Xinjiang.
On July 7, on television, Xinjiang Party Secretary Wang Lequan called the events on July 5 a "huge conspiracy by hostile forces both inside and outside the [Xinjiang] region."
The protest that broke out in Xinjiang on July 5 is the most severe and with the most number of "official" casualties since the Tiananmen Square Massacre. Local officials are not allowing family members to retrieve the deceased.
Read the original Chinese article