Chinese state-run media CCTV announced on Oct. 9 that its sports channel will resume broadcasting NBA (National Basketball Association) games on the morning of Oct. 10.
A CCTV spokesperson explained that "given an extensive demand for watching basketball sports in China," the resumption is a "normal broadcast arrangement. NBA "has recently continued to express goodwill," and "made positive efforts to support China's fight against the epidemic, " he added.
Last year, Chinese media and online platforms stopped broadcasting the games, which are incredibly popular in China, following a controversy over a tweet in support of Hong Kong protests posted by Darly Morey, general manager of the Houston Rockets.
Mass protests erupted in Hong Kong last year as millions grew disgruntled about the Chinese regime's growing encroachment over local affairs. Upon its transfer of sovereignty to China in 1997, the city, a former British colony, was promised autonomy and freedoms.
Chinese Netizens' Reactions
Some Chinese NBA fans warmly welcomed the return of game broadcasts.
However, some noted the irony, as CCTV had previously sworn off the games, citing nationalist sentiments, but now wanted to benefit from the business deal.
One netizen commented: "why don't you have any guts?"
Another said: "The Chinese authorities stepped on the red line and eviscerated credibility themselves."
Event Replayed
Last year, Daryl Morey tweeted: "Fight For Freedom, Stand with Hong Kong" to show his support for Hong Kong protesters.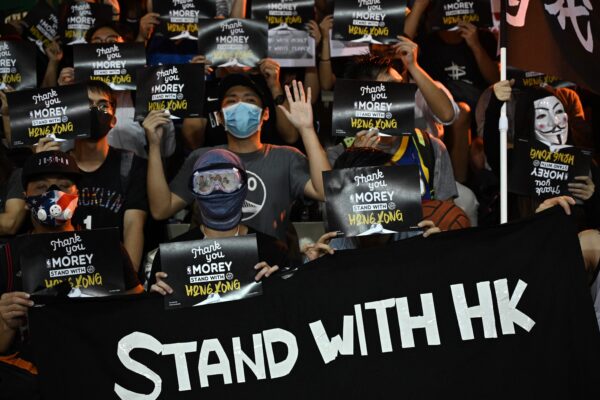 This post prompted huge backlash, with Chinese companies halting deals while U.S. officials criticized the NBA for not defending Morey and free speech.
On Oct. 8, 2019, CCTV declared a ban on airing NBA games, claiming that, "We believe that any speech that challenges national sovereignty and social stability has nothing to do with freedom of speech."
Under domestic pressure, NBA President Adam Silver stated that he "supports freedom of speech."
Pushing for the NBA's Return
In an interview with Radio Free Asia (RFA), Li Hengqing, economist and director of Information & Strategy Institute in Washington DC, said: "Relevant companies suffered a great financial setback during the cut-off period."
The Chinese market accounts for 10 percent of the NBA's annual revenue, according to the Chicago Tribune. A series of retaliatory actions by the Chinese side has caused serious losses for the NBA.
And as some officials have recently spoken about the U.S.-China decoupling, China is seeking to maintain business ties with the United States.
Frank Tian Xie, ​​business professor at the University of South Carolina Aiken, agreed with Li's views. "What matters to the NBA is the huge fan base in China. Also at stake is the interest of high-ranking officials, " Xie noted. "China needs to cooperate with American businesses to create an impression of prosperity, " he added.
Human Rights Record
On Jul. 29, 2020, ESPN, an American sports news platform, published an investigation into accounts of multiple former NBA coaches who had worked at NBA China academies regarding player abuse, which happened long before Morey's tweet.
It said American coaches at three NBA training academies in China complained to league officials about their Chinese partners, who physically abused young players and failed to provide schooling to them.
A case in point is the NBA academy in Xinjiang, a region of China where over a million Uyghurs and other Muslim ethnic minorities are being held inside concentration camps. American coaches were also frequently harassed and surveilled. One of them was detained three times without cause, according to ESPN.
NBA coach Bruce Palmer said he repeatedly warned Chinese coaches not to hit, kick, or throw balls at children while he served as a technical director at an NBA training center in Dongguan city, Guangdong Province.
According to ESPN, the NBA China program, launched in 2016 to develop local players in a promising market, has made NBA China a "$5 billion enterprise." Most of the former employees spoke on condition of anonymity because they feared their future career chances would be affected.
In July, the league announced that it had closed the Xinjiang academy. But authorities declined to comment whether the decision was made following ESPN's report.