Chinese authorities have started regulating the price of pork in a bid to cope with a deadly outbreak that has devastated the country's hog herd and sent prices soaring.
Since August 2018, African swine fever (ASF), which isn't harmful to humans but lethal in pigs, has wiped out a third of the pig herd in China, causing pork prices to skyrocket over the past few months. The latest figures from China's Ministry of Commerce on Sept. 3 show that wholesale prices increased by 8.9 percent in just one week to 34.59 yuan ($4.84) per kilogram.
In response to the price surges, about 10 provinces or cities in China, including Sichuan, Jiangsu, and Guangdong, have recently issued policies, such as subsidies, quotas, and releasing frozen reserves, according to the state-backed newspaper Beijing News.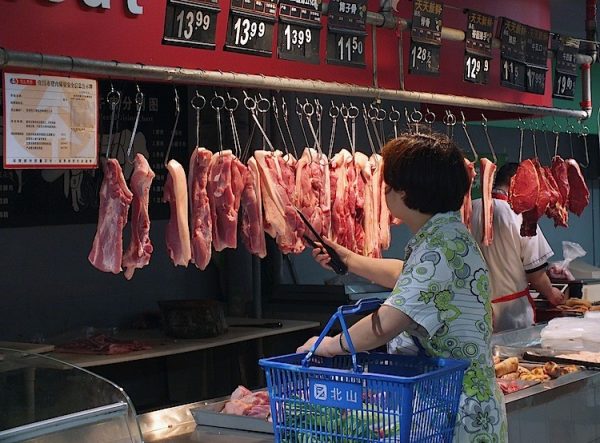 In Nanning, the capital of China's southern province of Guangxi, a government notice dated Sept. 1 provided that people may buy up to 1 kilogram of pork per day at a discounted price, set at roughly 10 percent lower than the average market price in the past 10 days. The city also rolled out a ticketing system to ensure the policy be strictly followed.
In Youxi County of Fujian Province, the government announced plans for pork prices to be set at  15 percent under the market average over each weekend. Residents will be limited to buying two types of pig meat with each purchase, each cut capped at 2 jin (2.65 pounds).
The Chinese regime has described regulating pork prices as an "important political task" in maintaining social stability. According to a transcript obtained by the Financial Times, China's vice premier Hu Chunhua in a meeting attended by top officials last week expressed worries that the increasing pork prices could "damage the image of the Party and the government."
Hu, the outlet reported, told other officials present that increasing pork output is "a military order that [they] have for the Central Committee and the State Council."
According to the official government website, Hu had also stressed on the importance of ensuring pork supplies in the market "by all means possible," and called on the local officials to remove restrictions on pig farming to quickly recover pork production.
China's Ministry of Commerce said last week it would release frozen reserves to ensure supplies of pork and other meat "at the appropriate time," and pledged to give incentives to encourage pork imports.
Some pig farmers are skeptical that the new policies will make an impact.
A farmer surnamed Xiao based in Anhui Province told the Chinese-language edition of The Epoch Times that lifting the restriction on pig farming can hardly help with the pork shortage.
"Encouraging people to raise more pigs when the swine fever has not been solved, this is harming people and will only lead to more people to lose all of their family fortunes over it," he said.
Shandong-based farmer Hu said that he no longer trusted the regime's policies.
"Before the government didn't allow us to raise pigs, citing pollution reasons," he told The Epoch Times, referring to a 2015 policy under which many pig farms were demolished for failing to meet environmental standards.
"Now we can't raise them anymore since the pigsties have all been torn down," Hu said.
Another farmer told the publication that he lost around 700,000 to 800,000 yuan ($97,921 to $111,910) as a result of being forced to demolish his pig farm as a result of the 2015 policy, and hardly received any compensation.
Hu said that even if the regime changed policies to encourage hog farming, he would not raise any more pigs.
"The African swine fever is not scary, the scariest thing is the government policies—they keep changing."