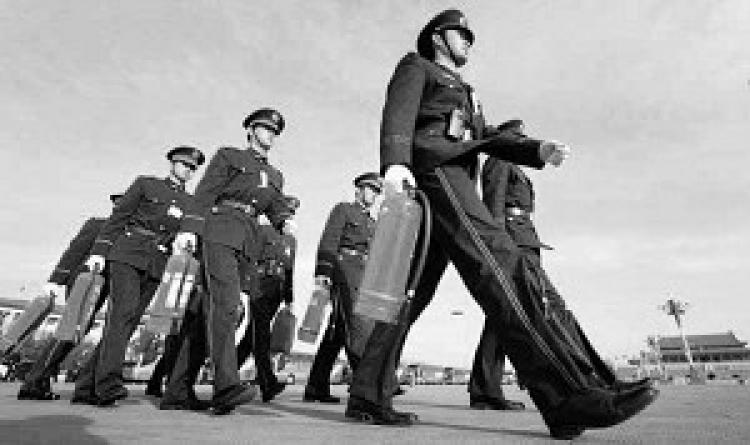 The Chinese communist regime's recent announcement of plans to hold a large-scale military parade in October to commemorate the 60th anniversary of its reign has raised concerns by critics concerned with the negative economic and political impact of the military exercise.
Mao Yushi, a well-known Chinese economist, is one of the critics of the parade. Hongkong's Ming Pao Daily quoted Mao as commenting, "Military parade is a dictator's favorite game; it is completely contradictory to modern civilized politics." He also criticized the parade from an economic perspective, saying that the high cost will be an extra burden on the already-ailing economy. The Chinese authorities did not disclose the budget for the parade, but Mao said the cost for the 1999 National Day celebration, which exceeded 100 billion yuan (US$14.6 billion), may serve as a reference for cost estimation.
Chinese historian and political critic Zhang Lifan further commented that the costs for events such as military parades and national political conferences have never been revealed to the public, though the tax payers have the right to know how their money has been spent. Zhang questioned the purpose of the military parade in this sensitive year with all the unresolved social problems around the country.
For Chinese authorities, 2009 is a sensitive year in many ways. It is the 50th anniversary of the Dalai Lama's flight into exile from Tibet, the 20th anniversary of the 1989 Tiananmen Square Massacre, and the 10th year since the Chinese communist regime started the persecution of Falun Gong.
Meanwhile, the spiritual awakening among Chinese people triggered by the editorials Nine Commentaries on the Communist Party has evolved into over 50 million announced withdrawals from the Chinese Communist Party (CCP) and its affiliated associations. The massive withdrawals, accompanied by escalating massive protests and conflicts against the Chinese communist regime, indicate an unprecedented crisis for the CCP.