China Raises Oil Prices By 8 Percent from November 1
November 3, 2007 12:00 am Last Updated: November 3, 2007 12:00 am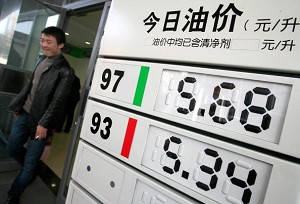 China's National Development and Reform Commission (NDRC) announced on October 31 that the price of gasoline, diesel fuel, and aviation kerosene would increase by 500 yuan (approximately US$60.4) per ton from November 1. This is approximately an 8 percent increase in oil prices.
The NDRC stated that since the oil price in the international market has been going up quite substantially, to ensure the supply of oil and encourage energy conservation, they decided to raise oil prices. The adjustment makes the retail oil prices at 6,460 yuan (approximately US$856) and 5,960 yuan (approximately US$798) per ton for gasoline and diesel respectively. This is an increase of 0.4 yuan and 0.46 yuan per liter respectively. The price of liquefied gas will also go up.
The authorities also decided to raise the prices of natural gas for industry and car usage, except for fertilizer manufacturers, in order to reduce the price difference between natural gas and alternative energy resources, and to restrict the use of natural gas for industry and car.
Recently, the Chinese people have suffered rapid price increases in their daily necessities. With the increase in oil prices, transportation costs will go up too. After the authorities announced the increase in oil prices, the prices of transportation services, such as rail freight, airfare, highway transportation, were also adjusted. However, there will be no adjustments to the price of railway passenger transport, urban public transport, rural bus transport and civilian usage natural gas at the moment.
The NDRC also asked related departments to strengthen the supervision and inspection of oil prices, and to crack down on violations of the national pricing policy, as well as actions that disturb the market price, such as rumoring, hoarding, markup of the price of transport services, in order to maintain the stability of the oil market.