NATO does not consider China a "new enemy or adversary' but its rise "is fundamentally changing the global balance of power' and NATO "has to address the consequences" of it, especially to the security, NATO Secretary General Jens Stoltenberg said during the event on June 8 to launch NATO 2030 initiative, to make NATO capable to adapt to the changing world.
Stoltenberg was tasked by NATO leaders convened at the NATO Summit in London last year to lead the development of a proposal for strengthening NATO's political dimension. He appointed a group of ten experts to work on this project.
Among the existing trends and tensions that must be taken into consideration when shaping NATO to meet existing and emerging challenges the world faces, Stoltenberg listed military activities carried out by Russia, emboldening of ISIS and other terrorist groups, and disinformation and propaganda being disseminated by "both state and non-state actors."
However, China's race "for economic and technological supremacy" poses "threats to open societies and individual freedoms" and challenges "our values and our way of life," Stoltenberg said.
China has already the second-largest defense budget in the world and Beijing continues to invest in "modern military capabilities" such as missiles that can reach all NATO Allies, gains influence in cyberspace, invests in critical infrastructure in different parts of the world, tightens its cooperation with Russia, Stoltenberg said.
Adapting to Changing World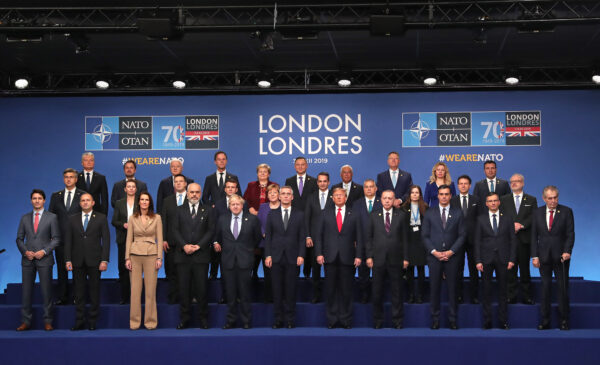 Forging NATO as a stronger political Alliance is necessary to be able to respond to these challenges, Stoltenberg said. In addition, NATO needs to expand its cooperation with non-NATO countries like partners in the Asia Pacific region, as well as "like-minded countries like Australia, Japan, South Korea, New Zealand," he said.
Stoltenberg stressed the importance of close cooperation with these countries to "defend the global rules and institutions that have kept us safe for decades, to set norms and standards in space and in cyberspace, on new technologies and global arms control."
"And ultimately, to stand up for a world built on freedom and democracy, not on bullying and coercion," he said.
The strength of NATO does not lie only in the strength of its 30 Allies which together represent nearly "one billion people, and half of the world's military might and economic might" but it is also bolstered by the cooperation with 40 different partners around the world and international institutions like the European Union and the UN, Stoltenberg said.
One of the purposes of the NATO 2030 initiative is to strengthen the Alliance "partnership in many directions" so it will be able to address also non-military threats like cyber threats, disinformation, and propaganda, said Stoltenberg.
He said that the best way to counter propaganda and disinformation is "to provide facts, the truth" through a free and independent press. "Journalists asking the difficult questions, checking their facts, checking their stories" is the best way to ensure that propaganda and disinformation do not succeed, he added.
"My vision for NATO 2030 is not about reinventing NATO. It is about making our strong Alliance even stronger. Strong militarily. Stronger politically. And more global," said Stoltenberg.