China Briefs: Feb 7, 2009
February 9, 2009 3:56 am Last Updated: October 1, 2015 10:14 pm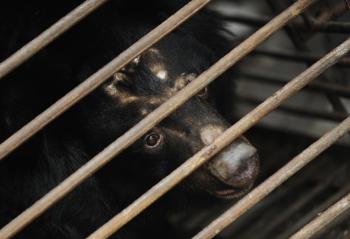 Feb 7 — Injured bears rescued from bile farms in China
CHENGDU, China (AP) – A dozen Asiatic black bears, malnourished and diseased from years spent on abusive bile-harvesting farms in southwest China, were recovering Saturday after being handed over to an animal charity group.
The Hong Kong-based Animals Asia Foundation took in the bears from state-approved farms in Sichuan province where holes were cut in their abdomens so that their bile could drip out to be harvested and used in Chinese traditional medicine.
Feb 7 — China drought deprives millions of drinking water
SHANGHAI (Reuters, Andrew Torchia) – Millions of people and cattle in north China face shortages of drinking water because of a severe drought, the government said on Saturday.
Official media have described the drought as north China's worst in half a century.
The government is particularly anxious to avoid a drop in rural incomes because of the threat of social unrest as millions of migrant workers, laid off from urban jobs during China's economic slump, return to the countryside.
Feb 6 — Repression continues six months after Beijing Olympics opening ceremony, but media and dissidents fight back
Reporters Without Borders – Six months after the Beijing Olympics began on 8 August 2008, Reporters Without Borders urges the Chinese authorities to release all the free speech activists and other citizens still being held in connection with the games.
At least 17 Chinese journalists, bloggers and free speech activists have been arrested since the games ended.
"For hundreds of Chinese, the Olympic legacy is measured in years in prison, administrative sanctions or police surveillance," Reporters Without Borders said. "This is degrading for the Olympic movement, but the authorities still have a chance to change the situation by freeing those who were arrested for expressing their views in connection with the games."

The press freedom organisation added: "It is also deplorable that improved access to websites, one of the few benefits derived from the Olympic Games, has been rolled back. It is clear that the Olympic human rights legacy promised by the government and the International Olympic Committee is extremely meagre."
The Propaganda Department shows no sign of relaxing its control of the Chinese media, but several of them have nonetheless been pushing the limits of censorship and self-censorship. The Beijing News daily, for example, ran a report about the way some of the people organizing petitions have been forcibly confined in psychiatric institutions.
Facing social unrest linked to the economic slowdown, the government is not relinquishing its hold on the media. It announced on 13 January that it was going spend an additional 17 billion yuan (2 billion euros) on state media such as CCTV and the news agency Xinhua. Propaganda Department chief Liu Yunshan said: "It has become urgent for China to ensure that our communication capacity matches our international prestige."
Feb 7 — Security forces patrol Tibetan town in NW China
XIAHE, China (Reuters, Lucy Hornby) – Security forces put on a show of force in the important Tibetan monastery town of Xiahe in the foothills of the Tibetan plateau before a sensitive Tibetan anniversary.
March will mark the 50th anniversary of the exile of the Dalai Lama, Tibet's highest religious leader, and the one-year anniversary of protests against Chinese rule in Lhasa and in Tibetan communities across the plateau.
Riot police marched through Xiahe's tense main street at regular intervals on Saturday morning, while vehicles were stopped and checked at military road blocks about 200 km (120 miles) from Lanzhou, the capital of Gansu province.
Feb 7 — Japanese expert warns of China's inevitable decline
Taipei Times (Ko Shu-ling) – While China is currently a rising power, Watanabe Toshio warned that its attempts to claim other territories could spell its demise. China is headed for eventual decline, a Japanese expert said at a forum in Taipei yesterday, adding that its attempts to assimilate democratic Taiwan would be costly and unsustainable.
Watanabe Toshio, president of Takushoku University in Tokyo, said recent riots in Tibet and Xinjiang had shed light on China's eventual decline.
Eager to take on numerous, impossible missions, China is doomed to fail, he said.
Watanabe said that China already has tremendous territory. After incorporating Tibet, Xinjiang and Inner Mongolia, it is now coveting Taiwan, he said.
Rather than spending energy developing, Beijing has wasted its time on assimilating other countries or territories whose culture, religion and people differ from its own.
Feb 7 — Dalai Lama to receive awards in Europe
DHARAMSALA, India (Phayul) – Exiled Tibetan leader His Holiness the Dalai Lama Saturday left Dharamsala, his exile hometown in northern India, to begin a four-day visit to Europe, where he will receive honorary citizenship of two cities in Italy, and a media prize in Germany.
The Dalai Lama will arrive in Rome, the capital of Italy on 8 February. He is visiting Rome at the invitation of its Mayor, Gianni Alemanno, to receive the honourary citizenship of Rome on 9 February, according to the statement.
The Rome City Council approved by an overwhelming majority a motion in September last year to confer its Honorary Citizenship to the Tibetan leader for "his international efforts to find a peaceful solution for Tibet and for having affirmed the principles of human rights and peaceful conflict-resolution between nations."
Feb 7 — No celebrations on Tibetan New Year, announces Exile Govt
DHARAMSALA, India (Phayul, Phurbu Thinley) – Tibet's Government in exile Saturday announced that there would be only "customary religious" ceremonies and no celebrations to mark this year's Losar (traditional Tibetan New Year), which will fall in the last week of this month.
The decision has been made "taking into consideration of the continuing repression in Tibet and the ruthless crackdown last year which resulted in the deaths of hundreds of Tibetans and thousands imprisoned," the official website of the Tibetan Government-in-Exile said in its report.
Feb 7 — Chinese Lawyer: Divine Performing Arts Brings Beautiful Entertainment and Inspiration
NEW YORK (Clearwisdom, Falun Dafa Worldwide) – Chinese human rights lawyer in awe of Divine Performing Arts (DPA) Chinese New Year Splendor at Radio City Music Hall.
Chinese lawyer Li Jianqiang said he watched two DPA shows in a row at Radio City Music Hall in New York City during Chinese New Year. He said, "I must admit I am deeply moved by and completely in awe of DPA. I couldn't stop my tears both times I watched the show.
"I have a strong wish after watching the show, that is, when can we have the opportunity to have DPA perform in China? That would provide a chance for everyone there to think and judge for themselves the following questions: What kind of people are able to produce such a show full of righteousness and wonderfulness? What kind of people can perform such an exquisite and exceptionally beautiful show? Are they beneficial or harmful to the country and the people? Who is good or evil, they or the regime who persecutes them?
Li Jianqiang, whose pen name is Liu Lu, is a well known Chinese lawyer who defends human rights. He graduated from the Department of Chinese Language at the People's University of China. His works include "Rights-defending Lawyer: a Dangerous Profession" and "Searching for Tomorrow's Morning Glow."
Feb 7 — Bangkok Post : China slams Canadian extradition system
BEIJING (Bangkok Post ) – In a case with strong similarities to the Rakesh Saxena extradition, Beijing has criticised a decision by Canada to grant a work permit to one of China's richest and most-wanted fugitives.
Canadian Immigration Minister Jason Kenney said Thursday that authorities had decided to give Lai Changxing a visa. Canada's courts have refused to deport him citing concerns over China's treatment of prisoners.
Normally, foreign criminal suspects are not granted refugee status by Canada and are deported to the country seeking to prosecute them. But China's use of the death penalty and reputed abuse of prisoners has made Canadian courts reject Lai's deportation.
Feb 7 — Watchdog: China recalls rabies vaccine containing illegal ingredient
People's Daily (state-run English-language newspaper) – China's quality watchdog Friday recalled a human rabies vaccine produced in 2008 by a Liaoning province company which contained an illegal nucleic acid ingredient. The ingredient acts as an adjuvant, a substance used to enhance the effectiveness of a drug or a pesticide. The rabies vaccine, produced by Dalian Gold Hong Kong Company, failed the test launched in January by National Institute for …
Feb 7 — China moves ahead with economical ultra-high voltage transmission lines
People's Daily – Despite the chilly wind, the erection of electricity pylons and the building of converter stations on one of China's most remarkable technological achievements goes ahead full swing across the mountains and plains from southwest China's Sichuan Province to east China's coastal Shanghai. Even the Spring Festival does not hold up work on the electricity power line …
Feb 7 — China's submarine patrols raises eyebrows in India
NEW DELHI (Express India, Manu Pubby) – With its expanding Naval fleet and the induction of a new class of nuclear submarines, China has doubled the number of patrols carried out by its attack submarines outside the country's territorial waters, showing that it is capable of sending its stealthy nuclear powered subs on extended deployment far away from the mainland.
In an indication of the country's growing naval prowess, latest reports by American intelligence agencies have revealed that China's fleet of over 50 submarines carried out 12 extended patrols in 2008, double the number that the Chinese Navy carried out in the previous year.