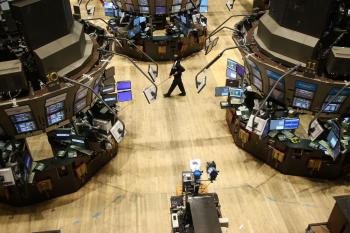 Jan 9 — China: Creditor to the Rich
Council on Foreign Relations, Brad Setser – China's government is now by far the largest creditor of the United States. Never before has a country as poor as China lent so much money to a country as rich as the United States. And never before has the United States relied so heavily on another country's government for financing.
Jan 8 — Kissinger, Obama and the communist Chinese
World Tribune (Accuracy in Media, Cliff Kincaid) – Henry Kissinger made headlines on Jan. 5 by proclaiming Barack Obama to be the architect of a "New World Order." He told CNBC that "His task will be to develop an overall strategy for America in this period when, really, a new world order can be created. It's a great opportunity, it isn't just a crisis."
But just as significant as this eye-opening statement was where Kissinger made it: the floor of the New York Stock Exchange (NYSE).
Kissinger, a former Secretary of State, was alongside Stephen Orlins, president of the U.S. National Committee on U.S.-China Relations, and two Chinese officials, as Orlins rang the market bell and declared that the 45 Chinese companies with a market capitalization of $802 billion that are listed on the NYSE were "emblematic of the economic integration of the two countries."
Jan 9 — China busts 40 illegal banks in five months
People's Daily – Chinese authorities busted more than 40 major illegal private banks from July to November this year, the Ministry of Public Security (MPS) said here Friday. The illegal banks were uncovered in a five-month joint operation between the MPS, the People's Bank of China and the State Administration of Foreign Exchange, in eastern Fujian and Jiangxi provinces and southern Guangdong Province.
Jan 9 — China said to let foreign banks trade corporate bonds (Update1)
Bloomberg (Tom Kohn) – China will allow foreign banks to trade corporate bonds in the interbank market for the first time, fulfilling a pledge made during talks with the U.S. in December, two people familiar with the matter said.
China is opening its financial markets, allowing more foreign bank ownership and encouraging bond and stock sales as it tries to stem the impact of a global slowdown on its economy.
Jan 9 — China c.bank scraps floor on interbank bond issues
BEIJING (Reuters) – China's central bank on Friday scrapped a 500 million yuan ($73 million) floor on interbank bond issuance, which it said would give a boost to the country's debt market.

Jan 9 — China revamping its key southern factory region
GUANGZHOU, China (Associated Press, William Foreman) – China has updated an ambitious blueprint to aggressively revamp the country's key manufacturing region — a plan that has already helped cause many low-end factories to move or shut down.
Jan 9 — China to brighten bleak New Year with cash gifts
BEIJING (Reuters) – China will give its neediest citizens hand-outs of up to 180 yuan ($26) to brighten their mood before the Chinese New Year, a usually festive occasion that has been marred by the economic downturn.
The pay-outs ranging from 100 to 180 yuan would mainly go to laid-off workers and veteran Communist Party members living in straitened circumstances.
Jan 9 — China warns on fake yuan currency
BBC News – China's central bank has issued a warning about fake bank notes ahead of the Lunar New Year holiday.
Jan 9 — China's Sichuan earthquake victims still living in poverty
NEW YORK (NTDTV) – With Chinese New Year approaching, many victims of the Sichuan earthquake last May are still left out in the cold. Some of them cannot afford proper housing and are still living in temporary wooden tents.
Earthquake victim Mr. Song said, "According to the media reports, the Beijing Government spent one million billion yuan to reconstruct the earthquake-affected area. Our local report said if your house was damaged by earthquake then you can get five thousand to ten thousand; if the damage is serious, then you can get thirty-five thousand yuan. But every family only gets two hundred yuan and only if you have a good relationship with local officials. This is not fair."
Jan 9 — China has arrested 60 over tainted milk scandal: police
BEIJING (AFP) – China said on Friday it had arrested a total of 60 people in the tainted milk scandal that led to the deaths of at least six children and sickened nearly 300,000 others.
So far, 21 people have stood trial over the safety scare, including the former boss of Sanlu, the dairy company at the heart of the scandal.
Jan 9 — China plans production controls for deadly melamine
BEIJING (Reuters, Chris Buckley) – China plans to impose production controls on melamine, the cheap industrial ingredient at the center of a milk-contamination scandal that shocked China and the rest of the world last year, a newspaper said Friday.
Jan 9 — China bans diet drug, says it can harm heart
BEIJING (Associated Press) – China's top food and drug regulator has ordered a halt to the sale and production of the weight-loss drug fenfluramine hydrochloride, citing its harmful side effects.
Fenfluramine hydrochloride is one of the main ingredients in the obesity drug fen-phen, which was banned in the United States in 1997 …
Jan 9 — China plans major revamp of public hospitals
BEIJING (Associated Press, Tini Tran) – China plans a major revamp of its public hospitals — criticized for their lack of access, huge fees and poor doctor services — as part of its long-awaited reform of the national health care system.
Health Minister Chen Zhu said a key part of the reform will be aimed at changing the way hospitals make profits, the official Xinhua News Agency reported Friday.
Jan 9 — Villagers in China sorry for journalist 'friction'
BEIJING (Associated Press) – A group of villagers from central China apologized to a Belgian television crew who said they were attacked while trying to report on HIV conditions there last year, a local official said Friday.
Henan has been highly sensitive to reporting on AIDS since the virus that causes the disease spread widely there in the 1990s through unhygienic blood-buying rings, which allegedly operated with official protection. Officials there have been accused in the past of abusing AIDS victims and advocates.
Jan 9 — China: Protester reported beaten
New York Times – A Shanghai woman who had traveled to Beijing to protest home evictions for real estate developments was detained and beaten by the authorities, a human rights group said.
Jan 9 — China shuts 41 sites in porn crackdown: state media
BEIJING (AFP) – China has shut down 41 websites as authorities continue a crackdown on online porn that has seen Internet giants like Google and MSN ordered to cut links with such material, state-run media said Friday.
Google said Wednesday it had deleted all links to vulgar material from its search indexes and go all-out to prevent such material re-appearing.
"Google is willing to be a law-abiding citizen in China," it said in a statement.
Jan 9 — Edgy China blog site shut amid Internet porn sweep
BEIJING (Associated Press, Anita Chang) – China expanded an Internet cleanup campaign Friday, shutting down an edgy blog hosting site for apparently carrying "harmful comments" and naming more than a dozen sites containing pornography or other vulgar content.
The latest government Internet sweep began with a well-publicized crackdown on pornography, which is banned in China, but was widened to include a blog hosting site popular with activists, bullog.cn.
Jan 9 — No breakthrough as Japan, China discuss gas field
TOKYO (AFP) – Japan and China made no visible progress in talks Friday on their renewed row over gas fields in the East China Sea.
Jan 9 — China and US should use pressure, not diplomacy, with North Korea
HONG KONG (AFP) – China could end North Korea's nuclear drive by threatening to cut off its energy supply, a former US ambassador said Thursday.
John Bolton, who spoke to a packed audience at the Foreign Correspondents' Club in Hong Kong, said the use of diplomacy by the United States and China was a mistake.
"I think China is concerned that too much pressure will bring the North Korean regime down, and that would lead to a rapid reunification of the Korean peninsula, which China doesn't see in its interest," he said.
Jan 9 — Taiwanese want to keep status quo with China
(Global Monitor, Angus Reid) – Few people in Taiwan are ready for a drastic change in their relationship with China, according to a poll by CommonWealth.
57.8 per cent of respondents want to maintain the status quo, while 18.6 per cent want to achieve independence while keeping a good relation with the mainland.
Jan 9 — Canada and China: Why is this man frowning?
Canadian Business (Rachel Pulfer) – Three years into his leadership and Prime Minister Stephen Harper still hasn't made a single trip to China. It's a known fact that bilateral relations have been frosty, but just where exactly is Canada's trade policy with China heading?
Jan 9 — South Africa: China Consolidating Position As World No.1 Gold Producer
AllAfrica.com – China's Ministry of Industry and Information Technology has released figures for the country's gold output in November showing that production for the year to end-November reached 246.51 tonnes — up only 2.14 percent from the figure for the first 11 months of 2008 — the year in which China's gold production exceeded that of South Africa for the first time, making it the world's top producer.
Jan 9 — China, Colombia vow to step up parliamentary cooperation
People's Daily – China and Colombia vowed here on Friday to step up the parliamentary cooperation to boost bilateral relations. Relations between the two parliaments are important components of bilateral relations, Chinese top legislator Wu Bangguo said in his meeting with visiting President of Colombian Congress Hernan Andrade Serrano.
Jan 9 — China sends envoy to Middle East to ease tensions
BEIJING (Associated Press) – China's Middle East envoy will return to the region to push for an end to fighting between Israel and Hamas in the Gaza Strip, the Chinese Foreign Ministry announced Saturday.
While Beijing is not traditionally a heavyweight in Middle East diplomacy, China in recent years has become more active, seeing stability in the Middle East as helping to secure the oil and gas imports the Chinese economy relies on.