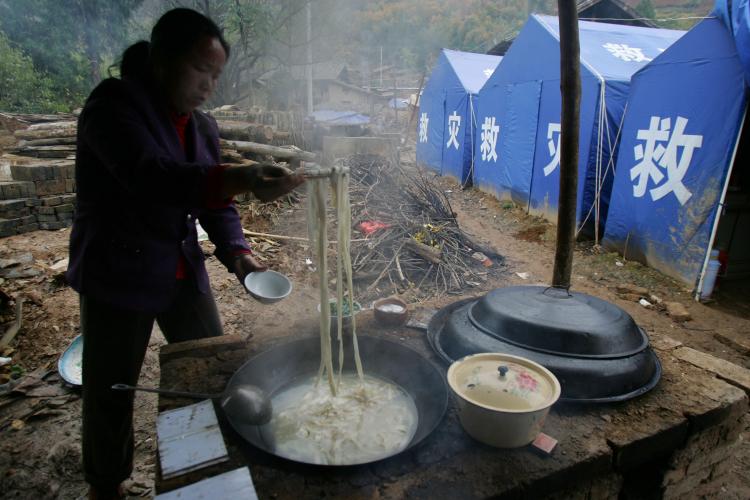 Jan 26 — Thousands displaced by quake in Xinjiang, China
BEIJING (Reuters, Lucy Hornby) – Thousands of people have been made homeless by an earthquake on Sunday in remote Qapqal, in China's far western region of Xinjiang near the Kazakh border, the Xinhua news agency said on Monday.
Jan 26 — China reports fifth bird flu death this year
BEIJING (Reuters, Lucy Hornby and Niu Shuping) – China's Ministry of Health said a young man had died of the H5N1 strain of bird flu Monday, the fifth reported death this month.
The bird flu deaths in China in January have been scattered across the country in areas where there has been no known outbreak of bird flu among poultry, raising concerns among scientists that the virus may be present but masked by widespread vaccination.
Jan 26 — Few Lunar celebrations for jobless in China
LANKAO, China (AFP) – Beaten, cheated and underpaid in cities, rural migrant worker Cheng Wenlong trekked home for the Lunar New Year with no job and few plans to celebrate China's most important holiday.
"I was not able to bring home anything. What's the point of celebrating?" said the 19-year-old who is meant to be the main money earner for his family after his father died in a road accident eight years ago.
This year he came back three months before the week-long holiday, which begins on Monday, after losing his job as a welder at a shipyard in the eastern city of Taizhou as foreign orders collapsed amid the global economic crisis.
"There is just no work there now," he said.
Jan 23 — China: Economic Crisis Increases Risks for Migrant Workers
NEW YORK (Human Rights Watch) – The Chinese government should ensure that the rights of China's estimated 150 million migrant workers are not sacrificed as Beijing copes with the ongoing global economic crisis, Human Rights Watch said today.
Migrant workers have helped to spur China's dramatic economic growth rate over the past three decades. Yet recent research and studies by leading government-affiliated bodies and research organizations conclude that migrant workers are the earliest casualties of any economic downturn.
China's massive migrant worker population is already socially, economically, and legally marginalized and is uniquely vulnerable to the global slowdown's effects on China. The economic crisis could well spark a 'race to the bottom' in rights protections and work conditions as employers exploit migrants desperate to work, said Brad Adams, Asia director at Human Rights Watch.
Jan 26 — China's 'Severe' Challenges Create Budget Woes, Minister Says
Bloomberg (Dune Lawrence) – China will have difficulty balancing its budget this year as the government's economic stimulus plan leads to higher spending and lower tax revenue, Finance Minister Xie Xuren said.
China faces "very severe" international and domestic economic conditions and officials must make sure they spend funds efficiently, Xie said in a New Year greeting posted on the ministry's Web site today.
China's budget deficit may rise to 500 billion yuan in 2009 from a government forecast of 180 billion for 2008, Caijing Magazine reported last month.
Jan 26 — China Premier's gifts to Europe come with price-tags
BEIJING (Reuters, Chris Buckley) – China's Premier flies to Europe on Tuesday bearing vows of support for its crisis-rattled economies, in a bridge-mending visit that shows Beijing's potential to use its financial muscle for diplomatic sway.
Wen's five destinations: Switzerland and the World Economic Forum in Davos, Germany, the European Union headquarters in Brussels, Spain and Britain.
But Beijing's gifts have price-tags attached.
China is still fuming over Sarkozy's meeting with the Dalai Lama, the exiled Tibetan leader condemned by Beijing as a separatist for demanding autonomy for his homeland.
Paris is conspicuously off Wen's itinerary.
Chinese foreign policy researcher, Xu Jin, wrote in a recent Beijing policy journal that "politically and diplomatically, the financial crisis may not be a bad thing for China."
"In these circumstances, the U.S. and Europe will increase their efforts to win over China," wrote Xu, "and China should strive to use this opportunity to achieve its corresponding political and economic interests."
Indeed, the capitals hosting Wen have so far made little fuss about Tibet, Beijing's abrupt cancellation of the EU summit, and its sidelining of France, said Fox.
"The European leaders are pretending none of that happened."
Jan 26 — Effort seeks St. Louis as trade hub with China
ST. LOUIS (AP) – St. Louis civic leaders have dubbed it "The Big Idea." If it works, St. Louis could become a major trade hub with China.
Sen. Kit Bond, R-Mo., joined civic leaders and China's ambassador to the U.S., Zhou Wenzhong (pronounced Joh Wen-Zawng), on Monday to announce formation of the Midwest China Hub Commission. The commission is made up of representatives from St. Louis city, St. Louis County, the state of Missouri and other entities.
The goal is to expand trade between the Midwest and China, and to create jobs and economic development here as a result of the cooperative effort. The plan includes using Lambert Airport in St. Louis and MidAmerica St. Louis Airport at nearby Mascoutah, Ill., as cargo and freight hubs that would benefit the entire Midwest. Daniel Mehan, president of the Missouri Chamber of Commerce and Industry, noted that St. Louis is within a one-day drive of nine states.
Zhou said the Chinese are well aware of the importance of expanding trade beyond the U.S. coasts.
Jan 26 — WTO Rules Against China In Copyright Dispute With US
GENEVA (AFP / Dow Jones Newswires) – The World Trade Organization has ruled against China in a copyright protection dispute with the U.S, according to a WTO decision published Monday.
"The Panel recommends…that China bring the Copyright Law and the Customs measures into conformity with its obligations," the WTO dispute settlement panel said.
Jan 26 — China 'Strikes Hard' in Tibet
HONG KONG (Radio Free Asia) – Chinese authorities in Tibet have launched a 42-day "strike hard" campaign in the Himalayan region, rounding up thousands for questioning.
"Within three days of the launch of the winter "Strike Hard" campaign on Jan. 18, 2009, the Lhasa municipal public security bureau had deployed 600 officers and around 160 police vehicles, and had conducted raids on seven housing blocks, 2,922 rented houses, 14 guest house and hotels, 18 bars and three Internet cafés in Lhasa," the Chinese-language state-run Lhasa Evening News reported.
The paper said police had rounded up 5,766 suspects for questioning, according to a translation posted on the Web site of the Tibetan Centre for Human Rights and Democracy.
Jan 26 — China tries American 'soft power' with hospital ship
BEIJING (The Washington Times, Chris O'Brien) – China's military has a new weapon in the country's soft-power arsenal that copies a technique long used by the United States – a 10,000-ton hospital ship to be deployed for humanitarian purposes in Asia and beyond.
The vessel, dubbed Ship 866, is meant to soften China's image overseas and allay concerns among its neighbors over its navy´s growing strength, while at the same time adding to its military capabilities, analysts say.
Chinese warships last month began patrolling the pirate-plagued waters in the Gulf of Aden – the first time they have ventured out of the Pacific on a combat mission since the 15th century. A top Chinese defense military official said recently that China is seriously considering adding its first aircraft carrier to its naval fleet.
Jan 25 — China says recalled dumplings safe
BEIJING (UPI) – Officials in China say dumplings recalled after a food-poisoning case in Japan did not seriously sicken anyone in China where the dumplings were made.
Jan 26 — China Death Sentences May Protect Exports After Milk Scandal
Bloomberg (Stephanie Wong) – Zhang Yujun, a cattle farmer in eastern China, made almost $1 million selling a toxic concoction that milk buyers used to doctor dairy products and boost profits, killing six infants. Now Zhang will pay with his life.
Zhang said at his December trial that putting melamine in milk "became an open secret" in the dairy industry and "was very popular."
Lau Yui-siu, who teaches China affairs at Hong Kong University and Baptist University in Hong Kong, says the melamine sentences are meaningless because the government isn't taking responsibility for its role in the scandal.