Inspectors in China Find Tons of Melamine-Tainted Animal Feed
November 2, 2008 11:22 pm Last Updated: October 1, 2015 10:42 pm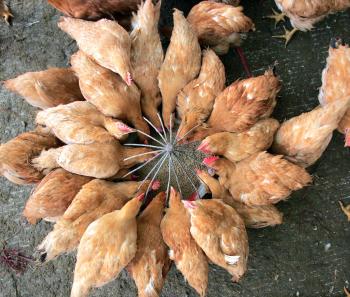 Six tons of animal feed in Guangdong Province in southern China were found to be tainted with the toxic contaminant melamine, said the province's Department of Agriculture on October 31.
According to the Information Times newspaper, inspectors tested 531 types of feed and eight batches—a total of 6.48 tons—came up positive for melamine. Feeds are used as food to raise chicken, duck, cattle, pig and fish. The tainted feed was manufactured in other provinces.
Local eggs were not found to be tainted with melamine because the feed produced in Guangdong was free of the contaminant, said an officer at the Department of Agriculture. He explained that eggs would not necessarily be tainted if the melamine content in the feed was low enough. As for determining the limit in feed that would result in tainted eggs, no final conclusion has yet been reached.
From among 400 samples of fish feed, about 80 were found to be infected by the chemical. Melamine levels in some samples were as a high as two percent in one sample according to a statement by Vietnam's Ho Chi Minh Department of Science and Technology on October 29. To certify safe animal feed, companies voluntarily provided these samples to the test center. Suppliers that produced the tainted feed were not mentioned in the report.