Chinese Internet Users Reach 338 Million
July 21, 2009 10:02 am Last Updated: October 1, 2015 9:36 pm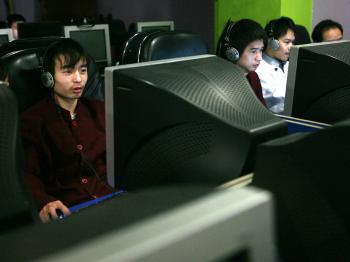 The latest statistics show that by the end of June, there were more than 338 million Internet users in China. That number indicates a 13 percent increase since the end of 2008.
Over the past six months, 40 million people have joined the internet. However, 70 percent of those users consider it dangerous to trade online.
According to a report on qq.com, on July 14, the China Internet Network Information Center (CNNIC) published the 24th Statistics Report on Internet Development in China.
The report stated that by the end of June 2009, 133 million of the 338 million users in China accessed the Internet through cell phones, while 320 million used broadband. The speed of China's broadband is much slower than the world average and is less than one-fortieth of that used in Japan.
Based on the report, 50 percent of internet users go online for the purposes of entertainment, information, and social contacts.
The ratio of male and female users is 53 to 47. Of the 338 million users, 175 million are teenagers; 62.8 percent are between 10 and 29 years of age; and 67.3 percent have an elementary school or a high school education.
In spite of the economic downturn, the number of users who do online shopping has gone up. There are 87.88 million Chinese people shopping online, an increase of 14 million over the past six months. During the same period, the application rate for online trading has increased 4.8 percent. However, less than 30 percent of users consider it safe to trade online.
According to the report, 82.4 percent of online users installed anti-viral software on the computers they most often use. However, in the past six months, 195 million users were attacked by viruses and Trojan horses, and 110 million users had their accounts or passwords stolen.