Countries heavily involved in the Middle East reacted to the United States taking out top Iranian General Qassem Soleimani, including China, Russia, and Germany.
Britain Foreign Minister Dominic Raab urged "all parties to de-escalate," adding that "further conflict is in none of our interests."
Ulrike Demmer, a German government spokeswoman, said the United States was just reacting to Iranian provocations.
"The American action was a reaction to a series of military provocations for which Iran is responsible," she told reporters at a press conference.
"We also see with great concern Iran's activities in the region. We stand before a dangerous escalation," she added. Germany will try to de-escalate the situation, she said.
Iraqi President Barham Salih also urged restraint, telling NBC: "The situation in Iraq is very fragile, very precarious. I urge restraint on all sides. Iraq cannot be condemned to another cycle of violence. We have had too many wars over the last four decades."
Geng Shuang, spokesperson of the Foreign Ministry of China, said in a statement that "The peace and stability in the gulf area and Middle East should be maintained."
"We urge all sides to be restrained and calm and avoid further escalation of the situation," he said. China is one of the biggest backers of the Iranian regime.
Secretary of State Mike Pompeo said he spoke to a number of world leaders about the airstrike, including the foreign ministers of China, Britain, and Germany, making clear that the United States remains committed to de-escalation.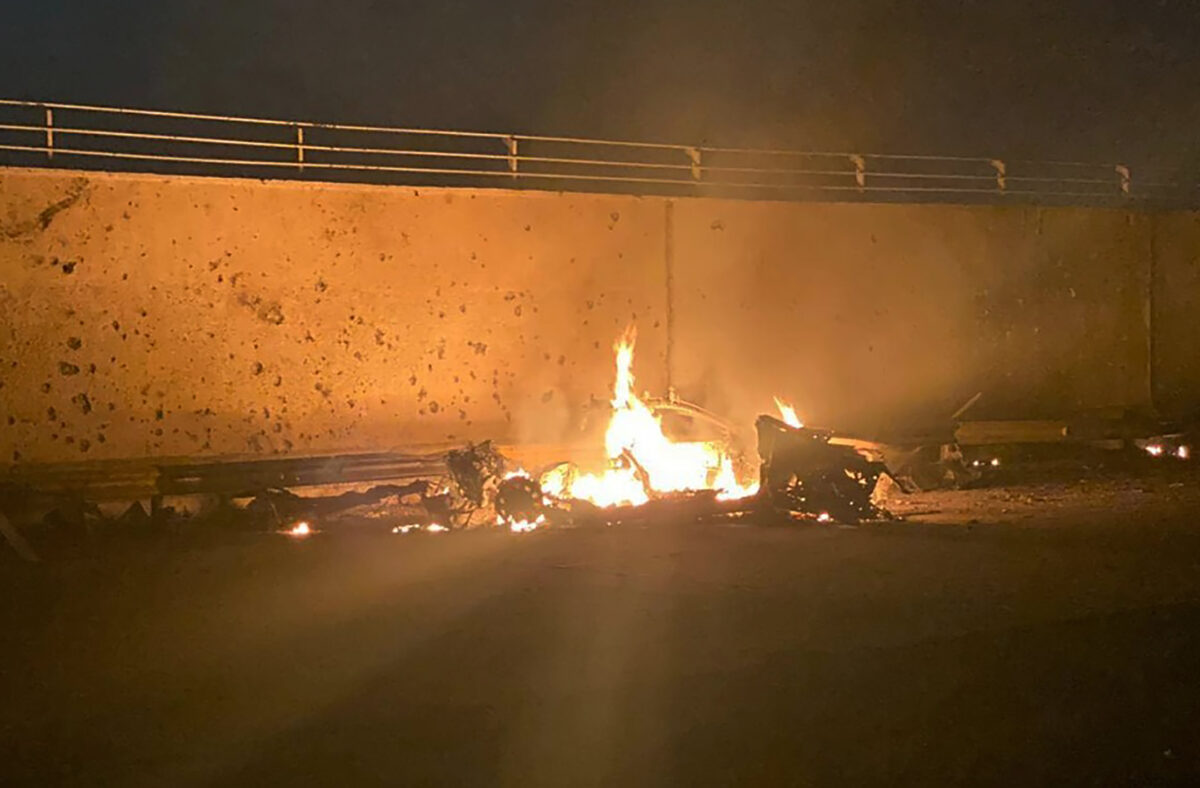 Russia was among the countries condemning the attack.
A Russian Foreign Ministry source told the Russian News Agency TASS that "we consider Soleimani's murder in a U.S. missile strike at the suburbs of Baghdad an adventurous step that will lead to growing tensions throughout the region."
"Soleimani devotedly served the cause of protecting Iran's national interests. We are offering our sincere condolences to the Iranian people," the source added.
French Secretary of State for European Affairs Amelie de Montchalin said "We have woken up to a more dangerous world," adding that President Emmanuel Macron would consult soon with "players in the region."
Israel, meanwhile, placed its military on heightened alert and Prime Minister Benjamin Netanyahu returned early from a trip outside the country after Soleimani's killing.
"Israel stands with the United States in its just struggle for peace, security, and self-defense," Netanyahu told reporters.
Israel has long regarded Soleimani as a major threat. In August last year, the military said it had foiled a Quds Force attack administered by Soleimani, involving multiple drones from Syria.
In Gaza, Hamas—which has long enjoyed financial and military support from Tehran—condemned Soleimani's killing and sent its "dearest condolences" to Iran. Gaza-based Hamas official Bassem Naim wrote on Twitter that the killing "opens the doors of the region to all possibilities, except calm & stability. USA bears the responsibility for that."
On Twitter, Iranian Foreign Minister Mohammad Javad Zarif called the killing of Soleimani "an extremely dangerous and foolish escalation."
"The U.S. bears responsibility for all consequences of its rogue adventurism," he said.
The Syrian government also condemned the killing. A foreign ministry official told SANA, a state news agency, that the country is "certain that this cowardly US aggression… will only strengthen determination to follow in the path of the resistance's martyred leaders."
Reuters contributed to this report.