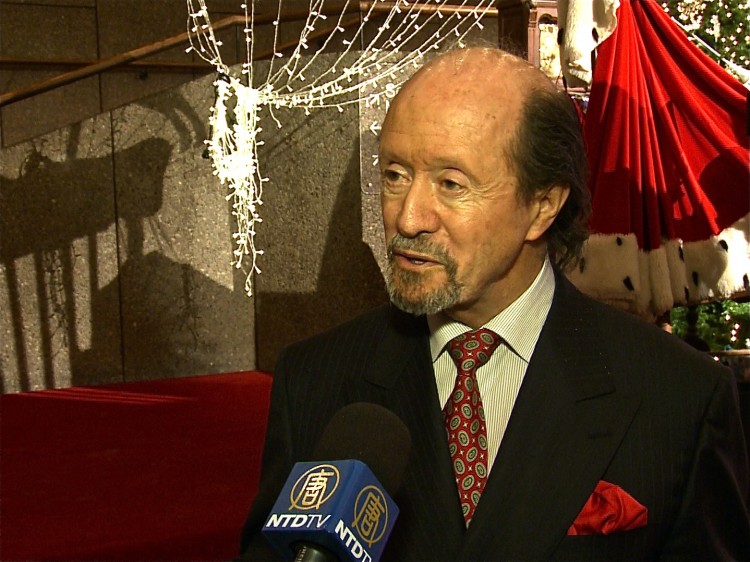 OTTAWA, Canada—There are few in the world who understand China today better than Brian McAdam. During his time in Hong Kong, stationed as a diplomat, he helped uncover corruption at the Canadian Consulate in Hong Kong, which was being infiltrated by Chinese organized crimes.
That was in 1993 after 30 years in the foreign service. But long before that, he lived in Hong Kong, and had front-row seats during the reign of Mao Zedong as the country went through a brutal upheaval that all but wiped out the traditional culture.
So when Shen Yun Performing Arts started touring the world on a mission to revive the essence of China's divinely inspired culture, it was an event Mr. McAdam didn't want to miss. And he never has, taking in the show every time it has come to Ottawa—seven and counting.
It's a show that gives him hope for brighter days in the Middle Kingdom, once the spiritual and philosophical mecca of the entire world. 
"Very elegant, very beautiful, and very moving," Mr. McAdam said after taking in Shen Yun's Saturday evening performance at the National Arts Centre. "I found at the end, I was very moved by what I just saw. I recognize the effort that goes into this production."
"You can just see the dancers are filled with life. Just amazing. It's not like a normal production that one would see, like a Broadway production. You see phenomenal human spirit, it's fantastic."
Mr. McAdam first went to Hong Kong in 1968 and lived there for three years.
"I remember going to so many communist productions because I was curious to see what they were like, because they all had rifles and they had little red books and banners and shouting, singing all these slogans. 
"It was the ultimate in necrophilia, which basically means a death culture. That's of course what was taking place at the time, because Mao Zedong proclaimed that he wanted to destroy all the traditional Chinese culture. And he tried to do that, they're still trying to do that."
Mr. McAdam noted that in the process, the Chinese Communist Party has killed tens of millions of Chinese people. And yet, the culture it tried to destroy lives on, resurrected in Shen Yun's performances, he said.
"I'm so happy that people can see this culture. It's fantastic."
Shen Yun was founded in 2006 on a mission to revive 5,000 years of Chinese culture, as detailed on the company's website.
Mr. McAdam said the effort to revive that culture is phenomenal. Shen Yun's performances feature splendid colour and uplifting portrayals of the legends and historical figures of China's rich history.
"The Communists came into power in 1949, so most of the people living today haven't seen very much of Chinese culture," said Mr. McAdam.
He said that in the recent past, people associated China with brutal authoritarianism. More recently, China is seen in terms of tall buildings and its rapid development. But there is still a lack of real human development.
"You're not seeing any progress of the human beings, and it's certainly not filled with love; it's filled with greed. So, it's wonderful that this is coming out for people to see. This is the real [traditional] China that they're portraying, and certainly what I carry in my mind as the real China."
"It's something to be very, very proud of, and I think it's a marvelous production, and I'll certainly go year after year."
Reporting by NTD Television and Matthew Little
New York-based Shen Yun Performing Arts has three touring companies that perform simultaneously around the world. Shen Yun's New York Company will be in Ottawa until Dec. 30 before going on to Montreal, Toronto, and other cities in eastern Canada. 
 For more information, visit ShenYunPerformingArts.org
The Epoch Times publishes in 35 countries and in 20 languages. Subscribe to our e-newsletter.