China's Tough Employment Situation
February 3, 2009 6:00 pm Last Updated: October 1, 2015 10:16 pm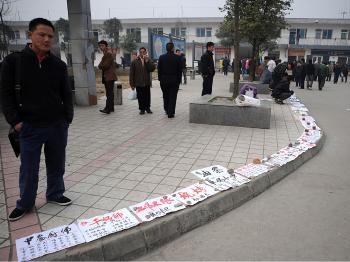 At the World Economic Forum's Annual Meeting in Davos, Switzerland on January 28, Chinese Premier Wen Jiabao said that China is undertaking various measures to reach its goal of an 8% GDP growth this year. However, he admitted this would be very difficult given the present economic climate.
Since the financial crisis swept through the world, China's economy has been growing at smaller and smaller rates. As its economy slows down, unemployment in China is subsequently rising steadily—heightening anxiety in the Chinese Communist Party (CCP), which has seen opposition to its rule increase in recent years.
2008 Fourth Quarter GPD Growth Only 6.8%
According to data published by the National Bureau of Statistics of China, China's fourth quarter GDP growth for 2008 was only 6.8 percent—the lowest growth seen in the past seven years.
Since the financial storm broke out last year, China's export industry, which accounts for 20 percent of China's total economic growth, was severely impacted by a drop in demand. The export industry started to shrink in November 2008, and in December experienced a 2.8 percent decrease, the worst performance since 1999.
According to a forecast by HSBC Hong Kong, during the first quarter of 2009, China's exports could go down as much as 19 percent. This would result in the closure of many export enterprises and could cost ten million peasant laborers their jobs.
Experts Anticipate 5% Growth in 2009
On January 28, the International Monetary Fund estimated that China's GDP would grow 6.7 percent in 2009. Many financial experts predicted that the number could be as low as 5 percent.
According to Nouriel Roubini, an economics professor at New York University who has grown famous for accurately predicting the global financial crisis, China's GDP growth this year will not exceed 5 percent. China economist, Mark Williams, from London based Capital Economics, said in an interview with Voice of America that he also anticipated a growth of 5 percent this year in China's GDP.
Tough Job Market
Chinese authorities spoke of a tight job market in China several times recently. In early November 2008, China's Human Resources and Social Security Department demanded that employment stabilization be treated "as a top priority."
In early December 2008, China's highest level economic meeting, the Central Economic Work Conference, continued to stress implementing a more active employment policy.
In mid-December 2008, Hu Jintao warned that China's employment situation in 2009 would be very grim. Recently, the Human Resources and Social Security Department also disclosed that Chinese citizens will face a very tough employment situation in the months ahead.
Scholars: China's Actual Unemployment Rate Is Between 24 and 27 Percent
The actual unemployment rate in China has always been something of an enigma because the CCP represents China's unemployment with a rate that excludes migrant workers and rural populations. The CCP's official data at the end of 2008 showed that this "urban" unemployment rate was 4.2 percent.
In the latest "Blue Book of China's Society," a yearbook from the Chinese Academy of Social Sciences, the actual unemployment rate in urban areas was 9.6 percent.
Professor Zeng Xiangyuan, Director of the Academy of Labor and Social Relations at the Renmin University of China, has said that based on data uncovered through investigations, China's unemployment rate for both urban and rural areas should be between 24 to 27 percent if converted to international standards.
As the Chinese unemployment rate rises, protests have increased. This unrest is a growing concern in the mind of the CCP, which forever fears losing its power base in China.