China Earthquake Official Death Toll Over 32,000
May 19, 2008 12:00 am Last Updated: May 19, 2008 12:00 am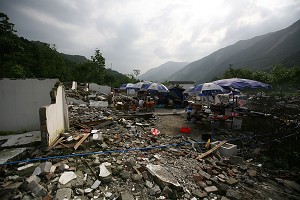 According to official data, as of 2:00 p.m. on May 18, the deadly earthquake in China killed 32,477 people and injured over 220,000. Chinese State Council Press Office released the above figures in a press conference.
The reported magnitude of Wenchuan earthquake was also revised to 8.0 on the Richter scale by the China Seismology Bureau after recalculations based on data from seismological monitoring stations worldwide.
According to preliminary survey data, the maximum intensity of this earthquake reached 11 on Chinese Seismic Scale. Over 100,000 square kilometer suffered severe damage.