China's Economy Rebounds on Paper Only
April 21, 2009 4:49 pm Last Updated: October 1, 2015 9:53 pm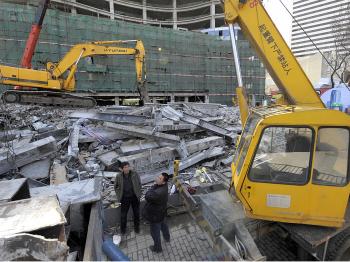 The United States is now over 15 months into the global financial crisis.
The unemployment rate is at 8.5 percent, its highest level in 25 years. The S&P/Case-Shiller Home Price Indices released on March 31 shows a continued downward spiral in the prices of existing single-family homes across the country. Retail sales in March tumbled, and there is little evidence that the recession will soon abate.
These are clear indications that United States is still in a deep recession. In other words, there is no light at the end of the tunnel yet.
Yet, somehow, numbers released by Beijing suggest that the Chinese economy has already bottomed out and has started to rebound. In March, some commodity imports, such as iron ore, coal, and oil reportedly rose dramatically.
The Purchasing Managers' Index (PMI) released by the National Bureau of Statistics of China, a measure of activity in the manufacturing sector, climbed to 52.4 in March from 49.0 in February, the first time the PMI has seen expansionary territory since the beginning of the recession.
Listen to Sound of Hope's report: China's Economic Stimulus Plan/U.S.-China Policy
[mp3remote]http://digging-to-china.com/podpress_trac/web/58/0/dtc_62_sherretta_kusumi_128.mp3[/mp3remote]
Over the Easter weekend, the Chinese Communist Party Premier Wen Jiabao echoed this newly found optimism. According to the state-controlled media, he said that the economy showed "better than expected positive changes in the first quarter," due to stimulus spending and some regions "are in a process of gradual recovery."
Numbers Don't Add Up
While Chinese customs data could not be independently verified, some financial firms have released their own version of the Chinese PMI. Data from Credit Lyonnais Securities Asia (CLSA) showed a completely different trend than the official Chinese figures.
From February to March, China's PMI actually sank from 45.1 to 44.8,according to CLSA. Hard economic measures, such as export and energy consumption from the Chinese government, are more apparent. Chinese exports continued a precipitous fall. In the first quarter of 2009, exports declined almost 20 percent annualized.
Total electricity consumption in China has decreased 1.4 percent. Without major improvements in energy efficiency and productivity in China, this can only point to a contracting economy. At the same time, the ability of Chinese companies to pay their suppliers was rapidly deteriorating, "significantly increasing the risk of doing business in China," warned the Coface Group, one of the world's biggest credit insurers, in a Financial Times report.
These data suggest that real expansion has yet to happen in China. To put it mildly, "China is in a recession regardless of what the highly massaged official numbers claim," wrote Nouriel Roubini, a professor of economics at New York University, on his Web site.
Over-Reliance on Exports
Consumer spending only accounts for a tiny portion of GDP in China, as opposed to the United States, where consumers drive 70 percent of the U.S. GDP.
Without strong domestic demand for products and services, China's growth increasingly relies on its exports, which currently amount to 40 percent of its GDP. A new study by Li Cui and his co-authors at the Hong Kong Monetary Authority found that Chinese exports were largely responsible for job growth and investment in recent years. If the export market continues to worsen, as the global recession takes its toll on foreign consumers, a rebound of China's economy is highly unlikely, according to the study.
The 4 trillion yuan ($586 billion) stimulus recently announced in China was mostly spent on building highways and other infrastructure projects. So far, the biggest impact has been to boost employment and revenues at state-run construction companies and suppliers of building materials.
Even if the proclaimed rebound in recent months is real, there is a possibility that China's recovery could be "W-shaped" or even "L-shaped." A "W-shaped" recovery signifies a double recession with a temporary rebound in between, and an "L-shaped" recovery is no recovery at all.
Cao Jianhai, a professor at the Chinese Academy of Social Sciences, told the Financial Times that urban residential property prices in China would halve in the next two years from their levels at the end of 2008, followed by many years of stagnation.
Recovery Can't Wait
In the United States, we've seen how the recent housing market meltdown caused massive losses in the financial markets, and the net worth of many families evaporated over night. If Cao's prediction comes true, China's economy may not see the light of day for many years to come.
Economic recovery is only a matter of time in the United States.
The Chinese regime, however, does not have the luxury to wait. Over the last 20 years, the communist regime has played a game of "prosperity for power" with the Chinese people meant to quell social instability.
The rules of the game are simple: the regime delivers economic growth and steady improvement of living standards, and the people, in exchange, turn a blind eye and deaf ear to social injustice, wide-spread government corruption, and a ruthless crackdown on political dissidents, spiritual groups, and people who petition the government for change.
Officials in Zhongnanhai, the official leadership compound in Beijing, must now be asking themselves, "When the recession becomes long term and the government cannot deliver what is promised, why would the Chinese people honor their part of deal?"
Immediately before the Tiananmen Square Massacre in June 1989, Deng Xiaoping, the then-dictator of China, famously announced his willingness to "kill 200 thousand people to gain 20 years stability."
Those 20 years are now up.