A colossal slide set to open on Feb. 22 is making the rounds on Chinese social media, as previously reported in English by the expat-run Shanghaiist, a website known for featuring quirky news from China. The first photo post on Sina Weibo garnered over 26,000 comments within twenty four hours.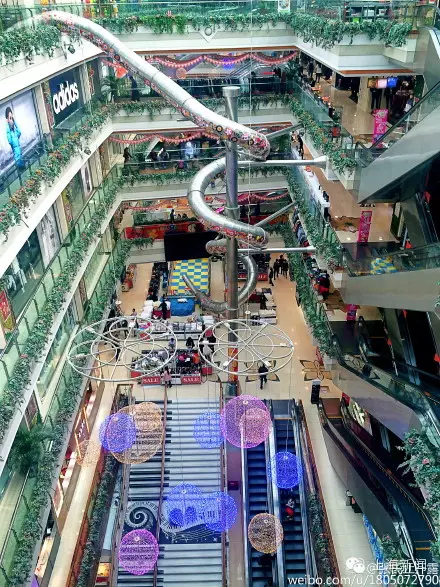 The stainless steel, dragon-shaped slide is located at the Printemps Department Store in Pudong, Shanghai. It opens on Feb. 22, or the of the Lantern Festival. Staff told the Chinese publication Peng Pai that it takes 16 seconds to go from top to bottom.
Some Weibo users and Shanghainese expressed enthusiasm at the project. Others had concerns about the safety of the five-story-tall slide's construction and concept.
"I feel like it will cause deaths, seriously," reads the top comment on the Weibo post, with more than 6,500 likes.
One friction-conscious user said: "I feel like my behind would go up in flames."
"My son was excited and very interested to have a try, but I still have some concerns on its safety," a mother told Shanghai Daily.



Some were initially enthusiastic, but turned off by the negative comments. "Seeing all these comments, my mind is filled with bloody scenes," one said.
One user made anatomical parallels, saying that being in the non-transparent tube of the slide would give him the chance to feel like stool being passed.
The slide took three months of preparations, according to personnel interviewed by Peng Pai. Experts and government officials had been invited to inspect and evaluate the load-bearing capability of the structure before construction started.
Similar slides exist in Kuala Lumpur, Malaysia, and Munich, Germany.