Beijing closed multiple accounts of a popular Chinese comic blogger "SaiLei Three Minutes," who claimed to interpret current affairs involving politics and history within three minutes.
A visit to his Weibo account shows the message, "The user is currently banned for violating relevant laws and regulations."
SaiLei Three Minutes has 2.6 million followers, and has published collections of the comics depicted on his website.
His other public accounts on Chinese social media platforms such as bilibili and Zhihu were also banned. On the Zhihu platform, in particular, the message says that the ban will be in effect for another 364 days as of May 19.
The Fate of Party Loyalists
The specific reasons for the ban are not known. One netizen commented, "Interesting! SaiLei criticized the West every day. Its YouTube account is still well active; but its various Chinese accounts are now banned for a year."
The last post of SaiLei was on May 17, a comic that talked about the cyber attack and China's policy towards Russia.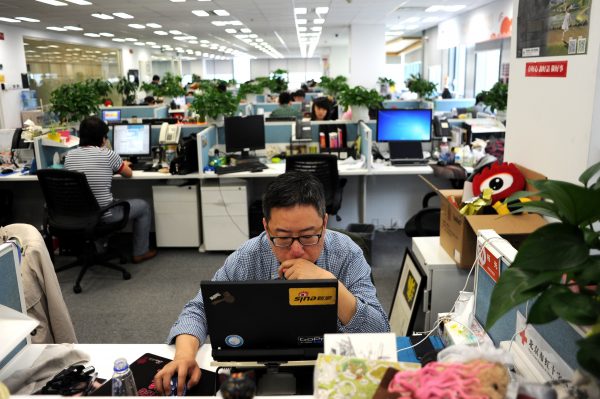 The banning of SaiLei's accounts was a shock to the many party propaganda loyalists, known as the Little Pink, 50 Cent Party, or Internet Water Army.
One Little Pink with a Weibo public account, "Red Girl Editorial Department," posted a message pleading with the leaders to forgive the mistakes of SaiLei, "The SaiLei team has had its contribution, … but, now people are mocking him as tasting the bitter fruit for being patriotic," she wrote.
Last year, the Chinese Cyberspace Administration announced a so-called "Operation Qinglang" to rectify the internet environment on August 27.
According to the regime's English media outlet CGTN, "The operation will ban a batch of 'self-media' accounts that have engaged in violations like publishing irregular business information, misinterpreting economic policy, crying down financial markets, and spreading misinformation and blackmailing."
Following the operation, nearly 3,000 financial "self-media" accounts—independently operated social media accounts—were dealt with, among them 1,793 were banned on Sept. 8, 2021, the Chinese Cyberspace Administration announced.
Li Jing contributed to this report.