Children's Clothing Infused with Toxic Substances
June 2, 2006 12:00 am Last Updated: June 2, 2006 12:00 am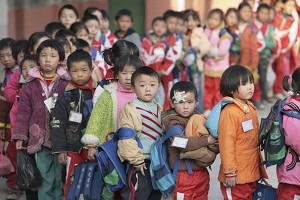 The Guangdong Provincial Administration for Industry and Commerce recently conducted a quality control inspection of children's clothing sold in Guangdong Province, China. The inspection found that only about a third of the total manufactured clothing met qualification standards. In addition, some items were found with carcinogenic contents and formaldehyde levels well over the acceptable limits.
According to Information Times, the Administration performed random inspections on 91 shipments of children garments sold at 22 shopping centers, supermarkets and individually owned shops in Guangzhou Province's Chaozhuo City, Shantou City, Foshan City, Dongguan City, and six other cities.
Carcinogenic Dye in Children's Clothing
Among the randomly inspected children garments, nine items had levels of toxic decomposable aromatic amine dyes, also known as azo dyes, in their print designs that are ten times greater than the prescribed acceptable standards. These carcinogenic dyes may cause cancer.
The dyes can be absorbed by human skin through long-term contact. As it disperses through the body, it can cause pathological changes. The National Textile Products Basic Safety Technological Standards states that the use of these dyes in clothing is banned.
According to the chief of the National Textile Apparel Product Quality Control and Test Center's Guangzhou Textile Fiber Test Branch Office, long-term contact with decomposable aromatic amine dyes may cause urinary cancer. Long time workers at the textile factories using these kinds of dyes developed the identical cancers.
These toxic dyes are colorless and tasteless. In addition, they cannot be washed off to reduce the effects of these dyes.
Children apparel containing carcinogenic substances include the Betty Boop brand manufactured by Shanghai Shengmao Garments Co., Ltd, and Mina brand unlined knitted shirts manufactured by Mina Children's Garment Company in Liwan District of Guangzhou Province.
Deformity Causing Formaldehydes Also Found
The inspection also found that the formaldehyde content of two products exceeded the prescribed acceptable standard. Formaldehyde can enter the human body through food, beverages, breathing and skin contact. Long-term ingestion of formaldehyde may cause suppressed appetite, abnormal weight loss and insomnia. Babies may develop asthma, racheitis, chromosome abnormality and a compromised immune system. Excessive formaldehyde contact can lead to deformity in infants.
Products with excess formaldehyde levels include Ericland brand of short-sleeve shirts manufactured by the Jujijun Garment Manufacturing Company in Zhongshan City, Guangdong Province and Goodbaby brand of diamond-shaped printed T-shirts manufactured by Shanghai Haohaizi Children's Wear Co., Ltd.
Garments Fail to Meet Prescribed pH Standards
The inspection found that over fifty percent of the pH level of the children's clothes failed to meet the required standard. A too high or too low pH level of textile may harm the skin's pH balance and immune system, causing skin allergies, infections and lowering the skin's natural resistance to bacteria.
Inadequate Labeling
The labels of all the inspected 22 products were inadequate. They were clearly not name brand manufacturers. The labels of nine of the items fiber compositions were unacceptable and several failed to indicate the raw material contents. The quality of merchandise materials is an integral part of the product's value. False labeling and/or arbitrary labeling are deceptive and can mislead consumers, which directly infringe upon consumers' rights.