For Father's Day, military children who have lost a parent in the line of duty are writing letters to their fathers, and paying respects to the sacrifices they made and the legacies they left behind.
Jacob Rangel, scholarship administrator at the Children of Fallen Patriots Foundation, says the Father's Day letters will never be sent, but by putting their words in writing, children of fallen servicemembers can express what their fathers meant to them.
The Children of Fallen Patriots Foundation works to provide scholarships to military children who lost a parent in the line of duty. Since its founding in 2002, the foundation has given close to $22 million to 1,100 students.
Before his current role in the foundation, Rangel was a recipient of one of its scholarships. His father was Air Force Staff Sergeant Ray Rangel, a firefighter in Iraq with the 7th Civil Engineer Squadron. While he was on deployment, the elder Rangel was sent to save the lives of two soldiers who were trapped in a Humvee that had overturned in a canal, when his lifeline snapped and he was carried off downstream.
Jacob Rangel said he was 9 years old on the morning when the airmen in dress blues arrived at his family's door to tell them they couldn't find his father. "Originally, I just kind of kept thinking he's just deployed still; he'll come back eventually," he said. But when his father's body was recovered for the funeral, "it finally hit me that my dad was actually gone."
"I'm still proud of what he did," Rangel said. "And even though there's nothing I can change about it, I can still keep his memory alive and keep pushing forward."
According to Chris Petrakos, a Navy veteran and development officer of the Children of Fallen Patriots Foundation, the initiative for Father's Day is to "bring awareness out there to all Americans, so they understand the type of service that's going on," and to "help people know of the sacrifices the families made."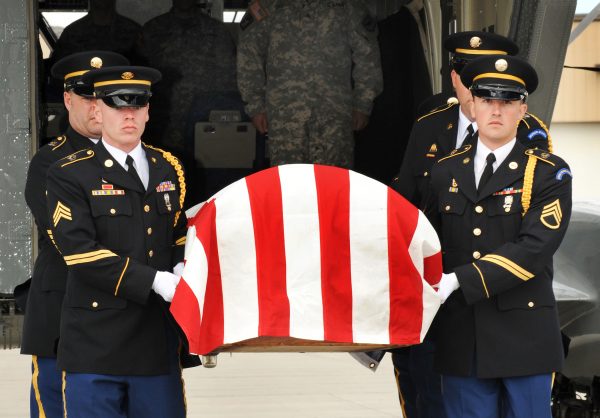 Letters From Children of Fallen Patriots
From Boston Gilbert, son of U.S. Air Force Major Troy Gilbert who died in a plane crash in 2006.
Dad,
I miss you. There is not a day that goes by when I don't wish that you were here. Although you are not with me in body, I feel you in spirit. Your warrior servant spirit is something that I desire to emulate and embody. I feel you as I walk around the Southern Methodist University campus, soccer field, and dorms. I pray that I treat people how you treated people—with honor, humility, service, and passion.
I will never forget your legacy, and I will never forget your sacrifice. I love you.
—Boston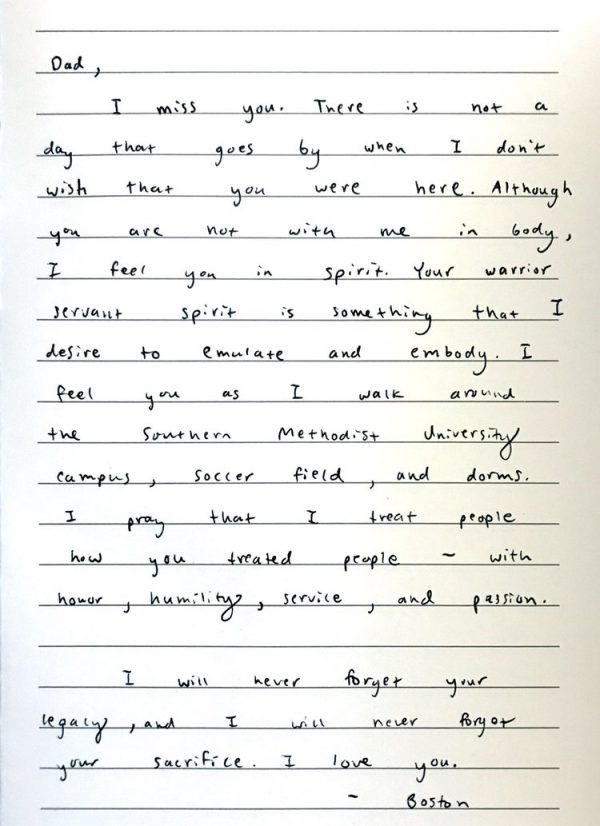 From Haley Hartwick, daughter of U.S. Army Chief Warrant Officer Michael Hartwick, who was killed in action during Operation Iraqi Freedom in 2006.
Dear Daddy,
To my pilot, my hero, my sweet father, this day is for you. What an honor it is to be your daughter. Your service & sacrifice will never be forgotten nor your bravery & courage. All gave some, some gave all so the many men & women like you will always be remembered.
I'm so glad you never had to retire your wings, even in heaven. If heaven wasn't so far away, I'd pick up my things & go visit you for the day. You still serve as my inspiration & the person that fuels my passion. I only hope to make you proud & continue to achieve the dreams you had for me. Just like you told me in your last letter all those years ago, I'm still taking care of mom & Tanner and enjoying the Spring as well as the many other joys life has to offer. Can't way to see you some day soon.
Love always,
Your little girl Hayley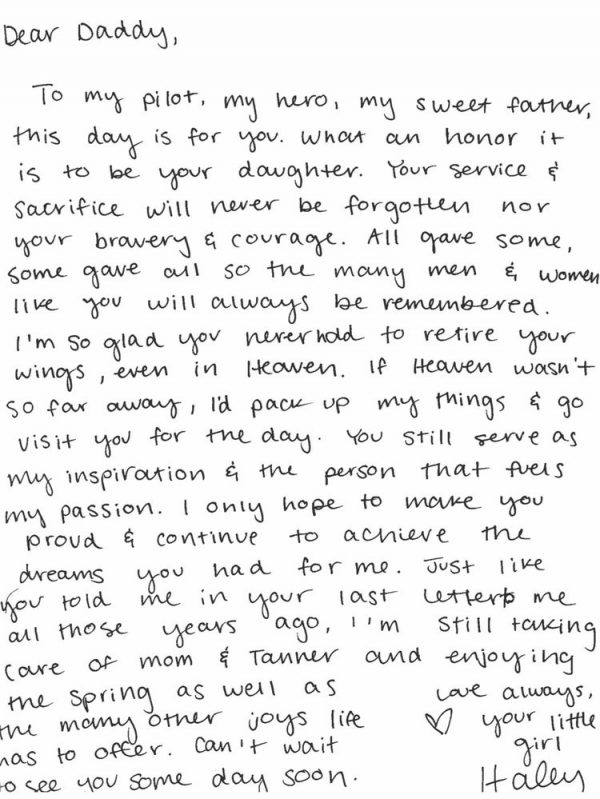 From Chelsea Briggs, daughter of U.S. Air Force Staff Sgt. Raymond Briggs, who was killed in a car accident in 2010.
Dear Daddy,
How have you been? How is Heaven treating you? I have not seen you in a very long time. I heard Heaven is an amazing place and I bet it is since you live there now. I am doing just fine here on Earth, it is just not the same without you. I help Mommy around the house just as you always told me to do before you went on deployments. I'm also helping Mylia get ready for college since she will be graduating from high school soon. Kai is in middle school and I help him with his school work. We miss you.
I'm not a little girl anymore, I just turned 20 and it is not easy becoming an adult without you. I miss having my buddy close by to talk to. All I know is no one can replace you and you will always be my best Buddy ever. I feel your love with me every day and that is what keeps me going.
Remember how you always used to tell me how you wanted me to study finance? Now I'm in my 2nd year of college studying hard to learn about finance and political science. I'm going to the University of Hawaii West Oahu where we live now here in Kapolei.
I always remember how you wanted a career in law enforcement here in Hawaii after you would retire from the military. I am working hard to carry out your dreams so I can have a career in the FBI once I graduate from college. Thanks to the wonderful organizations like the Children of Fallen Patriots I can pursue my education here in Hawaii, so I can carry on your legacy in the place you love. I wish I could tell you all of this in person because I miss looking into your pretty hazel eyes as I talked to you, but I know you are smiling down from Heaven.
Mommy, Mylia, Kai, and I wish you were here to see us grow because you have missed out on a lot. Even though you are not here in person, we carry you with us every day. You never let us down here on Earth and I know because of that, you are always protecting us from up in Heaven. I know you are always with us and your love has no boundaries even if you are far away in Heaven. We always remember how hard you used to work for us, and we follow your footsteps by staying strong no matter how hard life is without you. I love you and miss you so much.
Love your best Buddy,
Chelsea