Cherry's Tantalizing French-Inspired Japanese Cuisine
July 12, 2013 6:35 am Last Updated: July 12, 2013 4:17 pm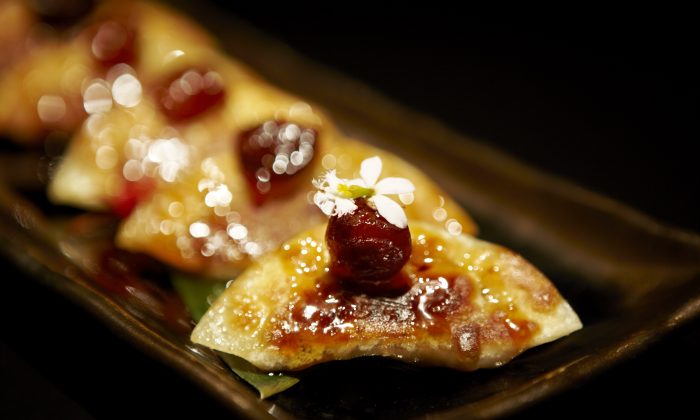 Cherry is a welcoming gem amid Chelsea's expansive hub of eateries, clubs, and antique shops.
A joint venture by restaurateurs Jonathan Morr (BONDST, Republic) and Eugene Morimoto, it offers tantalizing French-inspired Japanese cuisine in an elegant, plush setting.
Tucked by a trendy hotel, the luxurious restaurant can easily be identified by its deep red design the shape of a cherry. As you enter, you feel as if you had stepped into an elegant French nightclub in Shanghai in the '20s, with its red, lush dining room, dark polished wood, ornate sconces, and plush seats. The dark wooden tables are slightly lowered, designed with comfort in mind and to enhance the conviviality of the dining experience.
Cherry, however, is not a nightclub. It is a restaurant that pays exceptional attention to providing a memorable dining experience for its guests.
Although I knew that, a sense of nostalgia engulfed me as I sank into the seats—sounds of romantic songs of Charles Aznavour, Yves Montand, and George Brassens drifted into my mind.
The ambiance is dim but not noisy; it is great for conversation. Cherry is definitely a place to bring your significant other, your best friends, or that special someone for a rendez-vous.
The food is tantalizing and the wait staff is warm and hospitable; I would say unparalleled service at reasonable prices.
The kitchen is under the supervision of executive chef Andy Choi (Le Cirque, Bouley, and Má Pêche), who creates French-inspired Japanese dishes with a passion and precision that pleases all the senses.
Choi was born in Korea but has lived in the United States for most of his life. He realized he wanted to be a cook at age 7 when he made his first Tofu soy burger.
Of the chefs he has worked with, celebrity chef David Bouley is his idol.
Chef Choi's creations are originals, and he does not follow a script. With humility and a happy smile on his face, he said, "I love working under pressure. I like to be given a very short notice to create a dish. I usually start with one ingredient to create the dish, like the uncommon vegetarian risotto and the miso-glazed sea bass that you see on the menu."
The menu is comprised of intricate and delicate dishes with attention to the balance of flavors and textures. It offers salads, raw seafood, soups, hot and cold appetizers, sushi and sashimi, tempura, and main dishes. A special omasake menu is available nightly.
While deciding on your selection from the menu, you can enjoy one of their cocktails. My friend enjoyed the Cherry Pickle Back ($8) made with house blend toasted white sesame whiskey and pickled sour cherry brine, while the Fuzzy Dog ($14) did not impress my other friend. We could have also tried sake tailored to our palates. Just tell the sake sommelier Chris Johnson, referred to as the Sake Ninja, what type of wine or beer you like and he will find one that matches those flavors.
The menu items are ideal for sharing. We started off well with one of the signature dishes, the fabulous Warm Mushroom Salad ($15), with mustard greens, garlic chips, and sake soy. Kind of decadent, but healthy, my friend noted. It hit every part of the palate with freshness and flavor. Upon the first bite, I said to myself, "I am staying until the end." I am always amazed at the many different ways earth's bounty can be prepared.
The irresistible Foie Gras Short Rib Gyoza ($18), with plum sake glaze and sour cherries, is decadence at its best. It was so artfully displayed, as if each part had been measured and weighed. Each portion looked exactly the same snuggled together with the cherry on top of each. I wondered how such seemingly different ingredients could be combined to such exquisite effect—an avalanche of flavors, yet with none overpowering the other.
Two other hot appetizers were also winners. The colorful Duck à l'Orange ($21), slow-cooked duck heaped with confit, walnuts, and winter greens, was compelling. Here the focus is more on flavors than textures. I loved the anise-glazed walnuts as a complement. The Crispy Almond Shrimp ($18) had so many flavors, even though shrimp is normally very bland to me. They were topped with shaved almonds and sat next to herbs in the sudachi vinaigrette.
From the eclectic variety of main dishes, the Miso Glazed Seabass ($32) was a revelation. Here you can appreciate the creativity and the skills of the chef. It is not easy to cook fish. One has to time it perfectly with the correct temperature, otherwise it will be either over or undercooked. This had a wonderful blend of delicate flavors, with some sweetness and a bit of heat at the finish.
The BBQ Eel Roll ($14) from the rolls section featured an interesting combination of avocado and candied bacon. Although I do appreciate eel, and the combination was interesting, I thought it was a bit too complicated for the simple Japanese style. I will skip that one next time.
Although we devoured every bit of these dishes, we did not feel heavy or stuffed. There was room to try some of the exquisite desserts prepared in-house, each priced at $12. The Green Tea Meltdown with red bean ice cream was a treat. It was light and perfectly sweetened.
The Suntory Bread Pudding, a comforting dessert, came in the shape of an exact square with yamazaki whiskey and toffee sauce. It was good but a little dry. Next time, I will try the Fuji Apple Gyoza and the Mont Blanc with chestnuts, chantilly cream, and meringue.
I left satiated and nostalgic but happy.
Cherry
355 West 16th St. (between 8th and 9th Avenues)
212-929-5800
cherrynyc.com
Hours:
Sunday to Thursday: 6 p.m.–2 a.m.
Friday & Saturday: 6 p.m.–4 a.m.