More than 4,000 people have died from COVID-19 in the United States while over 189,633 cases have been confirmed, according to the latest data collated by Johns Hopkins University, which is tracking the global pandemic.
President Donald Trump said at a White House briefing Tuesday that it is "a matter of life and death" for Americans to heed his administration's guidelines and predicted the country would soon see a "light at the end of the tunnel" in the fight against the outbreak.
"I want every American to be prepared for the hard days that lie ahead," Trump said.
"This is going to be one of the roughest two or three weeks we've ever had in our country," Trump added. "We're going to lose thousands of people."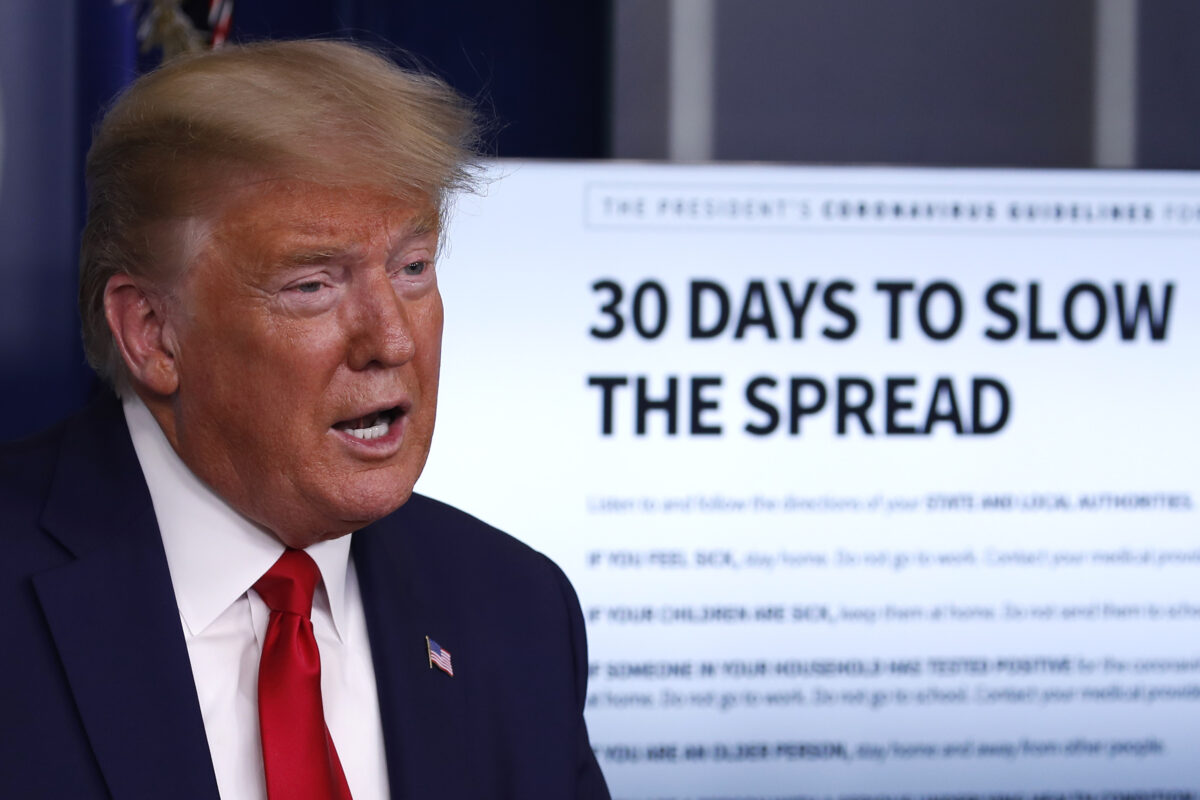 As of April 1, a reported 4,081 have died from COVID-19, with 1,096 of those deaths occurring in New York City, which has become the epicenter of the outbreak in the United States. To date, 7,136 people in the United States have recovered from the respiratory disease.
White House coronavirus response coordinator Dr. Deborah Birx cited projections that anywhere from 100,000 to 240,000 people may die from the CCP (Chinese Communist Party) virus before the pandemic subsides.
The White House also extended federal social distancing guidelines through April 30. The president and the officials all called on Americans to do their part to defeat the virus.
"It's communities that will do this. There's no magic bullet. There's no magic vaccine or therapy," Birx said. "It's just behaviors. Each of our behaviors translating into something that will change the course of this pandemic over the next 30 days."

Dr. Anthony Fauci, director of the National Institute of Allergy and Infectious Diseases, said there are signs mitigation measures are working but it will take time before the impact of social distancing is seen.
"So what we're going to see and we've got to brace ourselves, in the next several days to a week or so, we're going to continue to see things go up," Fauci said. "We cannot be discouraged by that, because the mitigation is actually working and will work."

Birx said the experiences of Washington state and California give her hope that other states can keep the coronavirus under control through social distancing. That's because they moved quickly to contain the early clusters of coronavirus by closing schools, urging people to work from home, banning large gatherings, and taking other measures now familiar to most Americans, she noted.
"I am reassured by looking at the Seattle line," she added. "California and Washington state reacted very early to this." Many other states and local governments already have stiff controls in place on mobility and gatherings.

"Our country is in the midst of a great national trial, unlike any we have ever faced before," Trump said at Tuesday's briefing. "We're all at war with a deadly virus. Success in this fight will require the full, absolute measure of our collective strength, love, and devotion."
For most people, the coronavirus causes mild or moderate symptoms, such as fever and cough, that clear up in two to three weeks. For some, especially older adults and people with existing health problems, it can cause more severe illness, including pneumonia, and death.