Cars Follow and Intentionally Try to Hit Gao Zhisheng
March 4, 2006 12:00 am Last Updated: March 4, 2006 12:00 am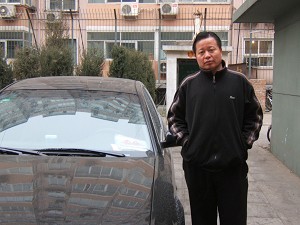 BEIJING – The Chinese Communist regime's surveillance of Beijing human rights attorney Gao Zhisheng has continued for 104 days, and is continuing in broad daylight. On March 3 between 1:30pm to 2pm, 17 or 18 cars followed Gao Zhisheng to the apartment compound of his home and deliberately tried to hit him twice, intending to defy and tease him, creating a dangerous situation. Attorney Gao said, "If the car was backed up fast enough and hit me, it could have cut off my legs."
The cars followed Gao to his home. Ten of the cars did not have license plates and five were taxis. The occupants of an Audi with plate number "JingA34863″[1] later took off the license plate. In contrast [to number of people following him], attorney Gao, isolated from friends and others by the Chinese Communist Party (CCP) authorities, was by himself.
Gao Zhisheng said, "About 1:30 this afternoon, I went out to buy some furniture and went to my house. I was followed by a group of thugs. The impression I get is that they are like locusts that can never be staved off. Wherever I go, I am followed by a group. After I stopped my car at the big apartment compound of my new home, I was suddenly surrounded by all of the cars; in front, back, left and right were taxis, cars with the license plates of Beijing, other cities, and Hebei Province—all of which were their cars."
"The car [occupant] with license plate number 'Jing A34863' took off the license plate in front of me, threw the plate into the car, got into the car, and then made a gesture of putting on the gas to hit me. As I was surrounded by all the cars, I could only stand still. If I moved, they would have treated me like playing with a monkey. So I stood still. When he realized I wouldn't move, he suddenly braked the car and its front bumper touched my pants.
"Later he backed the car. About 20 minutes later, we arrived at my apartment building. My car was parked and the same Audi with it's the license plate removed was there as well, with its back facing me. The car moved forward a bit and was suddenly backed up. I was standing beside my car and surrounded by all their cars, so I could not escape.
"If the car had backed up fast enough to hit me, it could have cut off my legs." This was obviously another bold-faced attempt at intimidation. At the moment when the car would have hit me, the driver suddenly braked again. He stayed for a while, rolled down the window, glared at me and then went away."
"It is very obvious that the Audi [occupants] masterminded and arranged the events this afternoon. The people inside and outside of the cars were all secret police and hired thugs. This is again another attempt in the most indecent way to intimidate me since January 17. I guess this is probably a response to the spokesman of the US Department of State."
Attorney Gao also revealed that today he wrote down the plate numbers of the cars: three taxis fled, ten cars didn't have plates, the plate numbers of the other two taxis were "Jing BD2310" and "Jing BD7688." The plate numbers of the rest of cars are "Jing HS6003," "Ji 25686" [2], "Jing G24758," "Jing FQ7038," and "Jing A2432 Police."
Since Gao and others initiated a hunger strike relay to defend human rights in China, the Beijing Public Security Bureau has dispatched people to different areas to intimidate, arrest and imprison people who participate in the hunger strike. They not only intimidate those directly involved but also their parents and other family members. A reporter from southern China revealed, "Five days ago, the Ministry of Public Security sent people here to find all of us who are in contact with The Epoch Times and warned us to be cautious."
In the face of the CCP authority's defiance and harassment becoming more aggressive every day, Gao smiled and said calmly on March 3, "Every day I am prepared not to be able to go home."
Notes:
[1] JingA34863 indicates the car is registered in Beijing City
[2] Ji 25686 indicates the car is registered in Hebei Province