Canadian-Owned Mining Project Sparks Mass Protests in Romania
Proposed gold mine would be largest in Europe
September 26, 2013 6:12 am Last Updated: September 26, 2013 2:36 am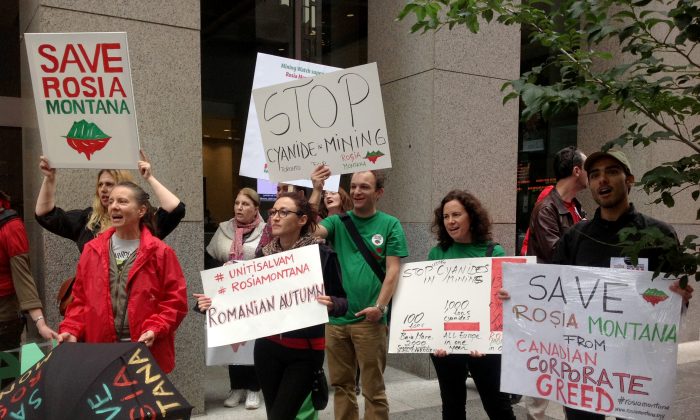 A Canadian company's plan to build what would be the largest open pit mine in Europe has become the focus of huge protests in Romania where it is slated for development, with smaller protests taking place in several other countries including Canada.
The Romanian protests, ongoing since the beginning of September, have drawn up to 20,000 people, the largest seen in the country for decades. Some have dubbed it the "Romanian Autumn" because of its parallels to the Arab Spring—widespread discontent that sparked renewed civic engagement through popular uprising. 
Rosia Montana Gold Corporation, which is majority-owned by Canadian company Gabriel Resources Ltd., has been trying to get its proposed gold and silver mine in the Rosia Montana area of Romania's Apuseni Mountain region approved for the past 14 years. 
The mine is contentious for several reasons, not the least of which is the thousands of tons of cyanide that would be used to extract the gold. 
Opponents say the mine would also displace hundreds of villagers, threaten nearby ancient Roman historical sites, and destroy surrounding mountains. The Romanian Academy of Science along with environmental, religious, political, and non-government groups have long called for the project to be scrapped due to its projected environmental and social costs.
But public protests intensified significantly this month, spilling into the streets after Romanian Prime Minister Victor Ponta announced he would push a bill through parliament that would allow the bypassing of environmental and heritage regulations that have blocked the project so far. 
Critics say the bill, which would grant Gabriel Resources the freedom to level four mountains among other special provisions, was custom-made to serve corporate interests.
Contributing to the tension has been the seemingly close relationship between the mining company and the government, which owns nearly 20 percent of Gold Corporation.
"These protests are unprecedented in scale. They are spontaneous, they are not organized by syndicates or non-governmental institutions, they do not take political sides," said Tudor Bradatan of Alburnus Maior, an NGO that represents families in the proposed mining area.
"It is an example of participation, and it is maybe one of the most known struggles of citizens who fight against corruption and the submissive attitude of authorities and politicians to financial interests."
Protests on Sept. 21 saw more than 6,000 people form a human chain around Parliament House in Bucharest, a symbolic gesture meant to remind lawmakers of citizens' democratic rights.
Pro-mine demonstrators have also been rallying, saying the Rosia Montana mine would create thousands of much-needed jobs and attract foreign investment.
According to Gabriel Resources, the project would create thousands of jobs in the Apuseni Mountain region and contribute a potential US$24 billion to Romania's economy. 
Romanian Community Rallies in Canada
In solidarity with the anti-mine demonstrations in her homeland, Romanian expat Juliana Dutkay, who came to Canada 13 years ago, has been helping organize protests in Toronto and Montreal throughout September.
The public outcry over the mine has touched the ex-pat community deeply, she says, adding that they hope the protests will lead to political and social change in the corruption-ridden country.
"It would be good to see this translated into new leaders and parties," she says. 
"This is a first step, a good step. It's related to a particular project, but raises much bigger [issues] overall. I hope that this will translate into an organized political clash that can rise above all the corruption and all these successive governments that have paraded through Romania for quite some time now."
Romanian president Traian Basescu, who in the past voiced support for the mine, recently called for the bill that aims to pave the way for the project to be scrapped, saying it is "unconstitutional."
In the wake of the increasing tension, on Sept. 18 the Romanian parliament created a commission tasked with assessing the draft bill. The commission has until Oct. 20 to produce their report, which will then be passed along to the parliament for a final vote. 
Alburnus Maior alleges the commission is an attempt to appease the public and again circumnavigate due process by amending some of the bill's more controversial points while keeping intact the government's fundamental goal of approving the mine. 
Those opposed to the mine are calling for Ponta's resignation, the rejection of the project, a ban on cyanide mining in Romania, and the inclusion of Rosia Montana in the country's proposed list of UNESCO Heritage Sites.
Bradatan says that no matter how long it takes, the protesters will continue their fight for transparency and accountability.
"Democracy is not a battle that you win once, but a continuous struggle," he says. 
"As long as there is going to be gold in Rosia Montana, there is going to be a greedy bunch of people that want to take it out no matter the consequences. But I know for sure that there is also going to be another group of aware people that will not let the greedy bunch change the laws and poison the environment for a bit of gold."
Gabriel Resources Ltd. did not respond to interview requests in time for press deadlines.