Canadian Heritage Sites Endangered
Group bemoans neglect, loss of historic buildings
July 3, 2013 9:23 pm Last Updated: July 3, 2013 11:23 pm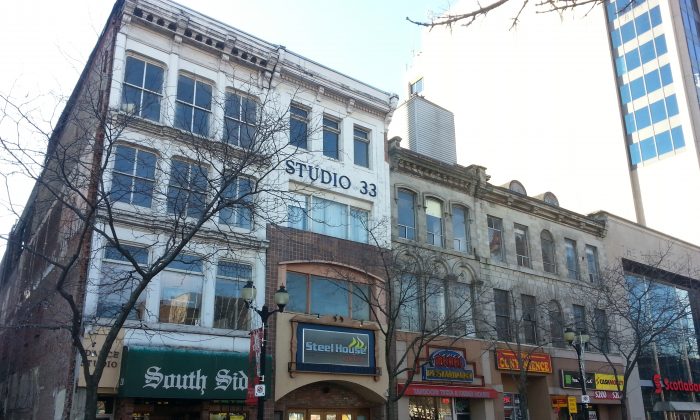 Vancouver's downtown post office, a sanatorium in Saskatchewan, and an Ontario POW camp are among the top 10 most endangered heritage sites in Canada, according to a group dedicated to the preservation of the country's historic places. 
The Heritage Canada Foundation (HCF) has released its annual list of historically significant sites threatened by demolition or neglect, compiled from nominations received from Canadians as well as from news items that HCF has been following throughout the year.
The plight of these properties is symbolic of larger issues—the decline of the city centre, shifting economies, new technologies, social change—but the buildings can be adapted to their new realities and should be saved to preserve their history, says Carolyn Quinn, communications director for HCF. 
"It's really about encouraging, adapting, and converting places that are no longer functioning for the purpose for which they were built, to continue to have a life into the future," she says. 
The top 10 list aims to save the historical treasures by raising awareness of the value they bring to quality of life, local identity, and cultural vitality, according to HCF.
'Taj Mahal with escalators'
Each of the endangered properties to make this year's list has its own particular, often compelling, history.
Vancouver's Main Post Office, for example, was the pinnacle of international-style architecture when it was built in the mid-1950s. Dubbed a "Taj Mahal with escalators," the five-story building was sold—without heritage protection—to an investment firm after Canada Post decided to move its processing operations to Richmond come 2014. Now the landmark building faces demolition to make way for new development.
Saskatchewan's last remaining tuberculosis sanatorium, based in Fort Qu'Apelle and dubbed "Fort San," is also in danger of demolition as it is deteriorating under private owners, who bought it from the province in 2007. 
A similar fate may await Canada's last intact POW camp. Known as "Camp 30," the property covers 106 acres in Clarington, Ontario. It was converted to private schools after WWII ended, then purchased by private developers in 2009. Though the developers have offered to donate the property to the municipality, it may be simply too big for the small city to take on. In the meantime, the property suffers from vandalism, neglect, and a recent fire. 
In Saint John, New Brunswick, two of the city's three iconic and colourful "jellybean houses" remain vacant, unheated, and deteriorating—declared by the city as "surplus property." The buildings are among the 20 percent of properties that survived the Great Fire of 1877. 
Other buildings on the list include the Cap-des-Rosiers Lighthouse National Historic Site in Gaspé, Quebec; the Rossdale Power Plant in Edmonton; part of the historic Gore Park streetscape in Hamilton; the Kingston Collegiate Vocational Institute in Kingston; Amherst Island just west of Kingston; and the Dennis building in Halifax.
Federal Support Needed
Canada is the only G8 country that does not have federal legislation to protect heritage sites deemed historically significant, says Quinn. Countries such as the U.S. and U.K. also have tax incentives, grants, and development funding to preserve historic sites and relieve pressure on their owners—something Canada does not. 
"HCF would definitely like to see the federal government, as stewards of these important places for all Canadians, put some kind of funding in place, which could be used either as leverage or to encourage communities to raise their own funds, to try and help them," says Quinn.
The Historic Sites and Monuments Board of Canada currently has the mandate to recommend a place for nationally historic designation, something they do regularly, she adds, but that doesn't guarantee legislation to protect those sites or funding to help support the owners.
Boosting Local Economies
Failing to preserve historic sites can impact the community in unexpected ways, says Quinn. Crumbling buildings and vacant lots can reduce property values in the area, and can have a negative effect on business in city centres that are already struggling to compete with big-box stores and mega malls in the suburbs. 
In contrast, preserving aesthetic, historic places can become a catalyst for economic revitalization, she notes. 
"A lot of municipalities are now realizing that historic buildings are actually assets in helping make those places unique and different and special, and they can market that uniqueness in a way that will bring shoppers back into the downtown core, and also attract visitors and tourists to these areas," she says. 
"Oftentimes you'll find that once the economic vibrancy returns to these areas, art galleries and other kinds of cultural venues [such as] festivals start happening."
According to HCF, over the past 30 years Canada has lost 23 percent of its historic buildings in urban areas and 21 percent in rural areas.
Some of these ended up on HCF's 2013 "worst losses" list, including the award-winning, modern hockey arena in Moose Jaw, Saskatchewan; the Education Centre in Hamilton, Ontario; and the Paramount Theatre in Chilliwack, B.C. All three were demolished earlier this year. 
Quinn says that while there's no telling which endangered properties will survive, public pressure plays an important factor in their preservation.
"It's hit and miss, it's certainly anything but a guarantee. We have examples where sites that we've put on our endangered places list have ended up on our worst losses list. But we've also been told by communities that have been advocating to protect the heritage sites, that having it on the list has turned things around, brought people back to the table."