This week across Canada and around the world, thousands are gathering in front of Chinese embassies and consulates to mark 18 years since the Chinese Communist Party launched a campaign of violence and hatred to "eradicate" the spiritual discipline of Falun Gong, also called Falun Dafa.
"The Chinese Communist Party's persecution of Falun Gong is still ongoing. There are 12 Falun Gong practitioners with Canadian ties currently being illegally held in China," said Falun Dafa Association of Vancouver spokesperson Sue Zhang at a rally outside the Vancouver Art Gallery on July 16.
As well as giving speeches and holding marches and candlelight vigils calling for an end to the persecution, Falun Gong adherents are seeking help from the Canadian government to free their fellow practitioners from detention and imprisonment in China. Among them is a Canadian citizen, Sun Qian, who has been detained in Beijing since February.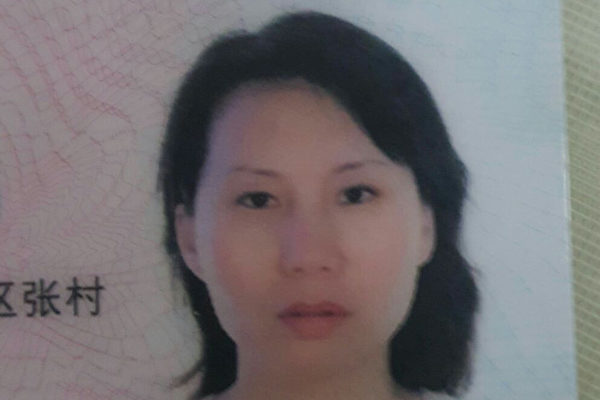 Canadian Prisoner of Conscience Abused in China
Sun, a 51-year-old Chinese-Canadian businesswoman and Vancouver resident, is currently being held at the Beijing First Detention Centre, where she has been shackled, handcuffed to a steel chair, continuously pepper sprayed in the face, and now may be indicted for her faith.
Despite appeals for her release by several high-level Canadian officials, including Conservative members of Parliament Peter Kent and Michael Cooper, former Liberal justice minister Irwin Cotler, and Green Party leader Elizabeth May, Sun continues to be detained.
Canadian Falun Gong practitioners continue to be hopeful that Sun will be released as a result of a strong voice from elected officials. 
Sun Qian has been shackled, handcuffed to a steel chair, continuously pepper sprayed in the face, and now may be indicted for her faith
When former Chinese leader Jiang Zemin initiated the persecution on July 20, 1999, Canada was, in fact, the first country to publicly condemn the persecution. "Canada filed an official protest with China's foreign ministry after 30,000 Falun Gong adherents were detained in 30 cities across China, sources said," reported The Globe and Mail on July 26, 1999.
Ottawa-based Xun Li, president of the Falun Dafa Association of Canada, also recalled that it was the strong voice of elected officials, along with steady media coverage, that helped to secure the release of Zhang Kunlun, who is believed to be the first Canadian arrested in China for practising Falun Gong.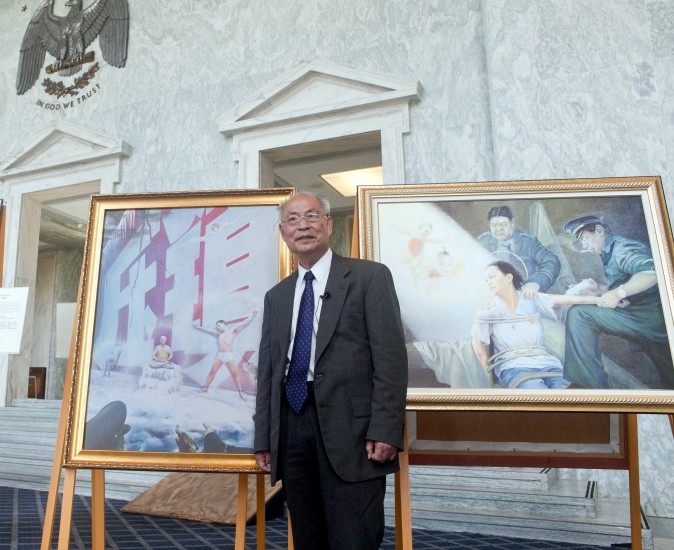 Zhang is a former visiting professor at Montreal's McGill University. He was arrested in 2000 and sent to forced labour camp for three years but was released in January 2001, shortly before then-prime minister Jean Chrétien's trade mission to China.
While in custody in China, the professor was subjected to abuse including torture with electric batons. He was also forced to watch broadcasts of hate propaganda vilifying Falun Gong.
"China was afraid of being exposed [for their human rights abuses], because professor Zhang is a Canadian citizen," Li said.
Large-Scale Killing for Prisoners' Organs
Falun Gong is a practice of meditation and exercises handed down from ancient China that includes teachings based on the universal principles of Truthfulness, Compassion, and Tolerance. In July 1999, the Chinese communist regime ordered a persecution and an extensive hate propaganda campaign against Falun Gong due to the popularity of the practice that was not under the control of the state.
[The Communist Party initiated] the worst instance of religious persecution since the Cultural Revolution, with the clampdown against Falun Gong.
"[The Communist Party initiated] the worst instance of religious persecution since the Cultural Revolution, with the clampdown against Falun Gong," wrote University of Ottawa professor André Laliberté, a leading scholar on religion in China, in a paper in 2015.
The persecution has garnered condemnation from human rights groups, the United Nations, and various governments around the world.
Sue Zhang cited a February 2017 Freedom House report that details how Falun Gong adherents continue to be subjected to widespread and severe human rights abuses. And the most recent 2016 U.S. Congressional-Executive Commission report states how extreme physical and psychological abuse continues against Falun Gong.
[Our] review found credible evidence suggesting that beginning in the early 2000s, Falun Gong detainees were killed for their organs on a large scale.
There are also reports by investigators including two Canadian researchers estimating that 60,000 to 100,000 transplants per year are performed in China—as opposed to the official Chinese figure of 10,000 per year—with the primary source being Falun Gong detainees having their organs forcibly removed, and being killed in the process, to supply China's extremely lucrative transplant industry.
Freedom House noted that it had reviewed the available evidence compiled by these investigators and "found credible evidence suggesting that beginning in the early 2000s, Falun Gong detainees were killed for their organs on a large scale." "There are reasons to believe that such abuses continue," the report stated.


'Deep, Severe, Serious Human Rights Violations'
Ottawa practitioners held their rally across from the Chinese embassy on July 19. Among the speakers were Alex Neve, secretary general of Amnesty International Canada; David Kilgour, former cabinet minister and secretary of state (Asia-Pacific) and secretary of state (Africa and Latin America); and Ontario MPP Jack MacLaren.
"This is a grave and sombre anniversary," Neve said.  
"It is now 18 years since the Chinese government unleashed its unrelenting campaign of persecution against followers and practitioners of Falun Gong across China. Eighteen years of deep, severe, serious human rights violations of illegal arrest, of unlawful imprisonment, of widespread torture and ill-treatment that has been so commonplace we can't even begin to document the frequency of an untold number of deaths of prisoners in custody," he said.
Neve called for an end to the persecution and for the release of Chen Huixia, a Falun Gong practitioner imprisoned in China whose daughter, Hongayn Lu, lives in Ottawa. Chen is the subject of an ongoing Amnesty International "urgent action" across Canada and around the world.
He also called for the release of Sun Qian, saying Amnesty is "deeply concerned about her plight."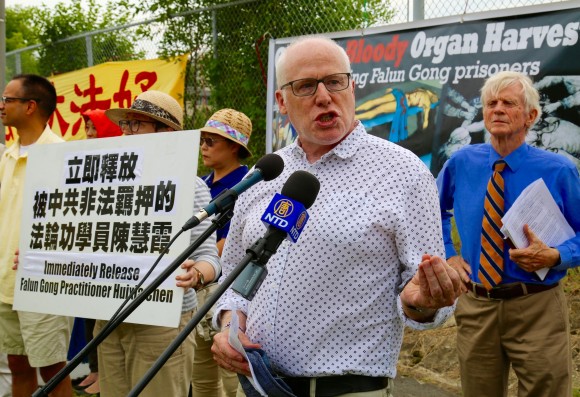 Kilgour spoke about a 2016 updated report on forced organ harvesting that he co-authored with international human rights lawyer David Matas and investigative journalist and China expert Ethan Gutmann.
"We concluded that 60,000 to 100,000 transplants per year are being done across China, not the approximately 10,000 its government claims. Even at 60.000, ladies and gentlemen, that works out—I was doing the arithmetic again this morning—to 164 persons daily now being killed for their organs," Kilgour explained.
"Prisoners of conscience, who as everybody here knows are often convicted of nothing, are the primary source of pillaged organs. They include Uighurs, Tibetans, and Christians but are overwhelmingly Falun Gong practitioners—long dehumanized in party state media across China."
MacLaren aimed his comments at Chinese embassy officials.
"We say to the people across the street: We do not approve of your conduct in China toward the people of the Falun Gong," he said.
"The imprisonment, the persecution, and indeed the organ harvesting and death of Falun Gong people at your hands in the prisons of China for money has got to be one of the most heinous human rights abuses in the world today and has been for 18 years."
MacLaren praised practitioners for relentlessly continuing to raise awareness about the persecution and working to help their fellow practitioners in China.
"One day it will end because Falun Gong people around the world will not forget, will not stop speaking out. … And Canada stands with you today against the Chinese government's persecution of the Falun Gong people," he said.
"It is wrong and it will never be acceptable. And it will end one day because you will never quit, we will never stop, and we will stand with you here in Canada against this abuse of the Falun Gong people."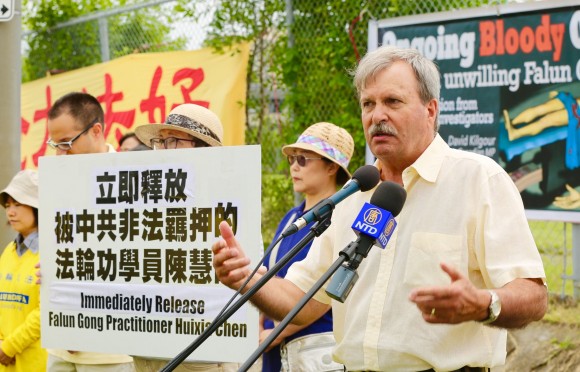 Neve and Kilgour also talked of Liu Xiaobao, the Chinese human rights activist and Nobel Peace Prize laureate who was incarcerated by the Chinese regime as a political prisoner and died on July 13 at the age of 61.
"Just last week we lost, China lost, the world lost, a true human rights hero," Neve said. "The death of Liu Xiaobo has unleashed a wave of sorrow for all of us, right across the world, and it has really brought into focus how deeply entrenched the contempt for human rights in China continues to be."
He called on Beijing to free Liu's wife, who has been under unofficial house arrest for seven years.
"The Chinese government must, at a minimum, now relent and end the harassment and human rights violations against his widow, Liu Xia, who must be free from house arrest and must have her human rights fully respected."
Moral Principles
At the Vancouver rally, Li Jianfeng, a former judge in mainland China, praised the principles taught by Falun Gong and called for greater support of the spiritual practice in Canada.
"I call on all Vancouverites to support Falun Gong," Li said. "What it spreads is 'Truthfulness, Compassion, and Tolerance.' … These high-level moral principles, if they can flourish in Canada, will bring us blessings and a good future."
Following the rally on July 16, Vancouver practitioners and supporters held a march downtown. They will also hold a candlelight vigil in front of the Chinese consulate on July 19. Events are planned in other Canadian cities later this week, including in Ottawa and Montreal on July 19 and in Toronto on July 21.