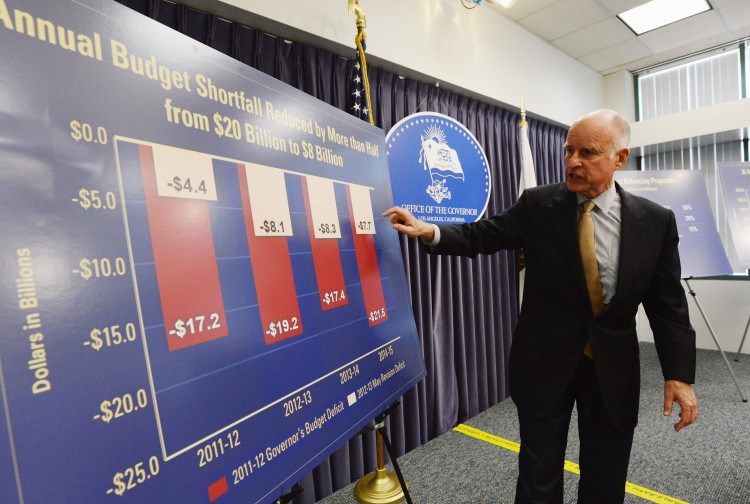 Dramatic cuts may be on their way to California state government spending, if Gov. Jerry Brown's revised May budget proposal goes through. This could force Californians to make tough decisions come November, if tax hikes are approved.
The revision, announced Monday, follows budget results that were less than ideal, with a $16 billion deficit. This was almost double the $9.2 billion that Brown estimated four months back.
"This budget reflects the fact that the nation's economic recovery is proceeding more slowly than anticipated," Brown said in a statement. "Lower tax revenues, coupled with federal government obstructions that blocked billions in necessary cuts, have created a deeper budget hole."
"More painful reductions will be necessary as a result, but education and public safety must be protected," according to Brown, in a statement.
California is the ninth-largest economy in the world and the biggest state economy in the United States, according to a 2011 report from the Los Angeles County Economic Development Corporation (LAEDC).
It was also among the states hardest hit by the 2007–2009 economic crisis, the report says, noting that California continues to lag behind others in economic recovery.
The revised May budget, which Brown is taking to the ballot box come November, includes $8.3 billion in public spending cuts—nearly twice what he estimated in January. No part of government will be immune from the cuts, including state employee compensation, welfare, health care, higher education, and courts.
The new budget also proposes a 16 percent increase in funding for K-12 education, and continues funding local governments that are putting public safety protection in place. These will be paid for by temporary increases in income tax on high-income earners, plus a statewide increase in sales tax. This is, again, conditional on approval from the public at the November ballot.
"We can't balance the budget with cuts alone; that would just further undermine our public schools," Brown said. "The budget I am proposing will boost funding for education, protect public safety, and prevent an even deeper round of trigger cuts."
"It will raise income taxes by up to 3 percent on the wealthiest Californians for seven years and will also increase the state sales tax by one-quarter of 1 percent for four years," a government statement said.
Senate Republican Leader Bob Huff (R-Diamond Bar) said he was not surprised the budget deficit became worse.
"Senate Republicans have consistently raised concerns that last year's majority vote budget relied on too many phony spending reductions, other irresponsible revenue assumptions, and gimmicks," he said.
Currently, more than two million Californians are out of work. That's an 11 percent unemployment rate, according to U.S. Bureau of Labor Statistics.
Brown was anticipating extra savings from cuts, but they were blocked by a court ruling and the federal government. Tax collections also fell $3.5 billion beneath what he anticipated.
Huff said, "Democrats have no proposals to help grow the economy or to help our small business community. Republicans believe we must get people back to work, which in turn will responsibly increase our state tax revenues."
Governor Brown's position is that if the tax initiative does not pass in November, $6 billion in additional cuts will go into effect on January 1.
"I don't like making additional cuts, and I recognize the impact they have on Californians. They are difficult—but necessary—in order to get us back on firm fiscal footing until California fully recovers from the global economic recession," he said.
The Epoch Times publishes in 35 countries and in 19 languages. Subscribe to our e-newsletter.