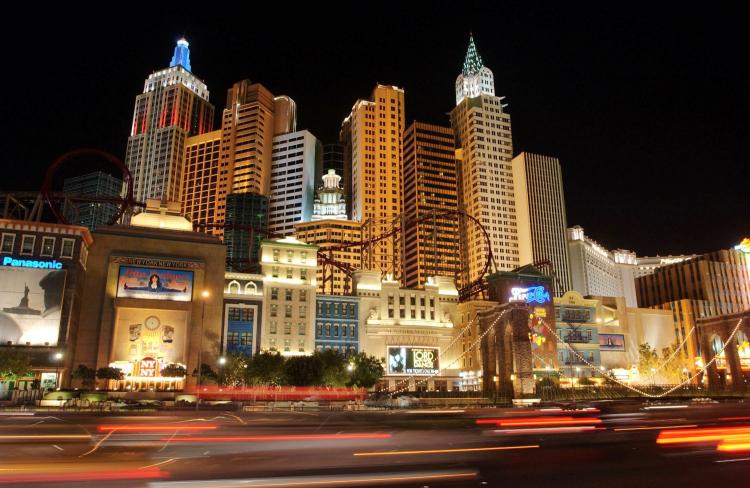 Under the glitz and glamour of Las Vegas, city officials are worried.
The "Sin City" is a bastion of tourism. Millions of visitors annually flock to the city for its showy casinos, resorts, shops, restaurants, and nightlife. And a major portion of the city's tourism revenues come from corporate travel—conventions, events, and corporate meetings.
But during the past two weeks, a handful of corporations have cancelled their events, worth hundreds of thousands of dollars each. Wells Fargo & Co., the banking giant that received $25 billion in federal funding, cancelled a national conference in Las Vegas after criticism from Washington politicians and the public.
"You can't get corporate jets, you can't go take a trip to Las Vegas or go down to the Super Bowl on the taxpayer's dime," President Barack Obama said last Tuesday during a town hall in Indiana to promote his economic rescue plan.
Responding to a Associated Press article that publicized the trip, Wells Fargo said, "The event is not a 'junket' for executives but a four-day business meeting and recognition event for hard-working team members who made homeownership achievable and sustainable for borrowers across the nation." The company stressed that bailout money is for extending loans, not funding corporate events.
Nevertheless, the President's message and a public outcry have at least given pause to many companies planning such getaways. While President Obama's message aimed toward companies receiving TARP money, many businesses are withholding lavish parties and events to keep an appearance of fiscal responsibility, especially when 7.6 percent of Americans are currently jobless.
The Mandalay Bay Convention Center in Las Vegas, owned by MGM Mirage, is one of the largest convention centers in the world, with one million square feet of meeting space. It is one of many convention centers and event spaces in Las Vegas catering to businesspeople and employing 46,000 workers in the area.
Goldman Sachs & Co. moved one of its meetings from the Mandalay Bay to San Francisco after the President's comments last week. Insurance giant State Farm Insurance Co. also cancelled its 2009 sales convention.
"State Farm is a family-oriented, conservative company, and we know Vegas has that fun reputation," State Farm spokesperson Jeff McCollum said in an interview with the Las Vegas Sun. "But it's also well-respected for its convention business. It has the facilities and the services to handle a group our size."
The Case for Business Travel
A new survey by the Association of Corporate Travel Executives found that 71 percent of travel manager foresee spending less money on corporate travel and events in 2009.
While many companies are rightfully cutting back on travel and entertainment expenses to save money, some industry officials worry that pressure from Washington—fanning negative public opinion—could exacerbate an already suffering travel industry.
Las Vegas hosts approximately 22,000 meetings, conventions and trade shows annually, attracting 6 million visitors who account for an economic impact of $8.5 billion.
"The meeting industry is one of the most vital parts of travel and tourism in Las Vegas, and the destination has committed innumerable resources to ensuring the success of these events," said Rossi Ralenkotter, president and CEO of the Las Vegas Convention and Visitors Authority, in a statement. "The meeting facilities in Las Vegas are among the best in the world, and the resorts represent major international companies, many of whom are publicly traded on Wall Street."
Industry officials contend that holding large-scale meetings is a key driver of stimulating economic growth.
"We are extremely concerned about the unintended consequences of restricting corporate meetings, events and incentive travel programs," said Roger Dow, president and CEO of the U.S. Travel Association. "Business-related travel creates 2.4 million jobs, $244 billion in spending and $39 billion in tax revenue at the federal, state and local level."
To attract corporate clients, some companies are touting the value of face-to-face meetings and their contributions to innovation and revenue growth.
"You cannot discount the value of face-to-face business interactions and the impact that meetings have on the overall economy in our country," said Bruce MacMillan, CA, president and CEO of MPI, a leading industry association for meetings and events. "Every great accomplishment in business started with some sort of meeting."
The newly renovated Naples Beach Hotel & Golf Club in Naples, Florida is offering incentives and group discounts for group bookings in 2009. The hotel has 34,000 square feet of indoor meeting space, a championship-caliber golf course, spa, and tennis center.
Back in Las Vegas, convention attendance declined 5 percent from 2007 to 2008. This year, the numbers are projected to be much worse.
"It's necessary, for us to thrive in this community, that folks come here," Las Vegas Mayor Oscar Goodman said.