Bulgaria's Prime Minister Boyko Borissov met with Turkey's President Recep Tayyip Erdoğan in Ankara, Turkey, on March 2, to arrange a summit with Greece and some European Union leaders in Sophia, the Bulgarian capital, to discuss options to prevent a refugee crisis due to the situation in Syria. While his attempt failed, he was able to get assurance from Erdogan that Turkey would not allow migrants to force the Bulgarian border.
Erdogan announced on Feb. 29 that Turkey's borders with Europe were open for refugees to cross. Since then, thousands of migrants gathering at the Turkish–Greek border have tried to sneak into Greece, but Greek authorities pushed them back to Turkey with tear gas and stun grenades. Small groups, however, were able to cross the border unnoticed, both by land and sea.
In 2016, an agreement between the EU and Turkey was signed to prevent migrants from flooding into Europe. In return, the European Union agreed to provide financial aid to Turkey to cover the costs of hosting refugees.
"The European Union has not exactly fulfilled the requirements of the March 18, [2016] agreement," Erdogan said at a joint news conference with Borissov after their meeting in Ankara. "The EU applies double standards today as well. Leading E.U. countries still have such double standards that regarding the refugees currently moving towards borders, they say Turkey is making a mistake."
"We have spent already 40 billion euros ($44.94 billion)," he said, adding that the 6 billion euros ($6.75 billion) that the EU committed at the end of last year has not all been paid, and that what has been paid has gone to non-governmental organizations, not the Turkish state. He expected the EU to share this financial burden with Turkey.
"This situation of Turkey is not understood by the European Union countries," Erdogan said.
According to the Turkish government website, there are currently 4.3 million refugees in Turkey, including 3.5 million from Syria. Following the allocation of 6 billion euros in funding last year, no new funding has been allocated this year to help Turkey with the cost of hosting the refugees, said Gerald Knaus, an Austrian social scientist who was the architect of the 2016 EU-Turkey deal and the founding chairman of the European Stability Initiative, according to NPR.
The EU's executive European Commission said on Tuesday that of the 6 billion euros, 2.2 billion euros ($2.47 billion) had already been disbursed, according to Reuters. The rest was assigned to specific projects, meaning they should reach beneficiaries soon.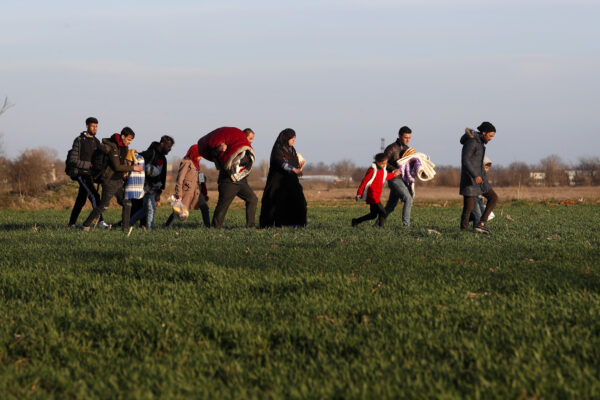 Erdogan also pointed out that according to the UN's 1951 Geneva Convention (also known as 1951 Refugee Convention) and the European Convention on Human Rights, refugees seeking asylum can apply to whichever country they would like to live in, and countries like Greece should consider asylum applications without "any discrimination based on ethnicity or religion."
He said that "soldiers of Greece have killed two refugees and one of them was seriously wounded." Athens denied the claim, according to Reuters. However, Turkey has "perfect cooperation and solidarity in terms of the national security" with Bulgaria, said Erdogan.
Borissov said that "one of the main principles of the EU is to share [the] burden and to have our fair share."
"Hopefully, we will have a chance to organize a meeting in Sofia, with the participation of all relevant parties," he said at the time.
Since Turkey, Bulgaria, and Greece are located in the same geographic area, they can together work on a good agreement to protect the refugees arriving at their borders, Borissov added. "Our relations, I believe, set [an] example for the others and hopefully we will get concrete outcomes," concluded Borissov.
Erdogan said that "Turkey cannot host the refugees anymore."
European Union Promises Aid to Greece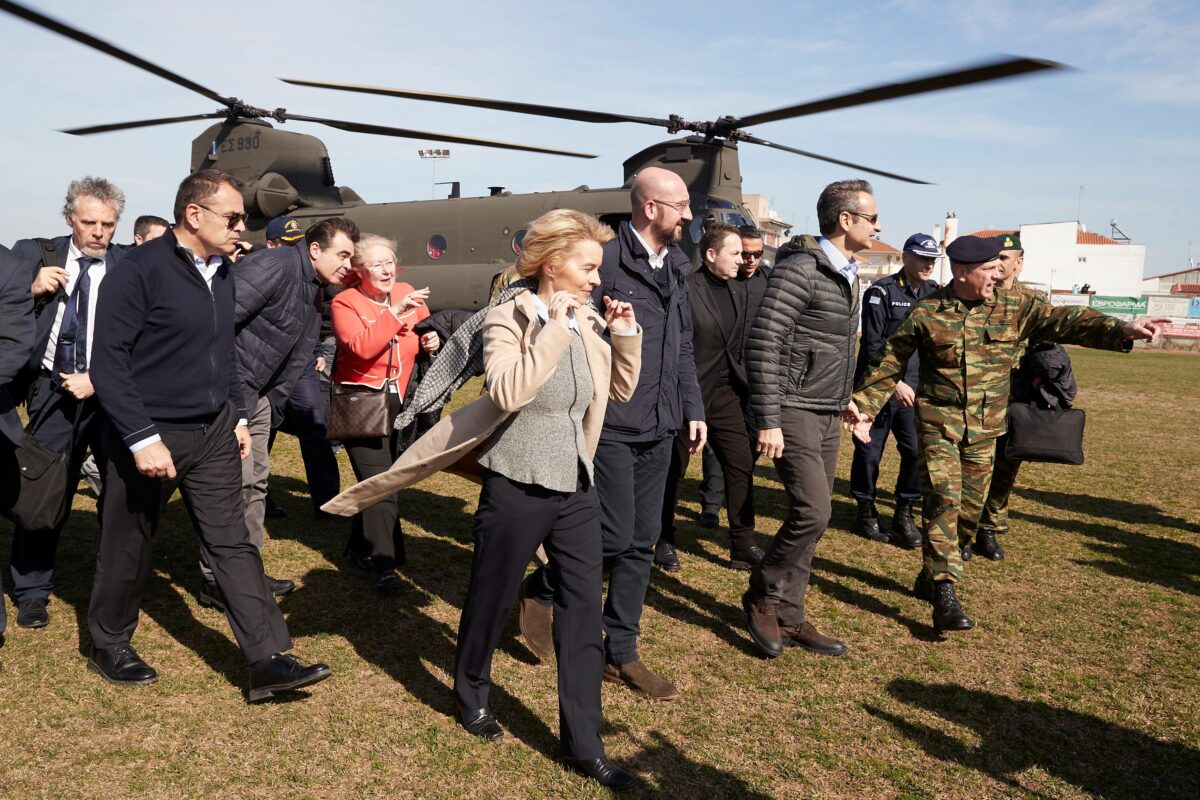 President of the EU's executive Commission, Ursula von der Leyen, together with other top-level EU officials visited the Bulgarian and Greek borders on March 3. Both borders are external European Union borders with Turkey.
At a joint press conference with Borissov, Von der Leyen emphasized Bulgaria's strategic role for Europe in dealing with migration and engaging with Turkey.
When visiting the Greek-Turkish border, Von der Leyen announced at a news conference in Kastanies, Greece, additional aid of 700 million euros ($782.95 million) to help Greece deal with the refugee crisis.
Von der Leyen said in Greece that Frontex, the European Border, and Coast Guard Agency, is ready to deploy its forces at the Greek-Turkish border at the country's request. She also promised medical assistance, shelters, tents, and blankets that can be provided by the European Union to Greece as needed to assist in dealing with refugees.
"Turkey is not an enemy and people are not just means to reach a goal. We would all do well to remember both in the days to come," von der Leyen said, thanking Greece for being a "European shield."
Kyriakos Mitsotakis, Prime Minister of Greece, accused Turkey of encouraging "tens of thousands of migrants to illegally enter Greece" during the same press conference. "We stand ready to support Turkey in dealing with this refugee problem and find a solution to the Syria conundrum but not under these circumstances," Mitsotakis said.
"Greece is also doing Europe a great service" by protecting the external border of the EU, but "Europe has not been up to the task in dealing with the migration crisis," Mitsotakis added. He said he is hoping that this crisis will motivate all to assume their responsibilities.
"The situation at our border is not only an issue for Greece to manage, it is the responsibility of Europe as a whole," von der Leyen said from Kastanies, Greece.
Reuters contributed to this report.