Brook Lopez did it again.
He drained a jumper with four minutes left, and another about two minutes later. He hit two free throws. And as Joe Johnson surveyed the court on a critical possession with the score tied, Lopez established great position in the middle of the paint and received the ball. His hook shot with 23 seconds left gave the Nets a lead they would not relinquish.
The win over the Hornets, a team in fierce competition with Brooklyn for one of the final playoff spots in the Eastern Conference, is just the latest testament to Lopez's returning to the form that earned him an All-Star selection several years ago.
"Brook carried us," Nets coach Lionel Hollins said after the game.
Lopez, 26, who recently wrested back a starting role with the surging Nets, dropped 34 points on 16-of-26 shooting and added 10 rebounds. Lopez has been on fire this month, averaging 20 points a game and putting up at least 26 points in each of the last four games, three of them wins.
Lopez, who has gained a reputation for subpar rebounding and sometimes lackadaisical defense, has also become more aggressive on the boards and against opponents.
"He's a big dude," Deron Williams told the Wall Street Journal earlier this season. "He eats up a lot of space. He's become a better shot-blocker since I've been here. I think a lot of the coaches have been pushing him to be a great defender and I think he's taken that challenge. I think it helps a little bit to have a brother that's known as a defender. He doesn't want to be outshined."
Lopez is averaging 9 rebounds and 2.2 blocks per 36 minutes, which are not career-best but are very close. He's grabbing a respectable 52 percent of contested rebounds, and ranks among the league leaders in helping to hold opponents to a low field goal percentage.
While Lopez has improved his rebounding and defense, his main skill remains putting the ball in the basket. His 16.3 points a game leads Brooklyn, and concerns about his durability are dying down as he's only missed eight games this season. He's also made a big leap since the All-Star break, with his stats jumping across the board.
"I felt complete confidence in my body, in my foot, and especially these last six to eight games, I've felt amazingly loose, as good as I've felt since coming into the league, just movement-wise, and being ready to play," the big man said in a recent interview on WFAN.
Lopez could very well be termed the most versatile big man in the league, with the ability to shoot jumpers from anywhere inside the 3-point line, drive to the basket and sink runners, or post up and convert hook shots.
Early in the season, coming off his major foot injury, Lopez looked lost at times and threw a lot of awkward shots. But as the season has progressed, so has Lopez, who is now making opponents pay for leaving him open. The Nets run two main plays for Lopez: a pick-and-roll where he either rolls to the basket or pops outside as a surprising shooter, and a post-up which often ends in a hook shot.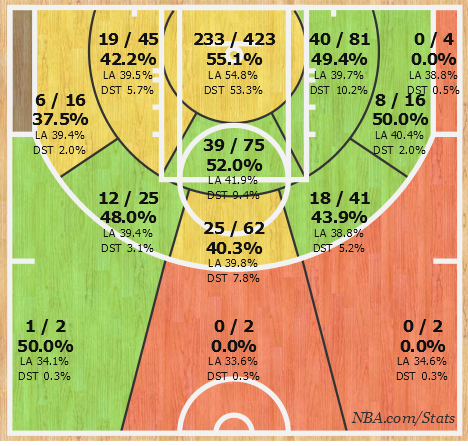 "His touch right around the basket is off the charts, so we keep feeding him in the pick and rolls, exploiting it when we have the chance," Williams told reporters after the win over the Hornets, which put the Nets within half a game of the eighth spot in the East.
"He's leading us. He's a force down there and he's a force on the boards also. And now he's starting to make the right plays out of the double-teams. They have to double him because he's a force down there."
In 26 wins this season, Lopez is averaging 18.8 points on 55 percent shooting. In 34 losses, he's averaging 14.5 points on 47 percent shooting. The team often goes as he goes, especially when one of their other main players, such as Joe Johnson, is struggling.
Lopez's improvement could ultimately turn out bittersweet for Brooklyn, though. He has a $16.7 million player option for next season, which means he can opt in and be under contract or opt out and pursue a new one.

Provided he can stay healthy for the rest of the season, Lopez could draw a contract very close to the four-year, $60 million one he signed with the Nets in 2012. He could opt out of his current contract and look to sign a new one, possibly with a team other than the Nets.
Potential motivation for leaving Brooklyn includes his name being in trade rumors every season, and if he does opt in, his expiring contract would be attractive to some teams. On the other end, Brooklyn could decide not to re-sign him if he opts out, and would very likely try to deal him next season as that expiring contract.
The Nets want to try to re-sign Thaddeus Young, the athletic power forward they acquired via trade this season. Young also has a player option, at $10 million, and hasn't made clear whether he'll opt in or not. If Brooklyn pays Young about that much, they'll only be about $10 million below next year's projected cap limit of $81 million. Joe Johnson takes up $24.8 million next season, and Williams takes up $21 million.
But Lopez is a building block, notably younger than both players, and the only one likely to command a big contract. Johnson's contract expires after next season, by which time he'll be almost 35. Williams will be a free agent that same offseason if he opts out, or the next if he opts in. He's already 30 years old. As one fan noted, Lopez is the "only player that is worth what we pay him, when healthy."
Lopez said this week that he's undecided about what he'll do this offseason, perhaps not being too sure himself yet. The Nets' making the playoffs and even winning a series could play a big part in convincing him to stick around for at least one more season.