British and US Law Enforcement Officers Pull Commercial Aircraft to Raise Funds for Charity
May 22, 2014 11:16 am Last Updated: May 22, 2014 11:36 am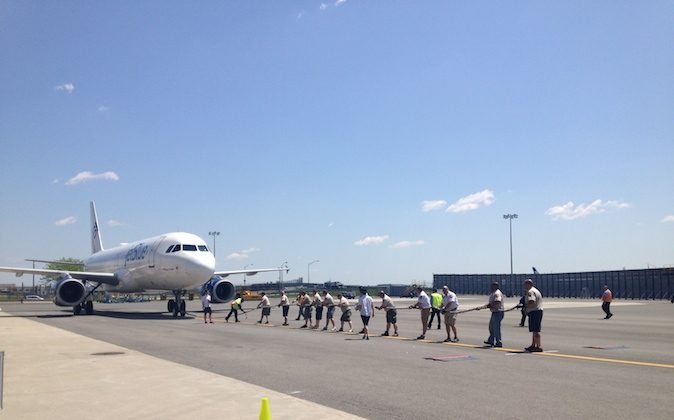 Sometimes when a good old fashioned game of tug of war isn't challenging enough, a great alternative is pulling a commercial aircraft. That is, according to JetBlue Airways.
On Monday, the Long Island City-based airline partnered up with London's Metropolitan Police Department for a day of Plane Pull at the John F. Kennedy Airport. It is a fund raising event for the British charity 'Joining Against Cancer in Kids' Foundation.
Participating teams consists of members from London and U.S. law enforcement agencies, mostly from New York. Each team had raised a certain amount of money for charity in order to participate, totaling $25,000 dollars.
The challenge is to pull an A320 aircraft 100 feet with the fastest time. One hundred feet isn't a long distance, but the plane weighs 800,000 pounds unloaded.
"We have some fuel because we didn't want to make it too easy for them. So it weights about 100,000 pounds right now," said Rick Pineda, senior analyst of national sponsorships for JetBlue.
"These guys are very, very competitive, and any physical feat is very appealing to them. And we thought to ourselves, what do we have that would be fun to use? We have these very large and very heavy aircrafts and we thought, instead of a tug of war, let's do plane pull," said Pineda.
Winners
The Plane Pull competition is on its 5th year. The fastest team this year was the Nassau County Sheriff's Department. They managed to pull the aircraft 100 feet in 29 seconds.
"Last year we took second, so we trained a little harder this year, and it paid off for us," said Chuck Daly from the Nassau County Sheriff's Department. "It is bragging rights for another twelve months, so we're very happy."
To prepare for this year's competition, the Nassau County Sheriff team members practiced by pulling a firetruck in their parking lot. Still, they were 3 seconds away from the record of 26 seconds that the Nassau correction officers pulled two years ago.
"If we train even harder why couldn't we beat it by 4 seconds?" said Daly. "Everybody's competing, but at the end of the day, they're doing it for the right reasons."
A team of U.S. Army soldiers participated for the first time this year, pulling 43 seconds. As it turns out, the competition is even challenging for those who go through intense physical training every day.
"I didn't think pulling a plane would be that difficult but getting it started was pretty hard," said Arthur Dreher, a soldier from a medial unit based in Staten Island. "I work out pretty well and that was hard."
There were many London Metropolitan Police Department participants, and they were broken up into different teams. Despite being the event hosts, the London police have yet to win first place.
"It's harder than I expected it to be but the team got us through it together by encouragement," said Kara Young, a London police officer. "We all got through it in good time. Forty seconds, can't complain."
When some of the teams had trouble moving the plane, members from other teams rushed in to help. Though the teams are competitive, it's more about having fun.
"It's for a good cause, it's a fundraiser, and everybody is in great spirits," said Sgt. Anthony Gravano with the Port Authority Police Department. "We had a good time today."