As the debate over the border wall continues, a border patrol agent has revealed the true situation that has been going on at the U.S. southern border during a recent public briefing on border security. Notably, what this agent has revealed has been largely ignored or distorted by the mainstream media.
After inspecting the U.S. Border Patrol McAllen Station in McAllen, Texas, with Texas Sen. John Cornyn and Ted Cruz on Jan. 10, 2019, President Donald Trump invited a border patrol agent to explain the need for a wall.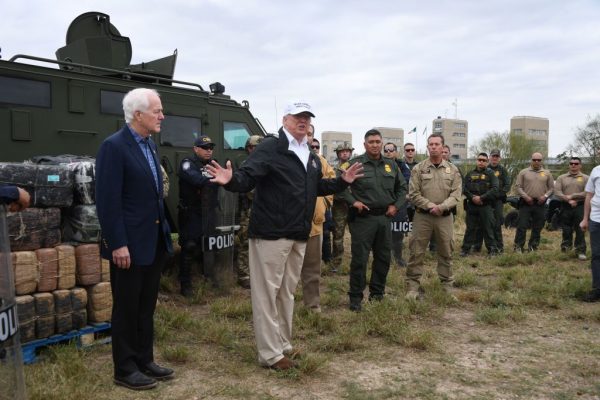 Having witnessed the border crisis firsthand, Raul Ortiz, acting chief patrol agent, said: "So far this sector has apprehended folks from 41 different countries. Just yesterday we apprehended 133 people from countries other than Central America and Mexico. That includes individuals from India, Pakistan, China, Romania, Ecuador, Nicaragua, on and on and on."
"And so, I know we keep talking about the family unit and unaccompanied children. That makes up about, typically about 60, 70 percent. We've seen a change over the last couple of weeks where that number's less than 50 percent of the apprehensions we make here in South Texas."
This figure means that other than destitute migrants, the people illegally crossing the southern border from all around the globe could include unknown individuals, who could bring about serious threats to national security as they engage in criminal activities, such as drug and gun trafficking, human smuggling and trafficking, theft, and criminal gang violence.
"So, South Texas continues to lead the country in apprehensions, as well as marijuana seizures between the ports of entry," Ortiz said. "So CBP and DHS are committed to both our border security mission, as well as our humanitarian mission."
Ortiz asserted the need to commence building the border barriers immediately.
"We have 55 miles of fence within the sector. We started the job in 2006. We need to finish that job. We've got the personnel. We need the technology and we need the resources. We need the infrastructure in order to control this border and manage it," he said.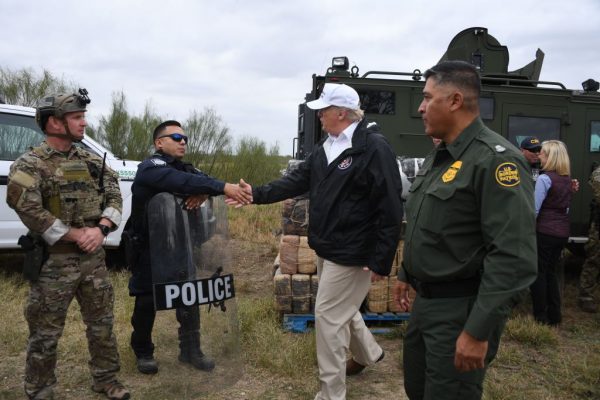 Thanking the President in his push for a wall on the southern border, Ortiz said, "Mr. President, Senators, we couldn't do it without your support."
"We really appreciate you coming down here. It means an awful lot to the men and women of DHS, CBP, the border patrol, our local law enforcement. Thank you."
Yesterday, we spoke to a REAL border EXPERT. @CBPRGV Chief Raul Ortiz overseas 500+ miles of border—and says walls work, and he needs at least 100+ more miles of wall. Catch our interview w/ him all morning on @foxandfriends.

(Meanwhile, FAKE experts made fools of themselves…) pic.twitter.com/TO2zkdwNXg

— Pete Hegseth (@PeteHegseth) January 11, 2019
In an interview with Sean Hannity of Fox News, Ortiz articulated that a barrier built in the west sector would greatly reduce the number of people entering America illegally—alluding to the example of another sector, where illegal crossings dropped by over 90 percent due to its 5 to 64 miles of fencing.
"We have about 55 miles of fencing already in this sector, and it's on our east side. It accounts for about 6 percent of my traffic. On my west side where I have very little fencing and very little technology it accounts for 94 percent of my traffic," said Ortiz.

Ortiz also mentioned the large monetary gain that drug cartels are making off these illegal crossings.
"But I think what middle America and most people don't realize is our cartels are making tons of money off of everybody who crosses this river. $1.7 million a week are made into the cartel's pockets from the unaccompanied children and family units that are crossing," he said.
President Donald Trump described the mounting humanitarian and security crisis at the border as "a crisis of the heart and a crisis of the soul" in his Jan. 8 national address.
"Every week, 300 of our citizens are killed by heroin alone, 90 percent of which floods across from our southern border," Trump said.
— Donald J. Trump (@realDonaldTrump) January 12, 2019
"In the last two years, ICE officers made 266,000 arrests of aliens with criminal records, including those charged or convicted of 100,000 assaults, 30,000 sex crimes, and 4,000 violent killings. Over the years, thousands of Americans have been brutally killed by those who illegally entered our country, and thousands more lives will be lost if we don't act right now."
"They don't build walls because they hate the people on the outside, but because they love the people on the inside," Trump added.
— Donald J. Trump (@realDonaldTrump) January 3, 2019