A Bonefish Grill location has given first responders a free meal ahead of Hurricane Florence's Friday landfall.
The free meal on Thursday night was a dinner at the Bonefish Grill in North Charleston.
"Feeding the Boys in Blue for free before they go out in the weather tonight. Thank you for keeping us all safe!" the restaurant said in a Twitter post that included a picture of dozens of first responders seated in the dining room, reported ABC 4.
"We love our first responders in North Charleston!"
Feeding the Boys in Blue for free before they go out in the weather tonight. Thank you for keeping us all safe! pic.twitter.com/leiqz3FeB7

— Bonefish Grill Charleston (@BFGCharleston) September 13, 2018
We love our First Responders here in North Charleston❤️❤️❤️ pic.twitter.com/p13MjYNBFY

— Bonefish Grill Charleston (@BFGCharleston) September 14, 2018
A number of companies have been giving free services or food ahead of Florence.
A casino in Atlantic City, New Jersey offered free rooms to people who evacuated danger zones; hundreds of Airbnb hosts offered free rooms to evacuees; Verizon Wireless has offered free cell service to customers who live in states affected by the storm.
The Verizon offer is good from Sept. 14 through Sept. 17, the company said in a press release. The offer is for customers in North Carolina, South Carolina, Virginia, and Georgia.
"As we enter the final hours before Hurricane Florence makes landfall we hope this allows our customers in these areas to worry about one less thing and focus on their safety and security," said Russ Preite, president of the southeast market for Verizon. "This is just one way we can help residents as this potentially dangerous storm challenges the Southeast coast."
In addition, speed restrictions have been lifted for first responders in Alabama, Florida, Georgia, Maryland, North Carolina, South Carolina, Tennessee, and Virginia.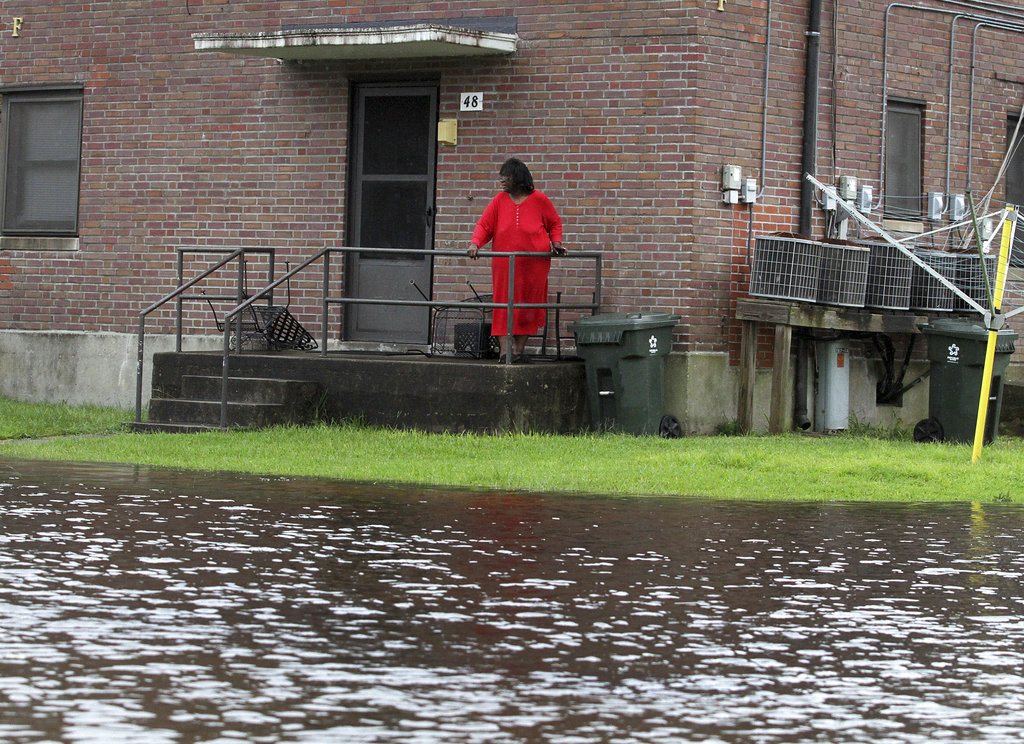 Florence Makes Landfall
Hurricane Florence made landfall in North Carolina early Friday, pushing a life-threatening storm surge of floodwater miles inland and ripping apart buildings with screaming wind and pelting rain.
More than 60 people had to be pulled from a collapsing motel at the height of the storm, and many more who defied evacuation orders were hoping to be rescued. Pieces of buildings ripped apart by the storm flew through the air.
Most ominously, forecasters said the terrifying onslaught would last for hours and hours because Florence was barely moving yet still drawing energy from the ocean.
Florence made landfall as a Category 1 hurricane at 7:15 a.m. at Wrightsville Beach, a few miles east of Wilmington, as its eye moved onshore, the National Hurricane Center said.
Coastal streets flowed with frothy ocean water, and more than 415,000 homes and businesses were without power, mostly in North Carolina, according to poweroutage.us, which tracks the nation's electrical grid.
Forecasters said "catastrophic" freshwater flooding was expected along waterways far from the coast of the Carolinas.
Winds bent trees toward the ground and raindrops flew sideways as Florence moved in for an extended stay, with enough of its killer winds swirling overseas to maintain its power. Forecasters said the onslaught could last for days, leaving a wide area under water from both heavy downpours and rising seas.
The wind howled and sheets of rain splattered against windows of a hotel before dawn in Wilmington, where Sandie Orsa of Wilmington sat in a lobby lit by emergency lights after the power failed.
"(It's) very eerie, the wind howling, the rain blowing sideways, debris flying," said Orsa, who lives nearby and fears splintering trees will pummel her house.
The Associated Press contributed to this report.
From NTD.tv