Bombings Restrict Pilgrims' Freedom at Site of Buddha's Enlightenment
July 8, 2013 9:12 am Last Updated: June 24, 2015 8:40 pm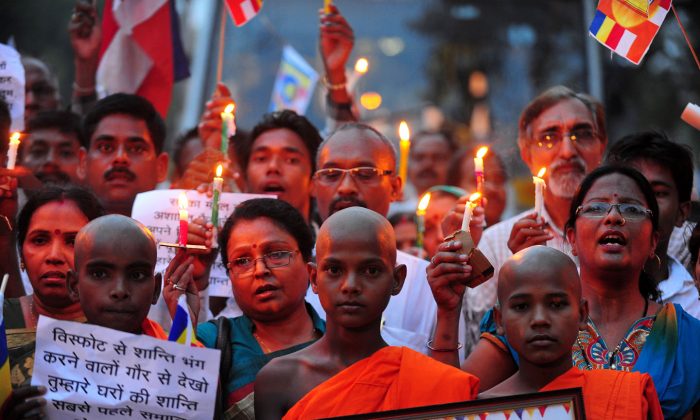 After the debris clears following Sunday's bombings at Bodh Gaya, the place of Buddha's enlightenment, locals wonder whether the atmosphere at the sacred site will ever be the same again. While the temple and the famous Bodhi tree remained unharmed, the freedom to roam the grounds is greatly restricted, and may be for a while yet. 
"I was born in Bodh Gaya. In childhood, we use to freely roam around the temple," recalled Sudama Kumar, general secretary of the Bodh Gaya Hotel Association. "People use to freely [wander] around the temple. From now on, it'll no longer be the same, as there will always be lots of security around," he said. 
Bodh Gaya is a small town in the Gaya district of Bihar State, northeast India. The town is famous for the Mahabodhi temple (5th–6th century AD) where Buddha is said to have attained enlightened under the Mahabodhi tree. Early Sunday morning, 10 bombs blasted inside and outside the temple, injuring two monks—one from Tibet, the other from Burma (also known as Myanmar). Since then, the area has been under high security. 
"I was sleeping after full-time night duty at 5:15 am when the bombs exploded," said Robin Kumar, the front desk assistant at the Hotel Tathagat International. "In my sleepy state, I thought it could be doors banging and I didn't pay attention. After a while, when there was commotion in the hotel, I went out and checked and came to know it was bomb blasts."
Hotel Tathagat International is just 30–50 feet from the temple complex. "Between 6 a.m. to 7 a.m., all the pilgrims in the hotels checked out," Kumar said. "They looked afraid. There is so much security around. People are not allowed to roam around the temple."
"There are no guests in the hotel today," he said in a telephone interview Monday. 
Sudama Kumar of the hotel association explained that hotels in the region usually receive bookings three months in advance. He said there are 110 hotels, guest houses, and resorts in the town. 
"I'm hearing that cancellations have started to happen," Kumar said. "The bombings will affect our next three months booking."
He is grateful the bombings did not take any lives, and he is hopeful that with increased security, no future attacks will take place. 
The temple doors reopened Monday at 5pm local time, 36 hours after the blasts. 
In a press release, Indian Vice President M. Hamid Ansari said,"In such difficult times, Lord Buddha's eternal message of universal peace, non-violence and compassion reminds us that violence has no place in civilized societies."
The police have detained a suspect and investigations are on.