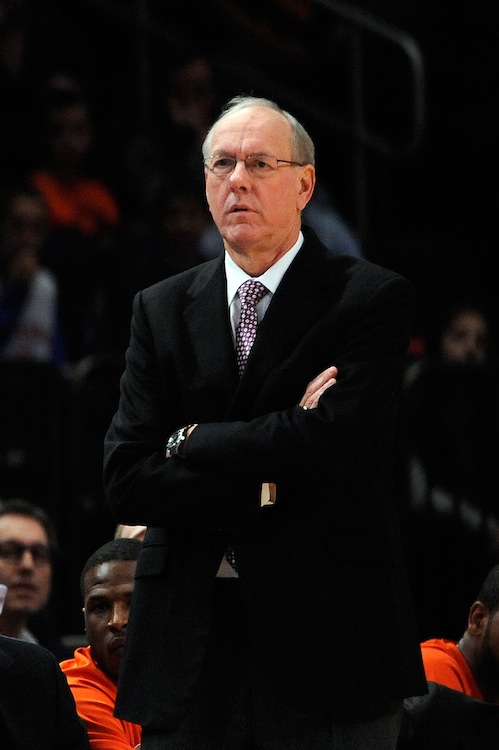 Minutes after his taller Syracuse (23-1) team had manhandled the shorter, thinner, and much less experienced St. John's Red Storm (10-13) 95–70 at Madison Square Garden, longtime Orangemen coach Jim Boeheim was gushing over his admiration for the Johnnies. Said an admiring Boeheim, "I don't know how you do what they've done with five freshmen."
The statement, among other compliments from Boeheim about the Red Storm, speaks volumes about both St. John's and Jim Boeheim, considering the win was his 879th career victory, tying him with the great Dean Smith for third all-time.
Boeheim is clearly a humble person. There was no mention in his opening statement on the significance of the win even though 879 wins was a record for a number of years, and just 40 behind the still-coaching Mike Krzyzewski's 919.
"I think what they've done is extraordinary to me," continued Boeheim.
What St. John's has done is managed four conference wins—good enough for 10th place in the 16-team Big East—despite a well-documented seven-man rotation of five freshmen, a junior college transfer, and one lone returning player who comes off the bench.
Not only are they thin on players and experience though, the Red Storm is thin on centers—as in, it has none. Naturally, the return of 7-foot, 255-pound Syracuse center Fab Melo posed a real problem Saturday for St. John's as the Red Storm have no one taller than 6-foot-8-inches.
The results were somewhat predictable as Syracuse held a 38-25 edge in rebounding and after escaping an early 5–0 deficit, were never threatened by the Johnnies. Admitted Boeheim after acknowledging his team's well-executed plan to out-rebound the Johnnies, "St. John's is not that big. That helps."
Still, the long-term effects of having this many young and talented players log so many important minutes will certainly lay the groundwork for some terrific St. John's teams to come. Said assistant coach Mike Dunlap on the big picture of the program, "As they go through, this long term it's going to be an incredible experience for them."
Their experience continues Wednesday night as St. John's hosts Cincinnati (16-7) at Madison Square Garden.