Former Republican Sen. Bob Dole was seen being helped out of his wheelchair to pay his respects to the late former President George H.W. Bush on Dec. 4.
In video footage, Dole could be seen standing to salute Bush's coffin in Washington.
Dole, 95, a former U.S. Senator from Kansas, can no longer walk. An aide lifted him from behind and propped him up. Dole then sat in his wheelchair for a few moments and appeared to hold back tears.
Both Bush and Dole ran against one another in the 1988 GOP primary, when Dole told Bush: "'Stop lying about my record." Bush eventually won the presidency while Dole stayed in the Senate and later challenged former President Bill Clinton in the 1990s.
"Many people doubted I could serve the President since we had a rather rough campaign, but it wasn't true—because of the man he was, not because of me," Dole recalled once. "I was proud to be his leader in the Senate because I liked what he stood for. He wanted to make America—well I won't say great again—I think that somebody else already said that."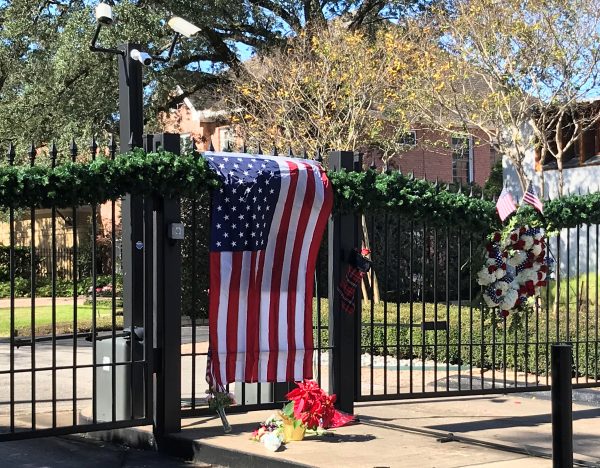 Both men are World War II veterans. Dole served in the U.S. Army and was stationed in Italy during the war before he was badly wounded by German machine gun fire. When fellow soldiers saw his injuries, they thought to "give him the largest dose of morphine they dared and write an 'M' for 'morphine' on his forehead in his own blood, so that nobody else who found him would give him a second, fatal dose," said Lee Sandlin.
Bush, during the war, had joined the U.S. Navy and was assigned to the Torpedo Squadron 51 (VT-51) as a photographic officer. The task force he belonged to was victorious in the Battle of the Philippine Sea, according to the U.S. Navy.
In September 1944, according to the Navy, "Bush piloted one of four aircraft from VT-51 that attacked the Japanese installations on Chi Chi Jima."
"During their attack, four TBM Avengers from VT-51 encountered intense antiaircraft fire. While starting the attack, Bush's aircraft was hit and his engine caught on fire. He completed his attack and released the bombs over his target scoring several damaging hits. With his engine on fire, Bush flew several miles from the island, where he and one other crew member on the TBM Avenger bailed out of the aircraft. However, the other man's chute did not open and he fell to his death. It was never determined which man bailed out with Bush. Both Delaney and White were killed in action," the website says.
Visitors Honor Bush
Soldiers, people in wheelchairs, and long lines of other Americans filed through the hushed Capitol Rotunda on Tuesday to view George H.W. Bush's casket and remember a president whose legacy included military victory half a world away and a landmark law affirming the rights of the disabled.
Sully, Bush's service dog, came too. People filed into the Capitol throughout the chilly, overcast day to pay respects to the 41st president, a son and father of privilege now celebrated by everyday citizens for his common courtesies and depth of experience.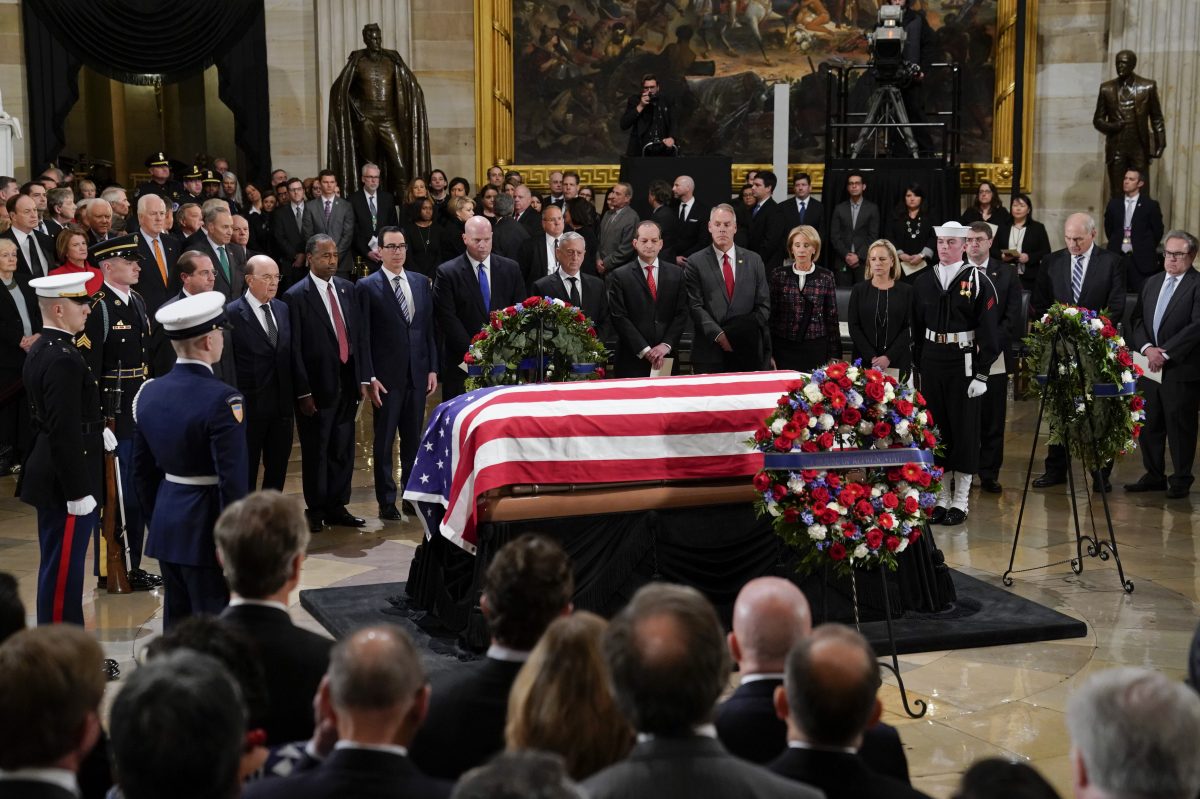 "He was so qualified, and I think he was just a decent man," said Sharon Terry, touring Washington with friends from an Indianapolis garden club. Said her friend Sue Miller, also in line for the viewing: "I actually think I underestimated him when he was in office. My opinion of him went up seeing how he conducted himself as a statesman afterward."
The Associated Press contributed to this report.