Big Returns for Public Sector Marketers at MARCOM 2010
June 17, 2010 1:29 pm Last Updated: October 1, 2015 7:51 pm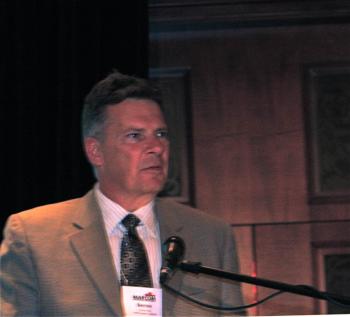 OTTAWA—The 12th Annual MARCOM Forum, a marketing conference and trade show aimed at the government, public sector, and non-profit agencies, was held at the Hilton Lac-Leamy in Gatineau, Quebec, on June 11 and 12. Marcom is an "educational forum… where the focus is more about how to make large-scale changes with limited resources than conceiving of multi-million dollar campaigns," according to the forum website.
This year's theme was "Taking the Next Step—Marketing with Authenticity." The organizers brought together experts in the industry to provide a professional development forum tailored for the niche sectors, and that is the only one of its kind in Canada.
Not-for-profits and smaller businesses that may not have a large budget for marketing and sales were 300-strong at the event to take in such diverse topics as "The Importance of Authenticity in Crisis Communications," "Marketing Aboriginal Inclusion in Canada's Workplace," and "Edutainment in Festival Programming."
With three full-day pre-forum workshops to choose from on June 9, two keynote speakers, and two days of round-tables, forums, and a trade show, over the following two days 40 expert presenters provided strategies and tools the attendees can use to build successful brands, present great ads, and gain attention for their organizations.
Bernie Colterman, producer of the event and president of Ottawa-based Colterman Marketing Group, described this year's educational forum.
"Every year, it seems to be getting more sophisticated. When we first started MARCOM, people were pretty basic in their knowledge, but… people seem to be getting more sophisticated and smarter about their marketing. So, every year, the level of expertise that they bring to the conference is a little better."
The event opened with keynote speaker Mitch Joel's presentation Six Pixels of Separation: How Marketing Connects in a Connected World. President of Twist Image, Joel detangled the domain of social media that is frequently used by the younger generations.
The next day's keynote speakers was CBC radio's Terry O'Reilly, host of The Age of Persuasion, who talked about trends, timeless lessons, and why advertising matters. Later, O'Reilly signed copies of his latest book called "The Age of Persuasion: How Marketing Ate Our Culture."
The final event was the presentation of Marketing Excellence certificates awarded to recognize the talents of those who overcame the economic challenges of the not-for-profits to implement successful initiatives
Marcom 2011 will take the stage at the new Congress Centre, and will be one of the first conferences held there.
"We're looking forward to that," said Colterman.
"As far as the vision for what we're doing at Marcom next year, we're going to continue on everything that's important today (about marketing), but we're also going to keep an eye on what's new, and current in people's minds, so that we will be able to offer education content that's relevant for people's environment on that day. It's going to take us a year to figure it all out, but I think that's a good starting point."
To ensure next year's presentations will be fresh, Colterman said they will use surveys and talk to people in the coming months to find out what their target audience of marketers and communicators is interested in learning about, and to present techniques and strategies that are up-to-the-minute.
"We have to pay attention, and do our research, so that we're dealing with issues that are important to our potential attendees next year," he said. "They change, so we always need change, and always need to be paying attention and listen to our customers so that we know that we're offering the right kind of learning that they need at the time."
However, the focus will not change.
"Our focus will always be the government, the non-profit, and the professional association sector, the associations with membership, and the professional industries."