The cost of renovating Big Ben over the next four years has doubled to £61 million ($81.7 million), parliamentary authorities have revealed.
Repair costs for the Elizabeth Tower in the Palace of Westminster that houses the bell, known as Big Ben, were originally set at £29 million ($38.9 million) in the spring 2016.
Authorities admitted that the works were more complex and more expensive than originally thought and expressed their disappointment at the cost increase.

The amount of contingency money set aside for the project was raised from £5.8 million to £17.2 million.
The project's cost increase was revealed as authorities announced that the contract was given to construction company Sir Robert McAlpine Ltd.
The 96-meter (315 feet) tall  tower will have scaffolding that will gradually be dismantled from the top as the work progresses. At least one clock face will be on show at all times, officials said.
In a joint statement, the clerk of the House of Commons, the clerk of the Parliaments and the director general said: "We acknowledge that there have been estimating failures and we understand the concern of the Commissions. In advance of tendering contracts, the initial high level estimates were set at a lower level to avoid cost escalation from the market."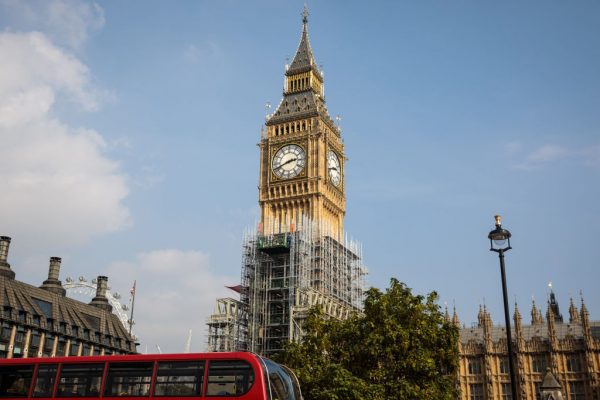 "This project will enable us to give one of Britain's most famous landmarks the TLC it so desperately needs and deserves," said Steve Jaggs, keeper of the clock.
Big Ben's chimes were silenced this August for four years—a move that was criticized by many MPs and Prime Minister Theresa May.
"Of course we want to ensure that people are safe at work, but it can't be right for Big Ben to be silent for four years," she said to reporters.
Conservative Member of Parliament James Gray called the project "entirely bonkers" while Brexit Secretary David Davis called it "mad" and told renovation workers to "just get on with it."
The pause of Big Ben's bongs even brought tears to the eyes of Labour MP Steve Pound, tears that he insists were real.
Lab MP Steve Pound wipes a tear (real he insist) as he hears last Big Ben bongs for 4 years. pic.twitter.com/6JBc6ZJ2WO

— Paul Waugh (@paulwaugh) August 21, 2017
Big Ben will chime only on special occasions, including New Year's Eve and Remembrance Sunday, during renovation works.