The White House said Friday that Washington is surging federal resources to support vaccinations, testing, and therapeutics—though not vaccines themselves—to Michigan in a bid to control the state's worst-in-the-nation COVID-19 transmission rate, with Michigan Gov. Gretchen Whitmer pleading for a surge in doses.
Senior administration officials told The Associated Press that President Joe Biden told Whitmer on a call Thursday that his administration plans to help Michigan with more efficient administration of the doses already allocated to the state, in addition to surging testing capacity and drugs for CCP (Chinese Communist Party) virus treatment.
Biden reportedly told Whitmer that federal authorities are prepared to dispatch an additional 160 FEMA and Centers for Disease Control and Prevention personnel to Michigan to help with vaccinations and that federal distribution of the vaccine will be adjusted to prioritize areas Whitmer identifies as most urgently in need.
"We are at war with this virus, which requires leaders from across the country to work together," said White House spokesman Chris Meagher. "We're in close contact with Governor Whitmer, who is working hard to keep Michigan safe, and working in close coordination through a range of options that can help stop the spread of the virus."
The federal assistance will not include a surge of vaccine doses, however, which is something Whitmer has pleaded for in light of the spike in new infections. Doses are currently allocated to states proportionally by population, but Whitmer has called for extra doses to be shifted to states like hers experiencing a sharp rise in cases.
"Right now our numbers are alarming, and we all have a role to play to get our state moving in the right direction again," Whitmer said at a press conference in Lansing on Friday. "That's why I'm renewing my call on the federal government to surge additional vaccines to our state."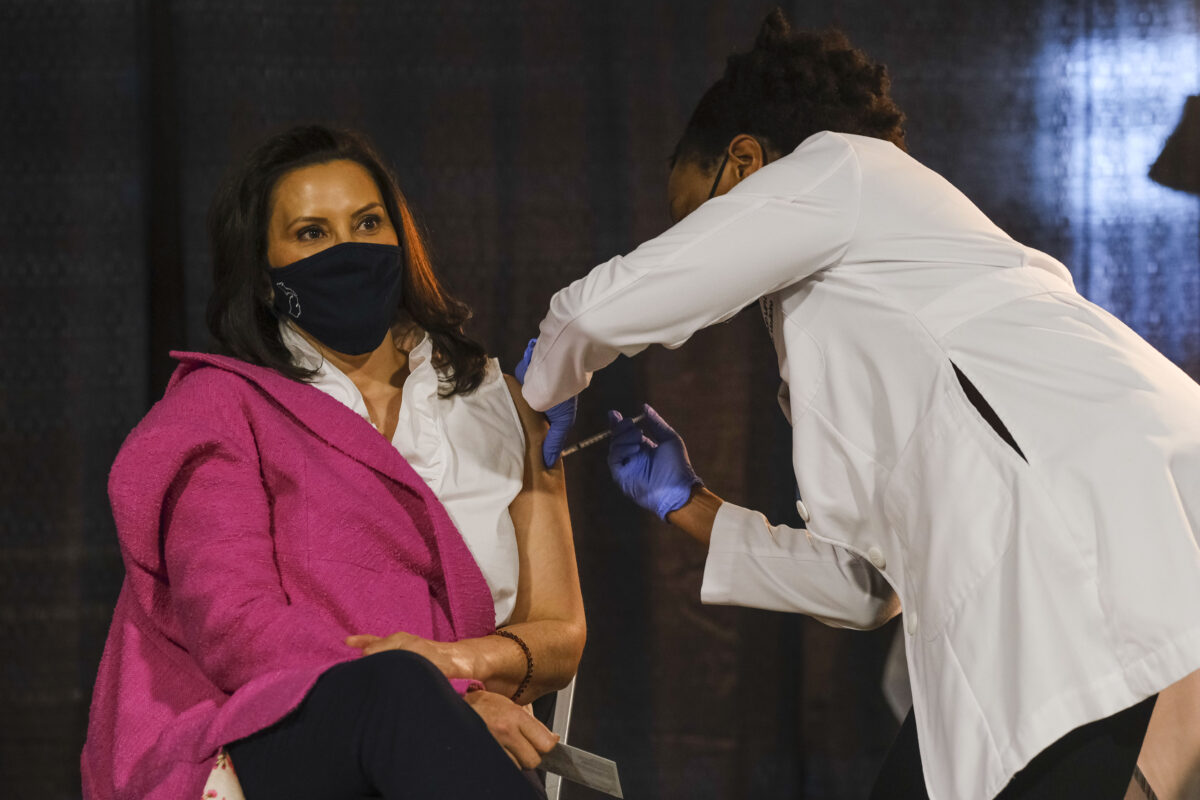 Whitmer also urged high schools and youth sports to voluntarily suspend in-person activities for the next two weeks and called on Michiganders to avoid indoor dining and indoor social gatherings.
"This is a team effort. It's on all of us to do our part by masking up and getting vaccinated to protect ourselves and our families, so we can get back to normal. Let's get it done," she said.
The call to suspend in-person activities is a recommendation only, as Whitmer did not issue any executive orders in the matter on Friday.
"Parents and athletes need to understand the risk involved with youth sports if they choose to participate," said Dr. Joneigh Khaldun, Michigan's chief medical executive and chief deputy for health.
"We've seen that the younger population has played a significant role in transmission during this most recent spike. I urge youth sports organizers to pause in-person activities for the next couple weeks, and as always, mask up, wash your hands, social distance and get your safe and effective COVID-19 vaccine as soon as you are able," he added.
In a bid to increase access to CCP virus testing, Michigan is offering 56 pop-up sites located throughout the state as part of a special program to ramp up testing for Michiganders returning from Spring Break.
To date more than 5 million doses of COVID-19 vaccine have been administered in Michigan, with around 39 percent of Michigan residents aged 16 and older having received at least one shot.
The Associated Press contributed to this report.