Large Environmental Protest in Beijing
September 1, 2008 8:34 pm Last Updated: September 1, 2008 9:37 pm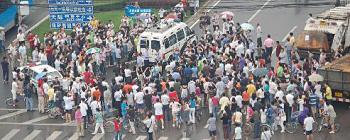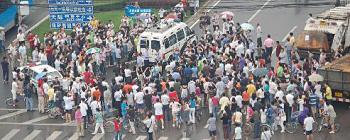 On August 30, only one week after the Beijing 2008 Olympic Games, there was a mass demonstration in Beijing's Chaoyang District protesting environmental pollution. Traffic in some areas was blocked for more than three hours. Many policemen were sent to the scene and protesters were beaten up.
Many bloggers on Boxun.com were complaining of the large garbage disposal plant in the Changying and Guangzhuang areas of the Chaoyang District of Beijing. The plant employs a rubbish incinerator to burn garbage, resulting in a foul smell in these areas. Fumes from the plant contain large quantities of dioxin—a carcinogen believed to raise the risk of cancer by as much as 40 times.
About one million area residents have been appealing to local authorities for years, but have been unable to make any progress. Even worse, the Beijing authorities are now constructing new apartment buildings just 550 yards south of the garbage disposal facility.
Experts describe dioxin as a kind of colorless, tasteless, yet severely refractory toxin. It has been called the "poison of the century" and has banned as a persistent organic pollutant by the Stockholm Convention.

Studies have found it to be 100 times more toxic than potassium cyanide and 1,000 times more than arsenic. According to statistics from experts in Tokyo, 80 percent of dioxin is generated through incineration.
Epidemiogical studies conclude that over time, exposure to dioxin will cause soft tissue tumors and lymphatic cancer. It is a very stable, fat-soluble compound, but extremely difficult to dissolve in water. Because of its persistence, dioxin will accumulate into the fatty tissue once it enters a living organism, and it is nearly impossible to clean up once it has polluted an area.
This pervasive substance can even invade a fetus through the mother's placenta, leading to widespread miscarriages or serious birth defects.
Residents are appalled at the authorities' decision to build such a large garbage disposal plant in such a densely populated urban area. Many say the authorities don't care about the people's health and safety as evidenced in their plans to build more housing right near the polluting facility.
Read this article in Chinese.