Beijing Home Sales Decline for Two Consecutive Months
October 4, 2008 7:00 am Last Updated: October 1, 2015 10:46 pm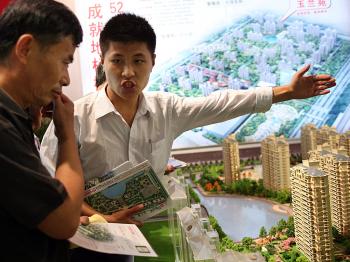 CHINA, Beijing—Since the beginning of the year, housing markets in many of China's cities have continued to decline. Beijing's existing home market has also experienced a decline for two consecutive months in both volume and value. Centaline China Property Research Center recently pointed out that the sell-off of existing homes signaled an upcoming buyers market.
Beijing Legal Times reported that the existing home market had shown obvious signs of entering a buyers market, as compared to the new home market. The broad market sell-off did not trigger a large volume of transactions.
According to Beijing Real Estate Transaction Management Network (www.bjfdc.gov.cn), 1,687 houses were sold in the existing home market in August, down 24 percent compared to the previous month and 34 percent compared to same period last year.
Meanwhile, according to statistics published by Lianjia Real Estate, both the number of houses put up for sale and number of customer listings in the existing home market declined in August by over 40 percent.
As the new home market continued to decline, some sell-offs started to occur in Beijing's existing home market, with over a 10 percent bargaining range, which is the highest in the past several years.
Recently, real estate sales offices have had very few customers. Many real estate agencies have lowered agent commissions, offering even as much as a 50 percent discount in order to boost sales.
"Transaction volume will continue to fall," said vice president of Centaline China Property Research Center, Gong Pine, who also pointed out that sellers/buyers in the existing home market are waiting and watching. Although a recent drop in mortgage rates a few days ago did help ease residents' mortgage burdens, a single adjustment of the mortgage rate is not enough to change home owners' anticipated transactions or behavior.