For nearly three years, the U.S. Senate has gone without a budget. Some experts say passing a formal annual budget is not necessary. But, some conservatives are using the absence of a budget as ammunition for criticizing the Democrat-controlled Senate.
In a post on the Heritage Foundation's conservative blog, the Foundry, Mike Brownfield calls the failure to pass a budget "an egregious dereliction of duty on Senate Majority Leader Harry Reid's (D–Nev.) watch."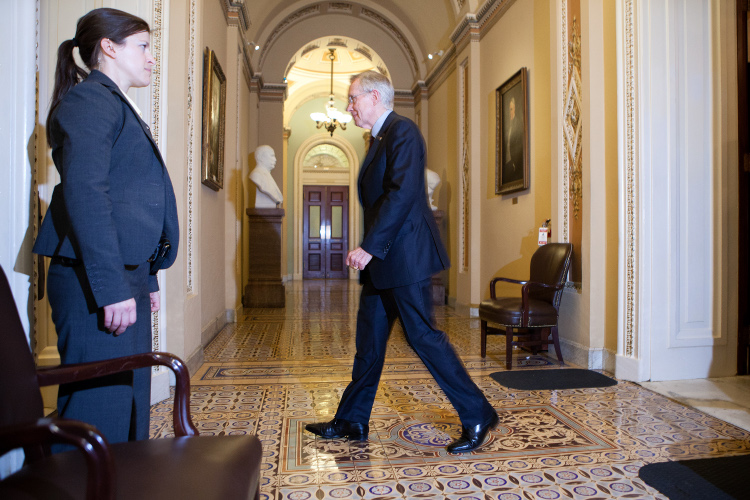 "By enacting continuing resolution upon continuing resolution (short-term measures to keep the government running, spending money at the current rate), the Senate has taken a pass on leading, all to the detriment of the poor and middle class," Brownfield writes.
Brownfield says that, since the Senate last passed a budget, the federal government has added $4.1 trillion in debt, bringing us to around $15 trillion in the hole. Interest payments on the debt are more than $200 billion per year.
Democrats have responded by saying that the Budget Control Act passed last August, which brought an end to the debt-ceiling standoff, already functions as a budget.
"We do not need to bring a budget to the floor this year—it's done, we don't need to do it," Sen. Reid said earlier this month, according to the Hill.
John. L. Mikesell, an expert on budget processes, agrees.
"The Budget Control Act does already provide discretionary outlay control totals for several years into the future," said Mikesell, a professor at Indiana University, in an email. "That is, in fact, generally what [a budget] is supposed to do, so the work has generally already been done."
The Budget Control Act actually goes beyond a yearly budget, he said, laying out a budgetary framework for years to come.
"In an important sense, Congress is already way ahead," he said.
He pointed out that there was no budget until 1974 legislation made that requirement. Further, Congress has failed to pass a budget a number of times since then.
Based on Mikesell's analysis, the accuracy of the Foundry's "do-nothing" depiction of the Democrat-controlled Senate is questionable. The Democrats did do something. They passed the Budget Control Act, which acts in many ways just like a budget.
But, is there any significant difference? According to Stan Collender, a congressional budget analyst with Qorvis Communications, passing the Budget Control Act and passing a real budget is still not the same thing.
"There is a big difference," he said.
For one, the law requires that a budget has to be passed—though there is no enforcement mechanism. 
More importantly, the Budget Control Act only deals with about one-third of government spending: the money that is considered discretionary. This includes spending on defense, homeland security, agriculture subsidies, roads, and many other things.
The other two-thirds of federal spending is almost completely untouched by the Budget Control Act. This spending is considered mandatory, and includes entitlement programs like Social Security, Medicare, and Medicaid, as well as payment on the national debt's interest.
Collender said that politicians, whether Democratic or Republican, often don't like to vote on mandatory spending. If they vote for cuts, some voters will get upset, and if they vote to increase spending or leave it as is, other voters will get upset.
Avoiding a real budget translates to Congress dodging the wrath of voters. It's a trick Democrats are using now and one that Republicans have used before.
"It certainly avoids a difficult vote," Collender said.