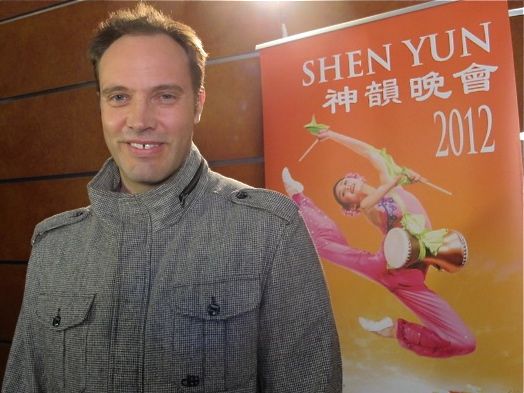 SYDNEY—Shen Yun Performing Arts New York Company, one of three Shen Yun companies touring the world, had just completed its fourth Sydney performance.
As a physiotherapist specialising in ballet, Mathew Squires had a unique perspective on Shen Yun's dance movements when he saw Sunday's matinee performance at Sydney's Capitol Theatre.
Mr. Squires said. "From a dance perspective it was fantastic to see those bodies move."
Shen Yun aims to revive 5,000 years of Chinese culture, predominantly using classical Chinese dance, one of the world's most comprehensive dance systems.
Each company travels with a unique orchestra of classical Western and traditional Chinese instruments. There are solo performances of bel canto singing and Chinese musical instruments such as the erhu, sometimes called the Chinese violin.
"When the woman came out with the traditional instrument [the erhu] … that traditional music had a beautiful melody and I think it really sung in different ways," Mr. Squires said. "It was really quite interesting."
He said he liked the show's focus on different cultures across greater China, including ethnic dances from the Taiwanese Amei people and a Tibetan dance. The show's depiction of modern human rights issues in China also resonated with him.
"Today was fantastic because it was expressing culture," Mr. Squires said.
"It's interesting it expressed China, it expressed Taiwan, it expressed the Taiwanese, it expressed the concept of Tibet, and that's all part of Chinese history, and the issues that are happening in that area.
"I think what is really important is that when you're in a culture like Australia and you actually have quite a lot of wealth, like this country does, I think the message that is coming across, particularly looking at China and the development of China and how strong China is becoming and our relationship with China, I think it is really important to understand that in China people are still struggling.
Reporting by NTD Television and Ethan Yang.
Shen Yun Performing Arts, based in New York, tours the world on a mission to revive traditional Chinese culture. Shen Yun Performing Arts New York Company will be in Sydney Australia through May 6.
For more information, visit ShenYunPerformingArts.org.