A baby abandoned in a shopping bag in the freezing cold was named after the road where she was discovered.
Hospital staff named the baby Roman after she was found in a small children's play park on Roman Road in Newham, East London.
The baby girl was found by a woman walking her dog with her son, at about  10 p.m. on Jan. 31 next to a park bench. Police said she heard the baby's cries and immediately called emergency services.
"I saw the ambulance and police arrive and paramedics running and holding a baby wrapped in a towel," the 42-year-old mother said, according to Metro.
"They blocked off the whole area. It was freezing. It was snowing really heavily," she said. "It is really upsetting. She didn't have to leave the baby in the snow and cold, she could have left her on my doorstep and rang the bell."
The baby was not hidden, according to authorities.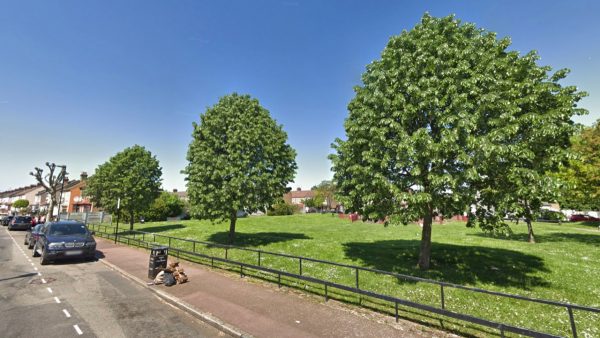 Police are appealing to the mother of the newborn, and are increasingly concerned for her safety.
"We are growing increasingly concerned for your welfare and I urge you to make contact either with police, your local hospital or GP surgery. It is really important that we know that you are safe," said Inspector Shane Clarke of North East Command Unit. "I would also urge anyone who has information that could help us to reunite this baby with her mother to come forward."
In a statement, London's Metropolitan Police said, "The child is being cared for at an east London hospital. Her condition is stable at this time. The child has been unofficially referred to as 'Roman' by hospital staff after the road where she was found."
The baby girl, named Roman by hospital staff, was found in a play park on #RomanRoad, near the junction with #SaxonRd. Police are increasingly concerned for the welfare of her mother who may be in need of urgent medical attention & urge her to contact police or @Ldn_Ambulance pic.twitter.com/mv8s8jxLLw

— Metropolitan Police (@metpoliceuk) February 1, 2019
Some Facebook users who commented via the Metropolitan Police Service's Facebook page on the issue suggested that the UK should implement a safeguard like those found in other nations.
"In the U.S. and a few other countries they have these drop boxes at fire stations for exactly this reason, obviously it's not the best idea to encourage people to drop babies and run but for those who truly have no other options etc. then these drop boxes are perfect, as soon as the baby is left inside the temp controlled box the silent alarm is raised and someone checks asap so no harm comes to the baby, it's awful that these girls/women feel they have to do this but at last the baby is coming to get the care needed instead of being left in a park etc.," commented Haley Currie.
In March, the Atlanta Journal-Constitution reported that a baby was left outside on a porch in cold weather with its umbilical cord still attached, in Fulton County, Georgia. Police headed to the home around 3:30 a.m. after they received a call from someone who found the baby there.
A 17-year-old in the home later admitted to giving birth to the baby. Her family said they did not know she was pregnant. Police did not press charges.
Also in March, passersby found an abandoned 9-month-old baby lying in the middle of the street, in temperatures that went down into the teens. Multiple people stopped to rescue the baby and keep it warm, in Utica, New York, The Washington Post reported.
A mother that lived nearby claimed that the baby was hers and that she did not know how the baby got away from her. She was charged with endangering the welfare of a child, and authorities took all of her children away.
Colin Fredericson contributed to this report.