MELBOURNE—Victoria's chief health officer Brett Sutton has asked Melbourians to not make quick judgements on anyone not wearing a face mask as the state settles into it being mandatory.
Sutton is calling on people not to "vilify individuals" or make a quick judgement if they see someone not wearing a mask in public.
"There will be people with medical, behavioural, psychological reasons … certainly don't make an assumption that they should be the subject of your ire," Sutton said in joint a press conference with Premier Daniel Andrews on July 22.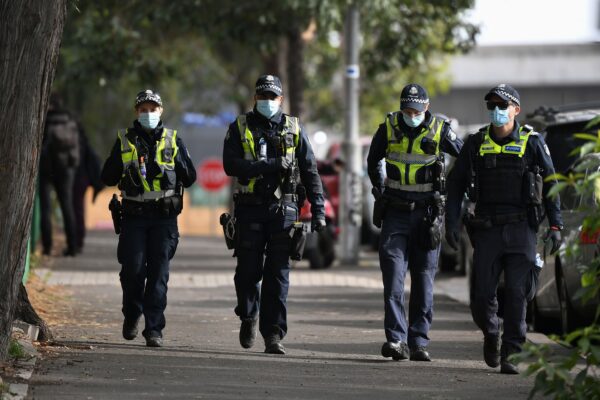 People in the locked down areas of Greater Melbourne and Mitchell Shire can now be fined $200 if they are caught outside their homes without a mask.
IDEAS Disability information service wrote in a blog on July 23: "In some situations, wearing a cloth face covering may exacerbate a physical or mental health condition, lead to a medical emergency, or introduce significant safety concerns."
Australian Federation of Disability Organisations (AFDO) posted on Twitter reminding Melboourians not to be quick to judge as not all disabilities are apparent:
"Melbourne please remember not everyone can wear a mask safely—this includes some people with a disability. The law says this is okay. Choose understanding, not judgement."

https://www.ideas.org.au/blogs/special-conditions-for-not-wearing-a-face-mask.html
Police Balance Enforcement
Victorian Police have also said they will exercise discretion in their enforcement in the initial days of the compulsory mask order that started on July 23.
Secretary of The Police Association Victoria (TPAV), Wayne Gatt, has said in an interview with ABC Melbourne on July 19, authorities will need to "balance between education and helping people understand, helping people adjust to the change."
At the same time, Gatt said they would have to find ways to deter people who show "utter disregard" of the health risks that come with flouting the restrictions.
Over the last four months, since restrictions have come in, Victoria Police have issued a "very small number" of infringements compared to the "hundreds of thousands" of people they've warned.
No Entry to Supermarkets Without Masks
A number of the big brands have updated their policy settings to align with the Victorian government's mandatory mask-wearing order, and will not allow entry to their stores without masks.
"You need to wear a mask if you're going to the supermarket, and you may well be turned away if you turn up at Coles or Woollies (Woolworths) or IGA, if you don't have a mask on," Andrews said.
Andrews said Victorians could face restrictions until Christmas if the spread of the CCP virus is not suppressed.