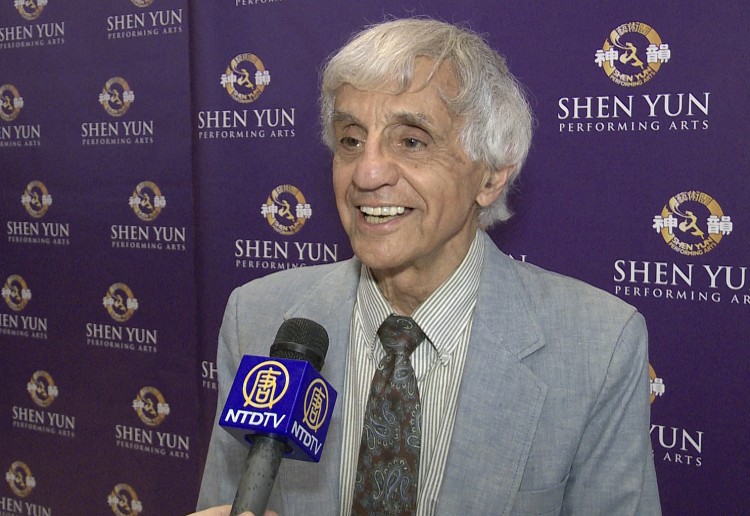 NEW YORK—Artist Joseph Farris said after seeing Shen Yun Performing Arts that the performance was "absolutely delightful."
Mr. Farris is an accomplished cartoonist, illustrator, painter, and author, who has had works published in National Geographic, and the New Yorker, and syndicated a feature for the Chicago Tribune Syndicate.
New York-based Shen Yun travels the world with the mission of reviving the 5,000 year-old, divinely inspired Chinese culture, according to the company's website. "Classical Chinese dance is at the heart of the performance, along with brilliant costumes, breathtaking projection, and an orchestra that combines both classical Western and Chinese instruments."
"I feel like in two hours I got five thousand years of Chinese history painlessly and with great, delicious delight," enthused Mr. Farris. "It was an absolutely wonderful show."
Shen Yun's vast artistic means are each unique and often elicit high praise from audience members who have seen it. On Saturday afternoon, the company graced the stage at Lincoln Center's David H. Koch Theater, performing to a sold-out audience.
"I'm an artist myself and the way everything was combined, it worked so beautifully," said Mr. Farris. "The animation, the screen in the background, and that spectacular business of bringing the people down and having real people show up. It was very inventive."
The digital backdrops become interactive with the dancers, with figures appearing on screen and seamlessly moving onto the stage as dancers dressed the same as the figures. 
The backdrops are "as grand as they are intricate," according to the company. "Inspired by 5,000 years of history, these spectacular landscapes truly reflect China's multifaceted geography, society, regions, and dynasties. Some scenes even transcend this world, entering a heavenly palace were fairies dance amidst mystical clouds or peering into the solemn majesty of a Buddhist paradise."
Mr. Farris believes seeing Shen Yun will influence his work. "Some of it is going to be subconscious and it'll be interesting," he said. "I'll be curious to see what my painting will be a month from now."
Mr. Farris said he was recently telling his grandchildren that "the one thing I tried to impress on them more than anything else was tolerance."
"And I think this particular show may help in that area, because I knew very—and still do know very—little about China," he said. "But it makes me appreciate more their culture—more than I ever did in the past."
Reporting by NTD Television and Zachary Stieber.
Shen Yun Performing Arts, based in New York, has three touring companies that perform simultaneously around the world, with a mission to revive traditional Chinese culture. Shen Yun Performing Arts Touring Company will perform at the David H. Koch Theater at Lincoln Center through April 22. 
For more information, visit ShenYunPerformingArts.org.