The Australian government has helped repatriate around 30,000 Australians stranded overseas during the CCP virus pandemic and expects to help thousands more get home by Christmas, but this is not enough for the opposition Labor Party.
Prime Minister Scott Morrison believes that the 26,700 people who registered in September for assistance to return to Australia should be back by December. But he said that the cap placed on hotel quarantine by the state and territory governments to protect the health of Australians has "constricted" the progress.
"The National Cabinet, all the premiers and I agree that we don't want to put too much pressure on that system because we want to maintain the health situation," Morrison told 4BC radio.
Now the Federal Health Minister Greg Hunt has confirmed that the Howard Springs quarantine facility near Darwin in the Northern Territory will double its capacity to 1000.
Hunt praised Australia's efforts in containing the virus, pointing out the world has just marked a grim record of 12,000 lives lost in one day.
"The outside world is not a safe place," he told reporters in Canberra on Friday. "As we head towards December and Christmas, there will be outbreaks inevitably in Australia whilst we're in contact with a world that has more than half a million cases a day."
But the opposition Labor Party want the federal government to stop pointing to the limited capacity of state-run hotel quarantine programs and do more.
While welcoming the news about the Howard Springs facility, Labor Opposition Leader Anthony Albanese has reportedly accused the Morrison government of "complacency," according to News Corp's The Australian.
"We have a prime minister who does not accept responsibility for the things that he is in control of, which according to our constitution include… our national borders, but also includes control of quarantine," he said.
Albanese wants Air Force jets to bring people home to an expanded quarantine system that uses federal resources to bolster its capacity. But additional flights out of the UK and India are already organised to help people come back to Australia.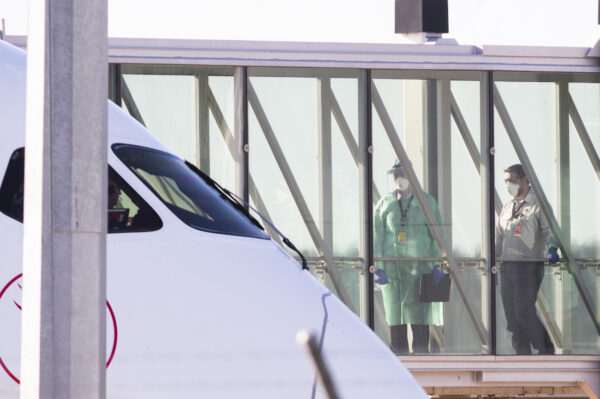 "We've organised almost 70 facilitated flights over the course of the year and we're getting Australians home," Morrison said. "But every time we get one home, we get another one extra who wants to come."
"We're meeting the amounts that we hope to achieve by Christmas. It's just that more people are looking to come home," he said.
Morrison said Services Australia has been helping the Department of Foreign Affairs and Trade with this task. "They're contacting all the people overseas who've given us their details just to check on them, to see if any of their plans have changed," Morrison said.
Some people who registered their wish to be repatriated have changed their minds and said they can return in 2021, while others have said their need to return has become "even more urgent," the prime minister said.
The federal government has spent about $10 million to assist stranded Australians with things like accommodation or emergency assistance. Morrison said this was about $4,000 each on average.
"It's not easy, but the reason why it's taking as long is because we've got to keep our quarantine system and the integrity of that as well operating to protect Australians," Morrison said.
The prime minister said the hotel quarantine system had been incredibly successful, despite the virus spreading to the community in Victoria.
AAP contributed to this article.