Australian Deputy Prime Minister Barnaby Joyce has called for the United States government to drop its pursuit of the extradition of jailed Australian WikiLeaks founder Julian Assange.
Assange, who is currently in jail in the United Kingdom, faces being brought to America after a British court ruled he could be extradited to face charges of an alleged conspiracy to obtain and disclose classified information which revealed allegations of war crimes by the U.S. military in Afghanistan and Iraq.
In an op-ed for the Sydney Morning Herald on Tuesday, Joyce called for the Wikileaks founder to either face the British courts for the alleged crimes or be sent back to Australia. The deputy prime minister also questioned why Assange could now be extradited when his crimes were not a breach of Australian laws and was not committed in the United States.
"Assange did not steal any U.S. secret files; U.S. citizen Chelsea Manning did," Joyce said. "In Australia, he received a Walkley Award in journalism for it."
"Assange was not in breach of any Australian laws at the time of his actions. Assange was not in the U.S. when the event being deliberated in a court now in London occurred. The question is then: why is he to be extradited to the U.S.? If he insulted the Koran, would he be extradited to Saudi Arabia?" he said.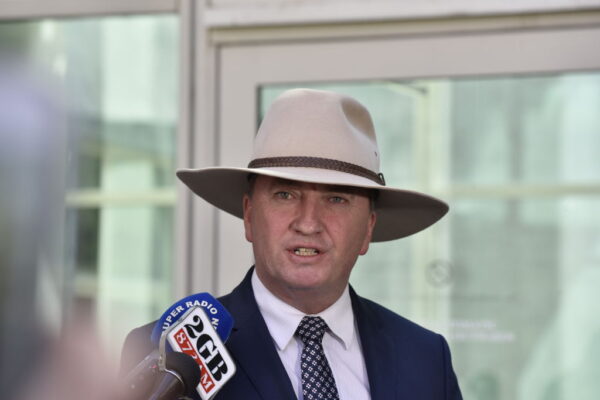 The deputy prime minister then questioned if everyday Australians would agree with this.
"Imagine a sliding door moment, and it was not Assange but you who was in court in Britain," Joyce wrote.
"If we are content that this process of extraditing one Australian to the U.S. for breaking its laws even when he was not in that country is fair, are we prepared therefore to accept it as a precedent for applying to any other laws of any other nation to any of our citizens?"
Joyce also called on the Britain to uphold the rights and freedoms it has always aspired to in a democracy, saying that "a decent society makes the investment to uphold everyone's basic attachment to this vessel of rights."
"You can judge a society on whether the protection and enforcement of these rights are actively pursued by the state in a form where all are truly equal," he said.
The United States has been seeking Assange's extradition since 2012 after the WikiLeaks founder was investigated for allegations of sexual assault in Sweden.
However, Assange fled the investigation, running to the Ecuadorean embassy where he remained in exile until he was ejected in 2019.
The sexual assault charges against him in Sweden were eventually dropped.

On the day of his ejection from the Ecuadorian embassy, the United States launched an indictment against him on hacking charges and weeks later charged him under the U.S. Espionage Act.
That case was developed during the Trump administration and is focused around his publication of diplomatic and military files leaked by Chelsea Manning, a former Army intelligence analyst, in 2010.
It alleges Assange participated in a criminal hacking conspiracy, by offering to help Chelsea Manning cover her activities on a secure computer network and by engaging in a broader effort to encourage hackers to obtain secret material and send it to WikiLeaks.
It also accuses the Australian of violating the Espionage Act via his solicitation and publication of information the U.S. government deemed secret.
Assange has been detained in London's Belmarsh prison since he was arrested on the hacking charges.
Editor-in-chief of WikiLeaks, Kristinn Hrafnsson, said in a statement that, with the High Court ruling, Assange's life "is once more under grave threat, and so is the right of journalists to publish material that governments and corporations find inconvenient."
"This is about the right of a free press to publish without being threatened by a bullying superpower," Hrafnsson said.
Supporters of Assange gathered outside the High Court in London on Friday, holding banners demanding his release. Many of his supporters consider Assange a hero for exposing what they describe as abuse of state power and for championing free speech.
U.S. prosecutors, however, have portrayed Assange as a dangerous enemy of the state whose decision to release the classified cables endangered the lives of sources named in the leaked material.
"These human sources included local Afghans and Iraqis, journalists, religious leaders, human rights advocates, and political dissidents from repressive regimes," the Justice Department said in announcing an 18-count indictment against Assange in May 2019.
"Assange's actions risked serious harm to United States national security to the benefit of our adversaries and put the unredacted named human sources at a grave and imminent risk of serious physical harm and/or arbitrary detention," the Justice Department said.
Tom Ozimek contributed to this article